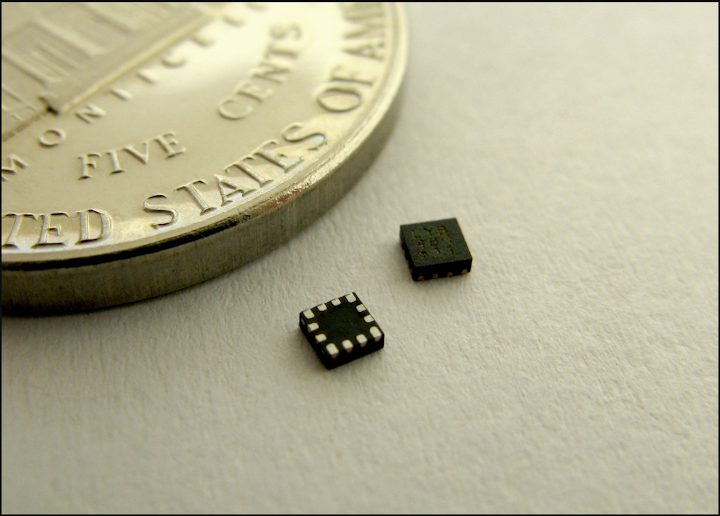 Santa Clara, CA – June 16, 2014 – Silego Technology announces a new Configurable Mixed-signal IC (CMIC) in the flagship GreenPAK (GPAK) Family.
Silego's GPAK family of NVM Programmable Mixed-signal Matrix devices enables innovators to integrate many system functions such as system reset, power sequencing, voltage sensing, interface, and miscellaneous logic while minimizing component count, board space, and power consumption. The SLG46120V maximizes the GPIO and functionality available in the incredibly small 1.6 x 1.6 x 0.55 mm 10-GPIO STQFN package. This device builds upon the 8-GPIO SLG46110V to expand the range of designs that can be addressed in such a small device. Last month Silego announced the shipment of the one billionth CMIC since inception five years ago.
Like other devices in the GPAK family, development of SLG46120V projects takes advantage of the easy-to-use GPAK development hardware and simple GUI interface of GPAK Designer, allowing engineers to quickly and easily implement new designs and respond to changing design requirements.
"An upgrade path from the SLG46110V, the SLG46120V allows our customers to implement even more complex and demanding functions using minimal board space, cost, and power," said Nathan John, Director of Marketing. "With the introduction of the SLG46120V the GreenPAK family continues its accelerating expansion, offering a portfolio capable of addressing an increasing variety of mixed-signal functions."
Target Applications include:
Consumer Electronics:
Wearables
Portable: Tablets, Smartphones, Notebooks
PCs and PC peripherals
Commercial and Industrial Electronics:
Servers
Embedded PCs
Data Communications Equipment
For pricing, samples, datasheets, and technical information about these devices and the GPAK Designer software, contact our customer service team at: info@silego.com or visit our website: http://www.silego.com.
Please refer to the following sources to see the product's application examples:
1. "LED Dimmer Analog Regulation" Application Note: http://www.silego.com/products/506/312/AN-1122.html
2. "Lighting Control Made Simple with CMICs" Webinar at https://www.youtube.com/watch?v=LWi_bAFx_4Q
About Silego – The CMIC Company
Silego Technology, the CMIC Company, designs and sells highly configurable power, logic, and timing mixed signal IC products referred to as CMICs (Configurable Mixed-signal IC Products). CMIC products integrate analog components, discrete digital logic, and passive components into highly configurable small, easy to use, low cost ICs. CMIC products provide customers the benefits of reduced component count, lower power consumption, less board space and reduced BOM costs. Silego CMICs provide the speed and flexibility of an FPGA, with programmable analog and digital elements.
For media information contact:
Victoria Yatskulyak
Silego WW MarCom Manager
vitay@silego.com
408-327-8800