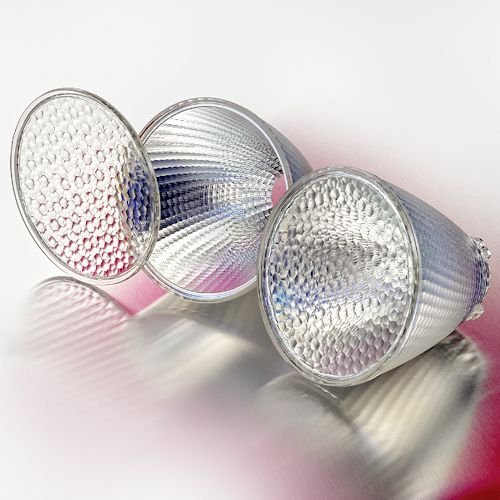 Auer Lighting presents a new color-mixing glass optic. It is designed for multi-color LED arrays, such as red and white modules, used in spot, track and down lighting. Complying with the retailers' requests for high contrast, high flux and superior color rendering it is the SSL upgrade to conventional CMH and CDM installations.
The optic consists of a base reflector with exchangeable diffuser lenses: a concept well known and tested with CDM systems. Likewise, our new color-mixing system provides multiple beam angles, depending on the diffuser lens used. The multiple-shape facets of the reflector pre-mix the light while the lens with a double-sided, sophisticated facet design makes the color-mixing complete. "ShopWhite" has a very high efficiency >90% that can even be increased with an optional AR coating. The color uniformity for a red-white LED module is better than four MacAdam ellipses for an 18° spot.
The reflector and the lens can either be provided separately for your own assembly or as one piece with the glued-on diffuser lens. The reflector features Auer's SNAP IT® technology for easy mounting and exchange to other beam angles.
The base material of the optics is the durable SUPRAX® glass that easily withstands temperatures up to 450 °C. Additional benefits of "ShopWhite" are no yellowing, nor any degradation over time. The glass optics is scratch-resistant and thus easy to clean. This guarantees for longest life times.
Auer's color-mixing optic "ShopWhite" is now available with 18° and 25° beam angles, suitable for LEDs with LES up to 20 mm.