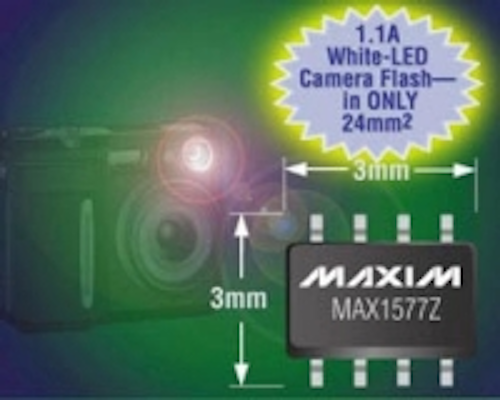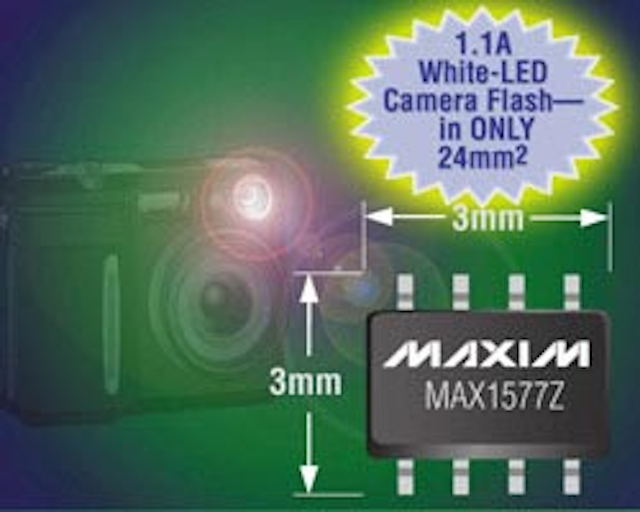 Date Announced: 25 Nov 2004
Maxim Integrated Products has introduced the MAX1577Z/MAX1577Y, high-efficiency 1x/2x charge pumps, which can drive white LEDs with regulated current up to 1.1A (800mA guaranteed).
By using a proprietary adaptive-mode switching technique, the charge pumps provide high efficiency (up to 92%) in movie mode or backlighting. The very-low, open-loop output resistance allows the highest WLED flash brightness, even from a low-battery input voltage.
Requiring only three tiny ceramic capacitors, these devices eliminate the need for a step-up DC/DC converter and low-profile inductor, which ensures that the parts meet the height constraints in clamshell cell phones. Fast 1MHz switching allows the use of tiny external components. The regulation scheme is optimized to ensure low EMI and low input ripple.
The MAX1577Z/MAX1577Y use an external resistor to set the full-scale LED current. Two enable inputs (EN1 and EN2) provide simple on/off control and LED current of 20%, 33%, or 100% full-scale. The charge pumps also feature soft-start to limit inrush current, thermal-shutdown, and complete input-to-output disconnect during shutdown (0.1 micro-A shutdown current). The input voltage range is 2.7V to 5.5V.
The MAX1577Z has fixed 5.1V output overvoltage protection. The MAX1577Y has logic-controlled output current for flash, and 3.4V, 4.6V, or 5.1V output voltages for backlight, keyboard, and RGB applications.
The MAX1577Z/MAX1577Y are available in a space-saving, 8-pin, 3mm x 3mm TDFN package, screened for the industrial temperature range (-40 to +85 deg.C). Prices start at $1.80 (2500-up, FOB USA). An evaluation kit (MAX1577EVKIT) is available to speed designs.
Contact
Customer Service Tel. 1-800-998-8800