Turret trim & form integrated LED manufacturing line
Feb 3rd, 2006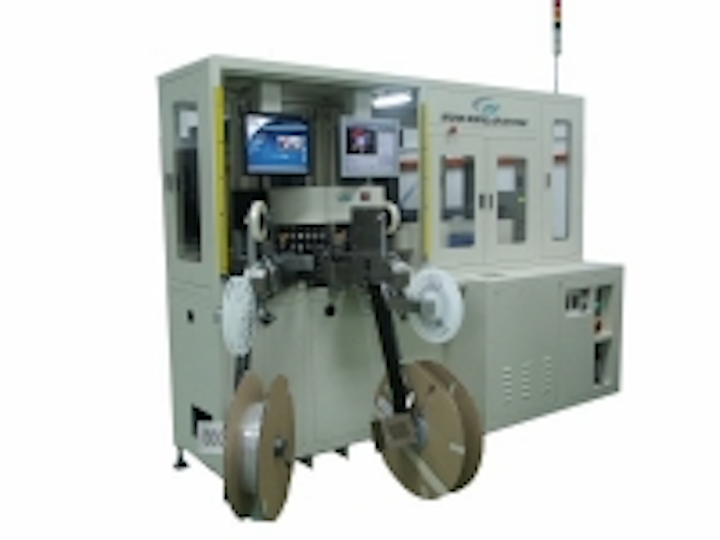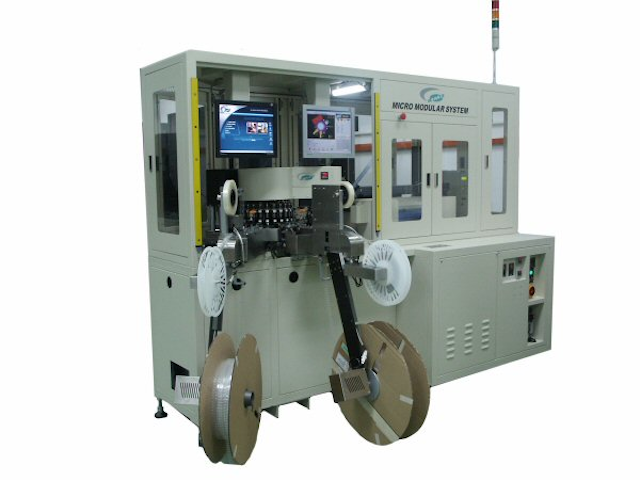 Date Announced: 03 Feb 2006
This machine is one of the very first designs available to the market that incorporates a one-tonne press in the turret system. It is the one and only system designed and manufactured locally for the photo-electronics industry.
Initially, the system was developed as a turret trim, form, tape and reel machine to process special super bright LEDs. These LEDs are widely used in the traffic lights as well as in the backlighting of LCD televisions. Now, the system has been upgraded to include other processes such as polarity test, orientation correction, electrical test and color wave length check.
The one-tonne press is powered using a servo-motor driven mechanism. The motion of the press and turret is synchronized through the machine cam and linkages system. The press is able to house 3 small modular precision die sets for trim, form and final trim processes.
The machine is developed with user-friendly features such as minimum downtime and easy maintenance. There are no bolts or nuts to be loosened or the need of additional tools to install and uninstall the precision die sets from the system. A simple touch on the button in the monitor screen will release the locking and unlocking mechanism for maintenance purpose.
It also comes with the flexibility to run various products on the same machine platform. The quick changeover of the die sets allows the conversion of different products to be done within a minute.
The machine is capable of producing 7000 to 9000 trimmed and formed LED units per hour with minimum embedded test time of up to 70 ms. The turret rotary indexer applies direct servo drive technologies and thus, enabling the system to accelerate and decelerate smoothly and stabilized within a very short interval.
The design of the machine includes multiple-stack shipping tubes loader and the output which consists of trimmed and formed LED units can be directed back to the tubes or into a single or multiple tape and reel off-loaders. The machine can be customized to suit different specifications and requirements. Additional sub-turret can also be installed for vision and marking capabilities.
Furthermore, the machine operates on real time software system that allows instant response and communication of various control systems integrated in it. The capability of incorporating different processes allows flexible configuration and development of integrated manufacturing line. There are two different configurations available which are 16 stations and 24 stations.
In a nutshell, this machine provides an economical and reliable solution for trim and form, inspection and taping of LEDs. It is designed to allow quick changeover of tooling at minimal cost and short downtime. It also comes with excellent high speed multifunction platform with:
• Direct drive servo motor system for high UPH
• Supports up to 24 configurable stations
• Modular die sets with 1.5 tonne servo driven press
• Optional sub-turret (s) to facilitate sub-processing
It has a throughput up to 9000 units per hour (depending on product type, test time and vision requirements). It is applicable to LEDs and other discrete products. It suits best for small size package from 1x1 to 20x20 mm.
Input options:
Multiple tubes – Tray – Bowl - Wafer ring - Reel/ Strip
Output options:
Tube and reel – Tube – Tray – Bins (up to 128 bins)
Process /sub-process
• Trim
• Form
• Singulate
• Component verification (color, ID etc)
• Component testing (electrical)
• Component testing (optical): radiant flux (P) - luminous flux (Pv) - bandwidth (FWHM) - peak wavelength (λp) - centroid wavelength (λc) - dominant wavelength (λd) - chroma X and Y
• Orientation correction ( subject to device type )
• Component categorizing and sorting marking
• Marking
• Vision on lead profile, package etc.
Contact
KC Yeoh Marketing Development Micro Modular Systems (MMS) Cellphone no: +6012-4252399 Office no: +604-6460888 ext 102 Fax no: +604-6465616
E-mail:kcyeoh@mmsis.com
Web Site:http://www.mmsis.com