Philips LED String System targets multiple applications
Apr 27th, 2006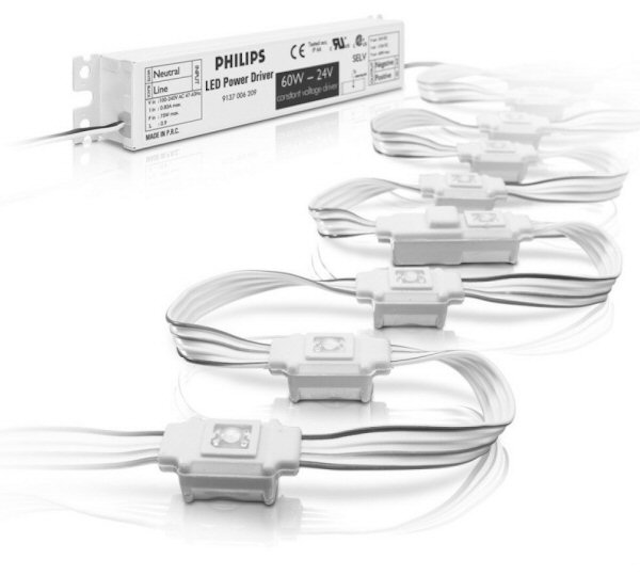 Date Announced: 27 Apr 2006
Philips LED String System is ideal for signs, channel letters
and bandlighting, as well as architectural lighting
Royal Philips Electronics (AEX: PHI, NYSE: PHG) - is introducing a new-generation LED String System in April 2006. The new system offers excellent results for signs, channel letters and bandlighting, as well as architectural lighting.
The small size of the individual LEDs and the highly flexible wiring make the system ideal for all kinds of signs, including those with smaller letters and detailed logos. With its high reliability together with excellent light quality and uniformity, the Philips LED String System offers an outstanding and highly consistent
brand presentation.
Ease of installation is a key benefit of the new Philips LED String System. The flexible LED strings can be cut at any desired position, and attached to a backplate with either mounting clips or tape. This enables sign or architectural lighting layouts to be created quickly and easily, saving installers time and money. The low operating voltage of 24V makes the system safe to install and use.
The overall Philips LED String System as well as all individual components are fully outdoor-proof; an IP66 rating ensures high reliability under all climatic and operating conditions. Starting is instant even at temperatures as low as -20°C. High operating temperatures are also no problem, for example in locations exposed to strong sunshine, thanks to the system's excellent heat management.
Thanks to the narrow LED devices with a width of only 15 mm, the Philips LED String System is an excellent alternative for conventional signs based on neon or fluorescent lighting which require significantly greater installation widths. The slim LED devices of the Philips LED String System and extremely flexible wiring allow the system to fit easily into the narrowest channel letters.
The system's flexibility and the broad light output angle of 130° (for colored versions) produce a uniform light distribution even in the most complex layouts and small signs. Visual consistency of colors between different sections and strings is ensured by careful selection of the Philips LED devices from the same color range. High color uniformity is also maintained between different signs, supporting a consistent brand presentation.
The Philips LED String System offers much lower cost of ownership than conventional lighting solutions. The low energy consumption - only around 4W per meter, compared with 20W per meter for a neon lamp - allows substantial savings to be made in operating costs. But as well as the immediate energy savings, maintenance costs are also greatly reduced by the high reliability and long lifetime of the LED strings. The system is virtually maintenance-free for up to 50,000 hours, while conventional systems often need to be replaced after only 20,000 hours.
Tools for layout creation of signs and cost savings calculation
Supporting selected partners in presenting the Philips LED String System to their customers, Philips is offering two useful tools: an LED string layout creator and a cost savings calculator. The LED string layout creator takes account of the fact that LED string-based signs and channel letters require a different design technique than conventional neon or fluorescent systems. Based on the desired graphic format, this design tool calculates the layout of the LEDs for optimal light distribution, as well as the corresponding total costs.
The second tool calculates the expected cost savings that customers can achieve. Using actual customer data, the tool shows the costs of signs based on the Philips LED String System, compared with neon or fluorescent solutions.
Contact
Barbara Neate Tel: +44 (0)1483 293 071 Philips Lighting, Guildford Business Park, Guildford GU2 8XH, UK
E-mail:barbara.neate@philips.com
Web Site:http://www.lighting.philips.co.uk