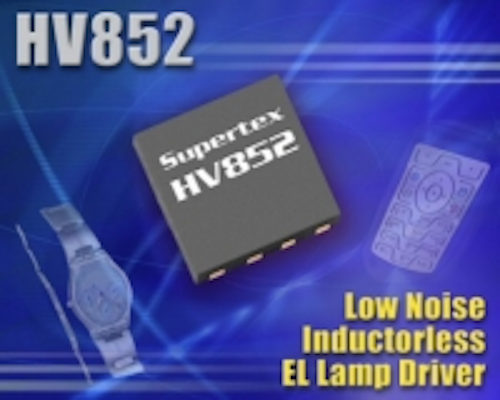 Date Announced: 14 Jul 2006
NEW INDUCTORLESS EL DRIVER FROM SUPERTEX SIMPLIFIES APPLICATION CIRCUITRY
High Voltage, Low Noise HV852 Eliminates the Need For External Components
SUNNYVALE, Calif., July 11, 2006– Supertex (NASDAQ: SUPX), a recognized leader in high voltage analog and mixed signal integrated circuits (ICs), today introduced the HV852, a new high voltage, low noise, inductorless, electroluminescent (EL) lamp driver IC. The low profile IC is suited for lighting display applications where space is at a premium, such as small mobile phone keypads, thin illuminated watches, PDAs, and MP3 players.
The HV852 utilizes a patented charge pump scheme to eliminate the need for an external inductor, a diode, and a high voltage capacitor commonly found in conventional EL lamp driving topologies. The IC drives EL lamps of up to 1.5 square inches with capacitive values up to 5.3nF. The peak-to-peak output voltage of the IC is 160V.
"The introduction of the HV852 strengthens Supertex's powerful and versatile EL lamp driver family," states Ahmed Masood, Vice President of Marketing for Supertex. "This IC saves manufacturers space and cost in their applications by using a patented charge pump scheme to convert a low voltage DC input to a high voltage AC output, thus eliminating the need for an external inductor, a diode, and a high voltage capacitor."
The HV852 is available in MSOP-8 (HV852MG-G) and MLP-10 (HV852K7-G) packages. All parts are Green and RoHS compliant. Samples are available from stock. Lead-time for production quantities is 4-6 weeks ARO. Pricing is US$1.14 each for the HV852MG-G and US$1.16 each for the HV852K7-G, both in 1K quantities.
About Supertex
Supertex, Inc. is a publicly held mixed signal semiconductor manufacturer, focused in high voltage products for use in the telecommunications, networking systems, flat panel displays, medical and industrial electronics industries. Supertex product, corporate and financial information is readily available at www.supertex.com.
Contact
Ken Vickers Marketing Communications Manager 408/222-4810
E-mail:kennethv@supertex.com