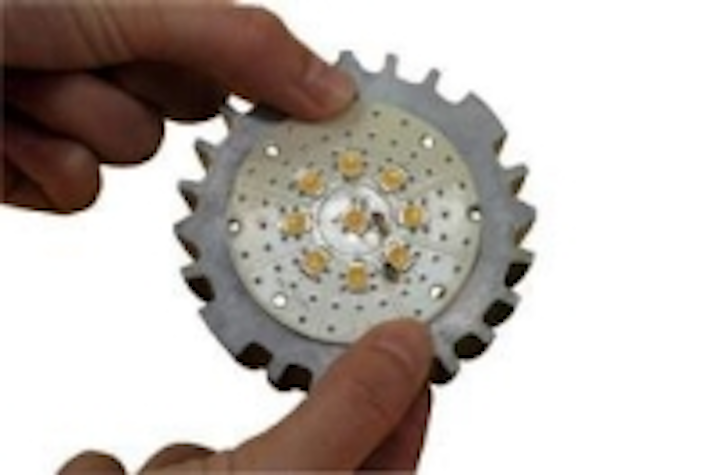 Date Announced: 05 May 2009
TUSTIN, Calif. -— Brillia a leading provider of brilliant LED light engines, now provides off-the-shelf light engines that will enable luminaire manufacturers greater speed to market with their LED lines.
"By providing luminaire manufacturers with the option to choose off-the-shelf light engines and our patented components, our customers now have the advantage of getting their LED products to market much quicker and with greater ease," said Chris Primous, Director of Sales & Business Development.
"Our focus is to collaborate with our customers to find the best way to integrate bright, efficient, long-lasting LED light engines into luminaires and lighting systems designed for both residential and commercial use."
Since an LED light engine combines the driver and LED module together into a simplified complete LED source, customers seeking to integrate LEDs into their luminaires now have a greatly simplified means to do so. By offering a vast array of light engines that are readily available today, luminaire providers are able to quickly incorporate the components into their designs and get to market with a proven efficient LED solution for their customers.
Such availability significantly shortens the design process, and allows manufacturers to expand their LED fixture packages using the same set of standard LED modules and drivers, all from one source.
These engines will enable energy efficient LED products to enter the market sooner and with greater ease, helping to enhance the consumers' needs for greater energy efficient products.
Brillia's off-the-shelf engines build upon an already rich service offering, in which Brillia's team of inventive engineers also provide a resource for custom solutions. When off-the-shelf products aren't the right fit, Brillia applies its technological leadership to enable manufacturers to rethink the possibilities of lighting design, including how energy is conserved.
By partnering with customers to meet their individual requirements, Brillia's engineers are providing the world's leading lighting manufacturers with the resources to bring to market cost-effective and environmentally-friendly LED technology that is also aesthetically pleasing.
The LED Lighting Advantage
LED-based lighting can use 75% less energy than incandescent lighting and last 35 to 50 times longer than incandescent. Moreover, they radiate very little heat and can't break like a traditional light bulb. LED-based lighting is increasingly in demand by lighting manufacturers, architects, residential and commercial builders, and those seeking an energy-efficient alternative to traditional incandescent and fluorescent sources. Collaborating with lighting manufacturers, Brillia engineers have helped develop luminaires that meet the efficacy requirements of state energy codes such as California's Title 24, and quality and performance requirements of ENERGY STAR.
About Brillia™
Brillia represents the next generation of solid-state lighting technology with our broad offering of LED light engines and components for inclusion in LED-based luminaires. For more than a decade, Permlight has been a leader in applying LED technology to create the brightest and most economical LED lighting solutions. With Brillia, the company formalized what it had been doing for the past five years – collaborating with luminaire manufacturers to bring brilliant lighting solutions to market. In fact, Brillia light engines are inside of more than 100 individual LED-based light fixtures in production.
Based in Tustin, Calif., Brillia's mission is echoed by the company's proven track record of providing LED lighting systems that combine ease of integration, high brightness levels, low energy consumption, long lifetimes and low maintenance with competitive pricing. Additional information is online at www.BrilliaLED.com.
About Permlight Products, Inc.
Tustin, Calif.-based Permlight Products, Inc. is a leading designer and manufacturer of high-powered, LED light engines for use in signs and luminaires. Nearly 13 years post-inception, Permlight continues to lead the way in LED technology, using patented thermal management techniques to create light engines that are brighter, more efficient and longer lasting. The company has developed an extensive portfolio of patents to help guide the industry and the advancement of solid-state lighting. Permlight's team of inventive engineers draw upon a wealth of experience and a broad patent portfolio to collaborate with the world's leading luminaire brands and sign manufacturers to create brilliant lighting solutions.
Permlight Products' innovative LED designs are offered through two divisions: Brillia is dedicated to expanding the boundaries of general illumination by partnering with the world's leading brands and manufacturers of luminaires. Permlight for Signs develops high-powered LED systems for illuminated signs. Each benefits from shared R&D, manufacturing and purchasing capabilities. For more information about Permlight Products, Inc., visit www.Permlight.com or call 714-508-0729.
Contact
Brillia, Tustin, CA 714-508-0729
E-mail:cprimous@brilliaLED.com
Web Site:www.brilliaLED.com