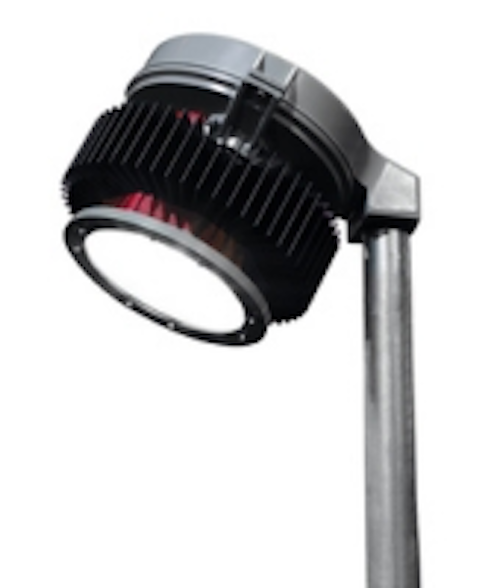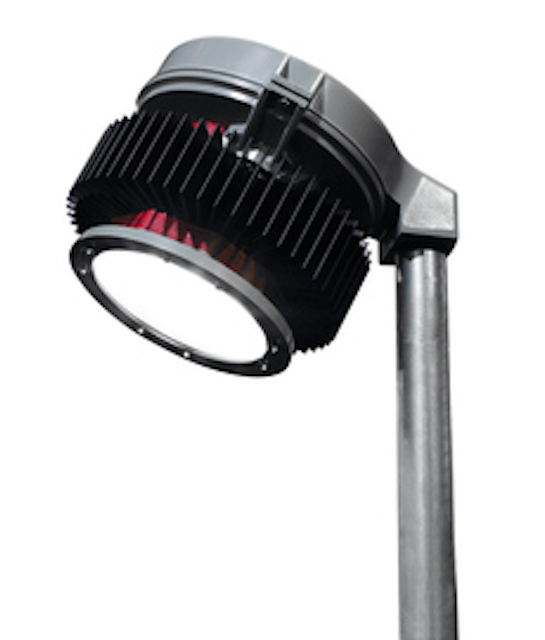 Date Announced: 07 Oct 2009
-- A true wide-area, general illumination LED luminaire for industrial and hazardous applications
SYRACUSE, NY -– Cooper Crouse-Hinds, a leader in manufacturing electrical and instrumentation products that enhance safety and productivity in harsh and hazardous industrial environments worldwide, has introduced the Champ® VMV LED Series, an exciting new LED lighting technology for hazardous, industrial and other demanding locations.
The Champ VMV LED Series provides the same durability and reliability of a traditional Champ luminaire, combined with the improved energy efficiency and long life of LED technology. Additionally, the new, state-of-the-art LED luminaire helps industrial facilities to meet rising environmental standards and regulations.
The Champ VMV LED Series brings new levels of safety and productivity to industrial lighting. Improved temperature ratings and enhanced visibility with full spectrum lighting provide a safer work environment in hazardous and industrial locations. The Champ VMV LED outperforms compact fluorescent technology in cold temperatures by offering instant, full illumination with no warm-up required.
Operation and maintenance costs associated with lighting can decrease by up to 50 percent when using Champ VMV LED luminaires instead of traditional HID luminaires. The Champ VMV LED Series provides up to 60,000 hours of light, eliminating the high cost of frequent lamp replacement. Plus, the Champ VMV LED attaches to existing Champ mounting modules for easy replacement of existing HID luminaires.
"This new technology is the most recent example of our company-wide commitment to broadening customer solutions and driving innovation," said Michael Neary, Product Line Manager of LED Lighting, Cooper Crouse-Hinds. "The Champ VMV LED Series, coupled with this year's debut of our EV LED Class I, Division 1 luminaire, gives customers more options to increase safety and productivity throughout any facility or plant location, while facilitating the move towards a more environmentally accountable lighting technology."
The Champ VMV LED Series contains no mercury or other hazardous substances. It is reliable in any environment, as the shock- and vibration-resistant solid-state LEDs have no breakable filaments or glass components, which greatly reduces the risk of premature failure.
Due to its compact size, the Champ VMV LED family is ideal for wide area illumination at mounting heights up to 20 feet. It performs in abusive or corrosive environments, as well as locations under extreme ambient temperatures. Typical applications include:
• Locations requiring continuous and consistent light levels in extreme ambient temperatures
• NEMA 4X, marine, wet locations and hose-down environments
• Manufacturing plants; heavy industrial, chemical, petrochemical or pharmaceutical facilities; platforms; loading docks; tunnels
Champ VMV LED luminaires by Cooper Crouse-Hinds is the next step in the Company's commitment to ESP (Enhancing Safety & Productivity). The goal behind ESP is to develop smarter, more powerful solutions that enhance safety and productivity. This promise is what drives Cooper Crouse-Hinds to continually develop products that anticipate customer needs and that work to achieve the goal of making danger in the workplace obsolete.
For additional information, visit www.crouse-hinds.com or call (866) 764-5454.
About Cooper Crouse-Hinds
Headquartered in Syracuse, N.Y., Cooper Crouse-Hinds integrates a comprehensive line of electrical and instrumentation products with expert support, industry insights and local availability to improve safety and productivity in the most demanding industrial and commercial environments worldwide. Cooper Crouse-Hinds manufactures over 100,000 products, including conduit and cable fittings; enclosures; plugs and receptacles; industrial lighting fixtures; signals and alarms; controls and electrical apparatus; commercial outlet boxes and hubs; specialized interconnect products branded Cooper Interconnect; and electronic components and protection equipment for process control branded MTL Instruments Group. Cooper Crouse-Hinds products are sold worldwide and meet all local and international code requirements. They are used in general construction or in harsh and hazardous environments across the globe, performing to the highest standard of safety and reliability. For more information, visit www.crouse-hinds.com.
Contact
Michael Neary Cooper Crouse-Hinds Wolf& 7th North Streets Syracuse NY 13208
E-mail:michael.neary@cooperindustries.com
Web Site:www.crouse-hinds.com