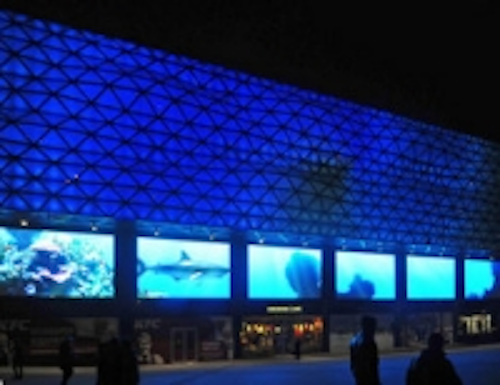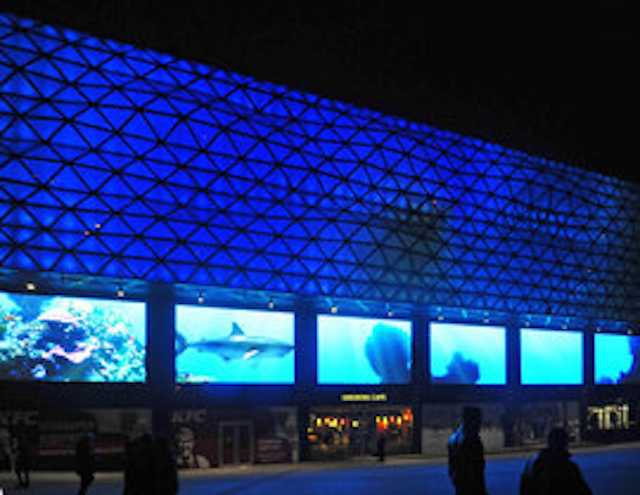 Date Announced: 18 Dec 2012
In the first project of its kind for one of Europe's leading manufacturers of display screen technology, EKTA has transformed the look of Kiev's city centre with a huge nine-screen LED video set.
Providing coverage of almost 243 m2 EKTA's LED media set has been installed on the external façade of the brand new Ocean Plaza retail and entertainment centre, which houses 165,000m2 of shops, restaurants, aquarium, cinema and supermarket in central Kiev.
Designed and built by EKTA in Ukraine, each of the high performance LED screens measures 27m2 that together create the country's first fully integrated large-scale advertising and artistic video wall.
With the integration of C-nario software and EKTA's innovative ERMAC/SPU-005 control system, its technicians have developed a system that offers premium branding opportunities for advertisers, as well as a canvas that enhances the unique architecture of the building itself with the use of cutting-edge visual effects to engage visitors, totaling 60,000 per day.
Featuring maximum calibrated brightness of 10,500 NIT for optimum visibility in all weather conditions and a service life of more than 10 years, the nine EKTA-manufactured LVM 8C-vpR-E LED screens are equipped with continuous display monitoring that facilitates constant control of all the screen's elements 24/7.
Built to withstand the most extreme climactic conditions, the screens are able to operate efficiently from -30 degrees to +50 degrees and up to 100% humidity.
Commenting on one of EKTA's biggest installation projects, Oleg Bogomolov, EKTA's General Sales Manager, said:
"Ocean Plaza is one of Europe's major retail and entertainment centres so EKTA is delighted to have been involved in the project, which features some of our latest LED technology. As well as being able to offer limitless visual effects, the screens provide numerous environmental and cost benefits for the owners of the building and we expect this will generate significant demand in our products internationally."
EKTA will be unveiling its latest generation LED display screens to show goers visiting the Integrated Systems Europe (ISE) Exhibition in Amsterdam during January 2013.
Established in 1992 and based in Kiev, Ukraine, EKTA is a European manufacturer and exporter of high-end LED equipment, products and solutions to businesses and organisations in more than 30 countries across Europe and Asia.
EKTA is the only producer of LED displays in Ukraine and is at the forefront of visual technology research, design and manufacture in Europe, having managed hundreds of installation projects in areas including: sports and events; television studios; corporate; leisure and entertainment; traffic and transportation; rental activities.
EKTA is ranked in the top 10 world manufacturers of LED equipment and top 3 within Europe. The company holds the Guinness World Record for the largest 3D LED TV display.
Contact
Stuart Brooks Blackbird Communications
E-mail:inbox@blackbirdcommunications.co.uk
Web Site:www.ekta-led.com