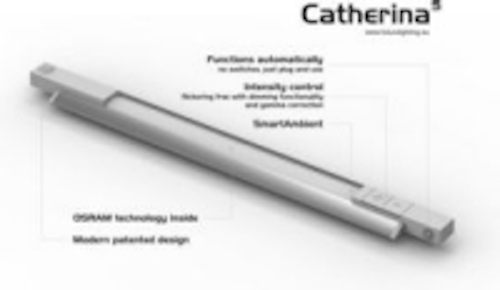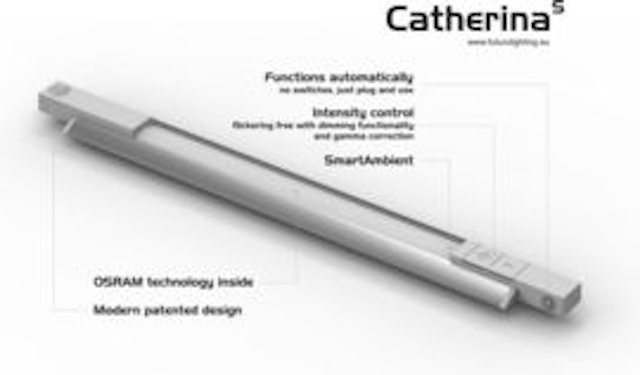 Date Announced: 01 Jun 2012
Piestany – FuturoLighting, company focused to LED lighting solutions, introduces extension to its range of Catherina lighting solutions. CatherinaS, a compact fully autonomous, motion detecting, lighting solution uses most recent Osram Duris E5 LED technology. Due to its immediate light output and no lifetime limitation due to switching, CatherinaS offers advantages over traditional incandescent and fluorescent light sources as well as improved reliability due to its solid-state construction.
Similarly to long form version, CatherinaS has a simple setup using built-in micro-controller provided by Microchip with integrated high resolution control over light output levels, ambient light threshold, dimming functionality, and Gamma correction which improves visual comfort. Once the desired settings are adjusted the CatherinaS doesn't need to be adjusted again. It can be installed in any location that is dry and has low voltage distribution network or a standard wall outlet. Suggested applications for CatherinaS are under cabinet lighting (kitchens, shelves, desks, etc.), smart indirect illumination for rooms, galleries, museums, cupboards, stair illumination, architectural lighting and many others.
"The Duris LED was specifically designed for use in homogeneous lighting applications. It's compact footprint and high efficacy enables the use of LEDs in the innovative lighting designs of our LED Light for you partners." says Andreas Vogler, product manager SSL at OSRAM Opto Semiconductors
FuturoLighting is following to extend the range of Catherina lighting solution to further models and configurations, all according to customer needs and expectations.
At this place, we would like to thank all our partners, suppliers and friends, especially to Rutronik, Microchip, Panasonic, ROHM, Bayer, Hydro, CUI, CH-Print, Telux, and many others. We need to say, without their great support this concept will be never getting real.
About FuturoLighting
FuturoLighting is a privately owned company based in Slovakia whose focus is on LED lighting solutions for all applications. We are certified partner of OSRAM in LED Light for you network and we are supporting our customers with developing and production of customized LED lighting solutions for demanding environments which also require high energy efficiency, long lifetime, and easy maintenance. For more information about FuturoLighting, its products and customizable solutions please visit our web page www.futurolighting.com or follow us on Facebook, Twitter, and LinkedIn, where you can become our fan and friend.
Contact
Dr.-Ing. Valentin Kulikov FuturoLighting
E-mail:info@fulit.eu
Web Site:www.futurolighting.eu