Sharp Expands its Family of White LEDs with Three High-brightness Devices
May 21st, 2008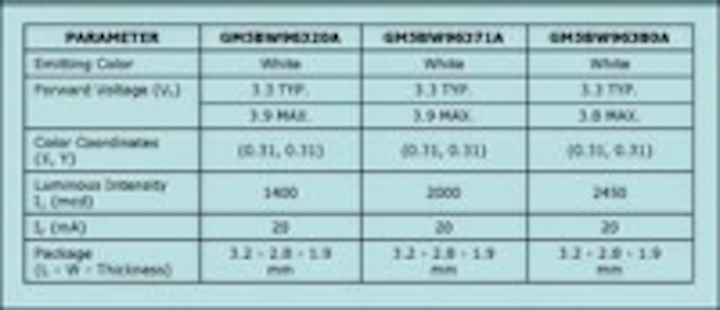 Date Announced: 21 May 2008
-- GM5BW96320A, GM5BW96371A, and GM5BW96380A offer low power consumption
Sharp has announced the expansion of its family of white Light Emitting Diodes (LED) with three new devices (GM5BW96320A, GM5BW96371A, and GM5BW96380A) that can provide high brightness levels of 1400, 2000, and 2450 mcd at IF = 20 mA.
These new devices are ideally suited for many consumer and commercial applications that traditionally have used conventional incadescent bulbs or other technologies.
With package dimensions of just 3.2 mm × 2.8 mm × 1.9 mm, they are also targeted for space-limited applications requiring high bright¬ness levels; such as backlighting (LCDs and Display Illumination as two examples).
Typical performance at 25°C is shown in the Table.
Designed for use with automated Lead (Pb)-Free* production lines, the new surface mount device is compatible with reflow soldering processes at temperatures up to 260°C.
Availability:
Sharp's GM5BW96320A, GM5BW96371A, and GM5BW96380A are now in mass production. Specifi¬cations are available from your Sharp Distributor or online at www.sharpsma.com.
About Sharp Microelectronics of the Americas
Sharp Microelectronics of the Americas (SMA) drives innovative LCD, optoelectronics, memory, imager, and RF components to market. The world's leading manufacturers of consumer and business technologies look to SMA for the products, expertise, and worldwide support they need to make their visions a reality. SMA, in Camas, Washington, is the microelec¬tronics sales and marketing division of Sharp Electronics Corporation, a wholly owned subsidiary of Sharp Corporation. For more information, visit us at www.SHARPsma.com.
* The Restriction of Hazardous Substances in Electrical and Electronic Equipment (RoHS) Directive (2002/95/EC). This directive took effect July 1, 2006.
Contact
Sharp Microelectronics of the Americas Abdul Aslami, Product Marketing Manager, Optoelectronics Tel. +1-360-834-8908
E-mail:ledinfo@sharpsec.com
Web Site:opto.sharpsma.com