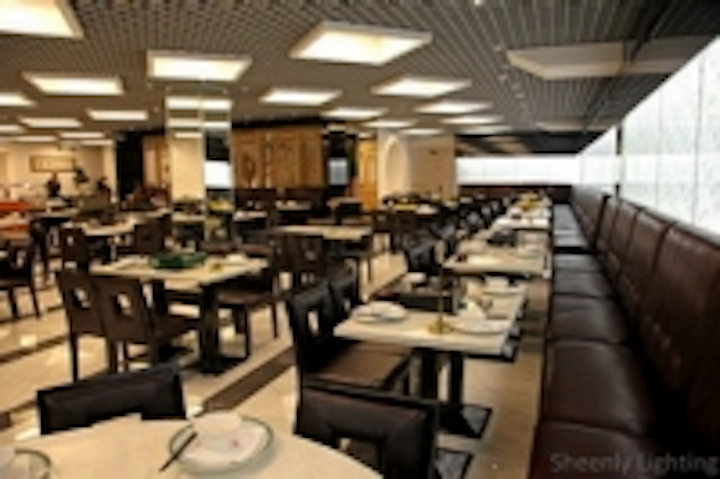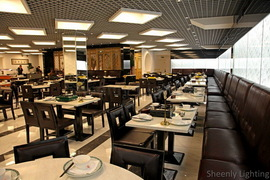 Date Announced: 30 Dec 2011
Frankfurt, the modern city of Germany, recently a Chinese restaurant 'Palms Garden' located in the right cross street of Frankfurt centre station has replaced all traditional lights by Sheenly LED lights.
"The idea for the new lighting system was to have a modern design that would use new advanced technology. Someplace where art and sustainability come together at their best," explains Jim Wang, manager of oversea sales department. 'The Sheenly panel light was the perfect choice for this philosophy, for most important the green energy, which is why they reinvest and changed all the traditional lights.'
It was decide that the 600*600mm 50w panel would be used in the drop ceilings of the dinning part of the restaurant, as well as the hall way from entrance to the dinning room. The panel light perfectly surface mounted on the drop ceiling by Sheenly specially designed column fixture,38mm gap can right fit the external driver, using plaster strip to cover the gap, more clean and fashion looking. Totally 318 pieces 50w panel were used in this restaurant, generated average 500 lux for the room. Also using indirect lighting technology, the light generate from those panel more soft and comfortable.
The Sheenly panel light uses Epistar extremely high lumen LED, LEDs Only 2 bins on Color Chromaticity Coordinates are acceptable is the secret of keep light uniform. Alumina backboard has great heat dissipation ability. Pure aluminum frame and backboard combines to form a huge heat sink with enormous surface area. PMMA light guide with Sheenly designed Pattern, can't be copied. Raw material of PMMA is from Japan. 90% Transmit ratio high quality diffusor, Uniform light & high efficiency guaranteed
To learn more about Sheenly panel light, visit our website at www.sheenly.com
About Sheenly lighting Co., Ltd
Sheenly Lighting Co. Ltd is a LED lighting company dedicated on research and development of sustainable solid state lighting products & solutions. Successfully cooperate with Bayer, IKEA, H&M, American Development Group, etc. In response, Sheenly is pleased to take up the challenge to design and provide innovative lighting solutions that are Energy-efficient, Eco-friendly, Economic and at the same time, Stylish
About Sheenly lighting products
Sheenly lighting never stops inventing new products. After 50w 4200lumen led panel light, Sheenly launched two unordinary products: 40w panel and Eco-era downlight.
Sheenly 40w panel use the same technology with 50w panel, but the cost much lower. After one month promotion, 40w panel received very well feedback from customer of the price and quality. Sheenly Eco-era downlight, unique design downlight 23w replace 90w HID/CDM/CMH light. It is the only one in market.
Contact
Dean Wang Add:No.88 Zhuyuan Road,Minhang District, Shanghai 201112,China Phone:+86 021 64113138/613 Fax:+86 021 64113138/632
E-mail:dean.wang@sheenly.com
Web Site:www.sheenly.com