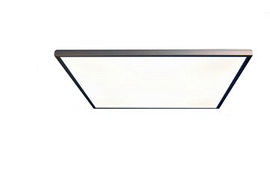 Date Announced: 14 Sep 2011
Redwood City, Calif. – Lunera® Lighting, Inc. a Silicon Valley company that designs, manufactures, and markets next-generation LED lighting, announced today the availability of the 2210 SERIES. A DC direct powered, ultra thin, architectural grid lay-in luminaire, the 2210 SERIES is compliant with Armstrong® DC FlexZone™ Ceiling Systems, making it the first LED fixture that provides voluminous quality light directly from solar generated power. The 2210 SERIES is the first EMerge® Alliance Registered LED luminaire, and is ideally suited for office, school, and other commercial applications.
"By evaluating and registering products for compliance to EMerge Alliance standards, the Alliance and its members are delivering opportunities for commercial buildings, both new construction and renovation, to be more energy efficient and sustainable," said Brian Patterson, EMerge Alliance Chairman. "Alliance members like Lunera help deliver on the Alliance's vision of safe, flexible, easy-to-use DC power for building owners and specifiers. With the introduction of the 2210 SERIES, Lunera has taken an important step in making energy efficient DC power systems available in the market,"
Patterson added.
First EMerge Alliance Registered LED Luminaire
The 2210 SERIES is the only approved LED fixture for EMerge standard 24V DC installations and enables a new generation of building architecture by drawing power directly from local solar or wind-generated energy sources. The plug-and-play nature of an EMerge DC powered distribution system makes the installation and repositioning of the 2210 SERIES a simple clip-on operation.
"Lunera realized the increasing importance of alternative energy sources and became an EMerge Alliance member in 2010. As a DC powered solution, it is possible to power the 2210 SERIES from on-site solar or wind generated power. We developed the 2210 SERIES as an installation alternative to our standard AC powered luminaire to lower installation costs while providing the premium quality light and ongoing savings on energy and maintenance costs that our customers expect," commented Rich Warmke, Lunera Director of Strategic Marketing.
Armstrong® DC FlexZone Grid Compliant
The 2210 SERIES is compatible with the Armstrong DC FlexZone Grid Ceiling System. Armstrong is a founding member of the EMerge Alliance and offers a safe, low voltage DC power distribution grid for Armstrong Ceiling Systems. The customizable DC FlexZone Grid system offers the distribution of safe, low-voltage DC power through the ceiling suspension grid that significantly improves the flexibility and reuse of interior spaces by enabling repurposing and reconfigurations without re-wiring.
The 2210 SERIES contributes to energy-efficient buildings by encouraging the use of advanced controls and provides voluminous near-daylight LED lighting. In addition to energy source versatility and lifetime energy savings, Lunera's 2210 SERIES is manufactured in the USA to further reduce its carbon footprint. The company uses the Lunera truLITE™ Color Consistency Process to bin, select, and blend superior quality LEDs, achieving greater output and efficiency while producing high color rendering and extended lifetime performance. Each fixture is tested and serialized to ensure color consistency. Supported by a 5-year warranty, the fully recyclable fixtures contain no harmful chemicals and generate less heat than comparable incumbent lighting technologies.
Eliminating the Upfront Cost of Installation
The upfront cost of installing Lunera luminaires may be reduced through various rebate and incentive programs. Initial costs may also be eliminated for qualified customers through a simple five-year term capital equipment lease offered by Lunera Capital PlusSM (LCP), a private financing service of Lunera Lighting. To learn more about Lunera Capital Plus, visit http://www.bit.ly/luneracapitalplus. To inquire about the LCP Capital Lease Program please email LCP@lunera.com or call Lunera at 650-241-3875 and ask to speak to a LCP representative.
About EMerge Alliance
The EMerge Alliance is an open industry association leading the rapid adoption of safe DC power distribution in commercial buildings through the development of EMerge Alliance standards. These innovative standards integrate interior infrastructures, power, controls and devices in a common microgrid platform to facilitate the hybrid use of AC and DC power throughout buildings for unprecedented design and space flexibility, greater energy efficiency and improved sustainability. Visit http://www.emergealliance.org for more information.
About Armstrong World Industries, Inc.
Armstrong World Industries, Inc. is a global leader in the design and manufacture of floors, ceilings and cabinets. In 2010, Armstrong consolidated net sales totaled approximately $2.8 billion. Based in Lancaster, PA, Armstrong operates 35 plants in nine countries and has approximately 9,800 employees worldwide. For more information, visit www.armstrong.com.
About Lunera Lighting
Lunera Lighting is an award-winning technology innovator leading the transformation from analog to energy-efficient digital LED lighting. Manufactured in the USA, Lunera's premium lighting fixtures are particularly attractive when seeking LEED certification, since LED lighting substantially impacts LEED points in "green" buildings. Elegant design, precision engineering, and beautiful light differentiate the company's award-winning products. Since its initial product launch in late 2009, Lunera has installed lighting in over five million square feet of commercial real estate. For more information on switching to LED fixtures, visit the company at www.lunera.com or contact Lunera at 650-241-3875 or by email at info@lunera.com. Follow Lunera on Twitter at http://twitter.com/luneralighting.
Contact
Carol Warren Antarra Communications 714-890-4500
E-mail:cwarren@antarra.com
Web Site:www.lunera.com