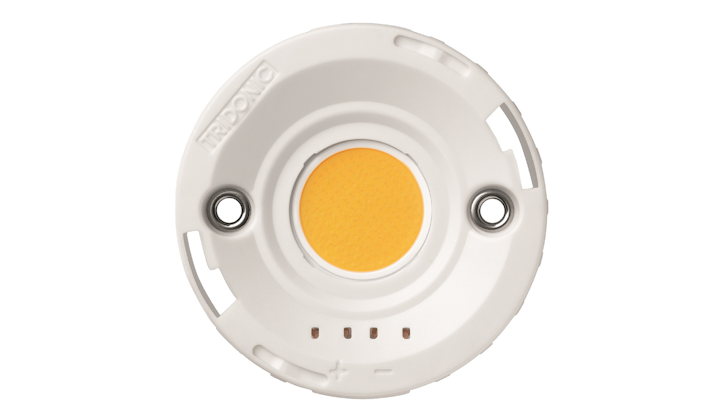 Tridonic offers a wide range of products for special lighting tasks, and the company's new LED modules in the seventh-generation SLE excite (EXC) series perfectly meets the criteria for demanding applications in food, fashion and art.  Whether it's freshly baked goods, colourful textiles or valuable works of art, Tridonic's broad portfolio of LED modules offers the right light for any object from warm, intense browns for pastry displays, rich reds for meat counters or true-colour light for the presentation of fashion collections and works of art.
All Tridonic's components are selected and developed in a strict qualification process and patented phosphors optimise the interplay between efficiency and colour rendering.  Individual colour temperatures allow for food to be displayed to the very best effect and the colours are perceived more intensely without losing their natural characteristics. In the FOOD series, the colours of Gold, Gold+, Meat, Meat+, Fish and Fruit are available. Gold and Gold+ use intense shades of brown to underline the fresh, crisp appearance of baked goods and the variation in the range of cheeses, with Gold+ making colours look even more intense and rich. Meat and Meat+ ensure suitable presentation of fresh meat and sausages. Rich shades of red bring out the range of delicate pink to deep red, with white elements remaining white. In contrast, very cold light ensures fish and seafood appear fresh, while fruit and vegetables look particularly appetising in a warm white light. Since the LEDs are free from UV radiation, there is no danger of discolouration.
Retail fashion shops can benefit from the properties of the FASHION module, which makes textiles appear in their true, vibrant and natural colours thanks to its special spectra, creating brilliant colours through warm, pleasant, high-saturation tones. The new PURE WHITE light colour brings out white tones to create a rich colour effect giving clothes a vivid appearance thanks to a spectrum which is below Planck curve.
Art and culture depend on the way they are presented and light plays a major factor. The ART light colour puts exhibits and objects centre stage and highlights their natural colours. The excellent colour rendering and quality of light is produced by Tridonic's full-spectrum technology with average values of CRI 97. Maximum colour consistency (MacAdam 2) is guaranteed, and the LEDs are particularly gentle on the works of art.
"The SLE G7 excite module series for spotlight applications offers our customers a wide selection of light colours which fulfil a variety of lighting tasks for presenting goods and merchandise," explains Bertrand Leplay, Product Manager Lighting Components at Tridonic. "This allows them to create varied and impressive designs in shops, exhibitions, hotels and museums."
The seventh-generation modules are more efficient in comparison to the previous version, thanks to a chip upgrade and they now deliver up to 191 lumens per watt, making them up to 16 percent more efficient. The improved process for applying the phosphor layer also results in optimised thermal management. This means that the modules can be operated with currents of up to 2,000 mA throughout the entire temperature range, reducing the need for heat sinks. At up to 55,000 hours, the modules also achieve a significantly longer life. All the modules are particularly quick and easy to install in luminaires and come with a five-year guarantee.
About Tridonic
As a leading global provider of smart and efficient lighting solutions, Tridonic today empowers its customers and business partners to become more successful by making their lighting smarter, more exciting, and more sustainable. Our component lighting solutions deliver superior quality, highest reliability, and impressive energy savings to provide our customers with a strong competitive edge.
The company continuously brings new innovations and state-of-the art lighting solutions to market and 95 percent of all R&D projects are devoted to the development of new LED and connected lighting technologies. Thanks to the in-depth expertise and knowhow in vertical lighting applications (for instance in Retail, Office & Education, Outdoor, and Industry), leading luminaire manufacturers, architects, electrical and lighting planners, electrical installers and wholesalers rely on Tridonic for both indoor and outdoor lighting needs.
As part of the Zumtobel Group, Tridonic is headquartered in Dornbirn, Austria, and in fiscal year 2014/15 generated sales of 393.8 million EUR. 1,750 highly skilled employees and a worldwide sales presence in 51countries reflect Tridonic's commitment to accelerating the development and deployment of new, smart, and connected lighting applications. With more than 40 million light points installed every year, Tridonic is perfectly positioned to play a decisive role in leveraging lighting as a key enabler and important infrastructure for connected lighting (Internet of Things).
Contact:
Tridonic UK Ltd
Email:
Web site: