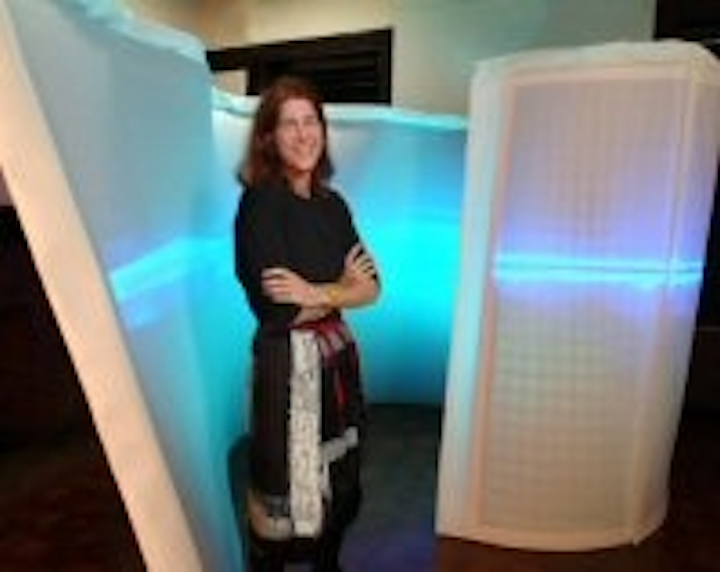 Latest
LEDs enhance visual design of CEDES Science Park (Sep 06)
Optical sensor manufacturer CEDES has used over 20,000 LEDs for internal and external lighting at its headquarters in Landquart (Switzerland).
Korean buildings make use of LED lighting effects (Aug 06)
As in other cities around the world, Seoul has a number of buildings that have updated their appearance using LED lighting.
Artistic LED installations demonstrate power of intelligent light (Aug 06)
Two LED-based lighting installations, one at the Rockefeller Center in New York and the other a touring art project, demonstrate different ways to use controllable, intelligent LED lighting.
Le Pont du Gard hosts LED PixelLine extravaganza (Jul 06)
Selected Features
Allaeys LED Instruments supplies award-winning BP project (Jun 06)
A lighting scheme in the BP headquarters uses LEDs to light scenic wallpanels and color-changing ceiling lights.
Flying high in Malmö: LEDs light up the Turning Torso (May 06)
More than 16,000 white LEDs have been used to create an innovative LED lighting system for Europe's tallest residential building, according to Jørn Brinkmann of Osram Denmark.
LEDs help to light Clifton Suspension Bridge (May 06)
Over 3000 white LEDs form part of lighting scheme for one of the most historic bridges in England
Project Review: Full Moon Tower, Galaxy Park, Tianjin, China (Feb 06)
A 52-meter tower fitted with color-changing LED lighting effects is the centerpiece of a park in park in a Chinese city.
LEDs bulbs headline at historic theater in NY state
A grant from NYSERDA has helped update the lighting on the Bardavon Theater's marquee with LED bulbs supplied by LEDtronics.
Designer-friendly LED luminaires increase conceptual options
Advances in solid-state lighting are opening up a whole series of possibilities in design and architecture that are limited only by our imagination, writes Ian Mills of Philips Lighting.
Urban lighting presents challenges for designers
LED fittings are now suitable for use as uplighters, and will soon become widely used for flood and wash lighting applications, although a number of issues need to be considered.
LEDs prove attractive to shoppers - and save energy
Colored lighting designs using LEDs can save energy and improve the appearance of store windows, according to a field study conducted by the Lighting Research Center.
Prow Sculpture uses LEDs as art and timepiece
A new addition to the Manhattan streetscape is a transparent tower illuminated by LED color-changing panels.
LEDs find their niche in architectural lighting
Lighting designer Iain Ruxton thinks that LEDs are "still a bit of a gimmick", although the technology has great potential provided that certain inherent problems can be ironed out.
Chicago's stunning Crown Fountain uses LED lights and displays
A fountain in Chicago's Millennium Park features two giant LED-lit towers faced with LED displays.
Roadside LED matrix responds to traffic flow
The Craigieburn Bypass in Melbourne, Australia is the home to a world-first roadway feature: a 300-metre-long interactive matrix of 935 colour changing LEDs.
Escaping the bulb culture: the future of LEDs in architectural illumination
The real value proposition for LEDs lies in the change from bulb culture to digital light. LEDs Magazine spoke with Sheila Kennedy, a passionate advocate of LED technology.
LEDs find their niche in architectural lighting
Lighting designer Iain Ruxton thinks that LEDs are "still a bit of a gimmick", although the technology has great potential provided that certain inherent problems can be ironed out.
Robust design adds life to LED fixtures
LED fixtures require solid, uncompromising mechanical designs to ensure long lifetime and reliability, as LEDs Magazine discussed with Chris Ewington of James Thomas Engineering.
LEDs among winners in 2005 Lighting Design Awards
Car parks, TV studios and road signs were among the award-winning projects that utilized LEDs at this year's awards.
Arc05 show unveils new architectural lighting directions
arc05 provided a showcase for manufacturers of architectural, retail and corporate lighting products, many featuring LEDs.
Brussels conference sprouts better understanding of LEDs
Interaction between lighting designers, luminaire manufacturers and LED suppliers should help the LED industry to focus on its strengths and continue to develop.
Specifier study reveals industry attitudes towards LEDs
A study has revealed that architects and lighting designers tend to specify fixtures with LEDs to create entirely new applications, while engineers more often specify traditional fixtures that use LEDs as the primary light source.
TIR Systems' agreement with Canlyte raises profile of solid-state lighting
The recent agreement between TIR Systems and Canlyte could have important implications for the credibility and acceptance of solid-state lighting, writes Tim Whitaker.
Case Studies
Miele HQ building gets i-Vision experience
Tryka helps create a virtual cruise
Largest LED building lighting scheme is complete
Colour walls keep Microsoft execs awake
Woolworths stores get Traxon ceiling displays
i-Vision and VSI hit the jackpot
TIR completes two architectural projects in China
LED fixtures bring light to financial institution
Jacksonville bridge sports LEDs for Super Bowl
LEDs help to light Clifton Suspension Bridge
Case study: LED panels highlight Lagotronics headquarters
Case study: Overture Center for the Arts
LEDs transform department store in Seoul
Case Study: Orpheus Theatre, Apeldoorn, the Netherlands
Irish bar transformed with Pulsar LEDs
Case Study: the Kuo Hua Insurance Building, Taipei, Taiwan
Color Kinetics installations showcase LED lighting technology
Hyatt Regency hotel sets sail with LEDs
Selected News
LEDs projects among winners of IALD Design Awards (Jul 06)
The International Association of Lighting Designers (IALD) has presented its annual Lighting Design Awards, including several LED-related projects.
Wired blog site highlights LEDs in architecture (Jul 06)
Wired magazine's website has pulled together a series of architectural projects with a heavy focus on LEDs.
PublicScreen uses LEDs to revive office space (Jun 06)
A small interior space has been opened out and transformed through the imaginative use of LED lighting.
Barco covers Vienna building with LED blocks (May 06)
Barco has entered the architectural market by covering a building in Austria with 180,000 LEDs.
Dark skies overcome by LEDs on Melbourne tower (Apr 06)
Melbourne's dark sky requirement pointed to the use of LED fixtures to illuminate a prominent building.
Barometer controls LED colors on London tower (Apr 06)
A new LED installation in London uses an atmospheric barometer and a Pharos controller to adjust its color.
LED modules give abominable glare to Yeti's stare (Mar 06)
A promotional event in Times Square made use of Osram Golden Dragon LEDs in Dragonchain modules.
Architectural lighting, art and color-changing LEDs (Mar 06)
A number of new projects illustrate the range of applications of LEDs.
LED PixelBricks light glass advertising structure (Feb 06)
LED fixtures supplied by James Thomas Engineering provide color-changing light effects for the tallest purpose-built advertising structure in the UK.
Philips LEDs light Snow Castle and Chelsea Bridge (Feb 06)
Philips Lighting has supplied LED fixtures for two distinct architectural landmarks: a snow castle in Finland and a bridge in London.
VersaTube LED fixtures provide light art in O2 HQ (Feb 06)
A new installation uses linear LED fixtures to create the aura of an "information stream".
LightLed brightens the Agbar Tower in Barcelona (Feb 06)
Color-changing LED lights are illuminating a high-profile office building in the Spanish city.
Philips LED fixtures illuminate engravings (Jan 06)
Philips LEDline fixtures are enhancing the rich heritage of Kensington and Chelsea Council Chambers
Architectural: Pulsar lights a mine, i-Vision hits the ceiling (Dec 05)
LTP and Color Kinetics light up the Pru (Dec 05)
An atrium filled with bubble tanks provides a unique architectural feature in the HQ of Prudential Assurance.
Lighting projects: Tryka, Metropolis & i-Vision
Tryka lights Four Seasons Hotel spa
Lighting projects: Tryka, Avolites and James Thomas
Wookey Hole Caves lit by Tryka
Lamina's LED light engines power Super Vision fixtures
Lamina Ceramics has provided ultra-high-brightness LED arrays for new pool and floodlighting fixtures from Super Vision.
Color Kinetics completes LED projects in China
LG Tower, Sands Macao and Grandview Hotel are among the latest adopters of Color Kinetics' intelligent LED lighting systems.
Lighting projects: Cyberlux, i-Vision and Permlight
Cyberlux has installed an emergency lighting system, i-Vision has fitted out several hotels in Norway, and Permlight has supplied LEDs lights to a housing project.
Super Vision LED pool light features Lamina array
Super Vision has introduced a very bright LED pool light using an LED array supplied by Lamina Ceramics.
Projects: G-LEC, Element Labs and LED Illumination Ltd
G-LEC has installed a giant PhantomFrame display, Element Labs' VersaTILE has been used at the Hard Rock London, and LED have been used to illuminate a hotel ceiling in Hong Kong.
Great Xscape as LTP brightens shopping complex
LED ceiling cove lighting and a giant light box have enlivened a shopping center in Milton Keynes.
PLM provides solar-powered LED up-lights for urban project
A project to plant and illuminate trees in the city of Manchester has been enhanced by the use of LED lighting.
Grand Hyatt Melbourne features LED walls and panels
Color-changing LED walls and escalators are among the features of a refurbished hotel in Melbourne, Australia.
Carmanah awarded contract for solar-powered LED bus stops
Carmanah is to supply solar-powered bus stop lights to light up passengers' journeys in London.
Metropolis lights Fifty London gambling den

PLM provides solar-powered LED up-lights for urban project
A project to plant and illuminate trees in the city of Manchester has been enhanced by the use of LED lighting.
PixelLines light temple for 10th anniversary celebrations
A temple in NW London has been illuminated using PixelLine ficture from James Thomas.
Solar linear fixtures light up inside of religious building
A Christian Centre in Birmingham, UK has been lit up by Lighting Effects Distribution and TMC using SOLAR RGB fittings.
PixelLines light temple for 10th anniversary celebrations
A temple in NW London has been illuminated using PixelLine ficture from James Thomas.
Church seeks LED lighting to highlight steeple
The University of Maryland wants to evaluate LED fixtures as a possible lighting solution for a church steeple.
Artistic Licence provides control for lighting projects
Artistic Licence's Colour-Tramp control system has been used on a number of high-profile projects around the world.
i-Vision lights roof of London's Science Museum
Advanced solid-state lighting technology provides an appropriate decorative effect in a scientific museum.
Pulsar's ChromaStrip2 now available in custom colours
LED lighting from i-Vision effervesces at Bollicini
Metropolis supplies customised LED fixtures to Sportsman Casino
A requirement for movement of color dictated the choice and design of LED fixtures for a London venue.
LEDs simulate sky in the ceiling of a government call center
The advantages of small size and high brightness, combined with creative installation, have enabled LEDs to recreate the sky inside and office building.
Osram Opto provides LED spotlights for Regensburg Bridge
A recent installation in Germany showcased the architectural potential of LED-based fixtures.
Color Kinetics relights Philadelphia's famed Boathouse Row
A new application for intelligent solid-state string lights is expected to save $57,000 in annual operating costs.
TIR Systems to light up Hong Kong's harbour front with LEDs
LED lighting from TIR is part of Hong Kong's plan to illuminate its harbour.
Shoe store adopts Color Kinetics IntelliWhite for display lighting
Bostonian footwear stores will feature under-shelf white LED lighting supplied by Color Kinetics.
LTP sends LEDs to the Twilight Zone
A new section of a UK museum covering the underwater world has received the LED lighting treatment.
Pulsar adds color to QEII conference center
Multiple LED color-changing fixtures have been used on the outside of a prominent building in London.
Anolis Lighting launches at arc05
LED installations exceed expectations after two years
Vincent Thomas Bridge sparkles with solar-powered LEDs
A.C. Lighting supplies LED crown for Canary Wharf building
LTP and CK light stairwell in entertainment complex
Zeebar achieves Clarity of design with LED lights
Selected Products
American Bright LED light strips offer continuous-run arrays
Infinilux introduces self-adhesive LED strip lighting family (Jan 06)
AlbEO introduces white-LED lighting system with occupancy sensor
Allscape selects OptiLED lamps for in-ground exterior lights
NeoPac launches LED Lotus Lantern targeting 2008 Olympics
Plan your route with Eyeleds®Outdoor Pro
Allscape selects OptiLED lamps for in-ground exterior lights
Solar launches new XL-Series to meet architects' demands
Neo-Neon offers ultimate solution to all linear lighting
Illumivision Light Wave Mini - reclaim your walls!!
James Thomas PixelBrick features latest 3W LEDs
D46 diablo outdoor column diffuser/marker
Eyeleds expands its range with "Eyeleds® square"
Hola Tsola - new range of solar-powered LED tiles
Plexineon provides attractive alternative to neon
Para Light offers E-Power LED light bars
Pulsar adds unique MR16 fittings to ChromaRange
Pulsar announces high powered LED fixture
DGA introduces power LED system