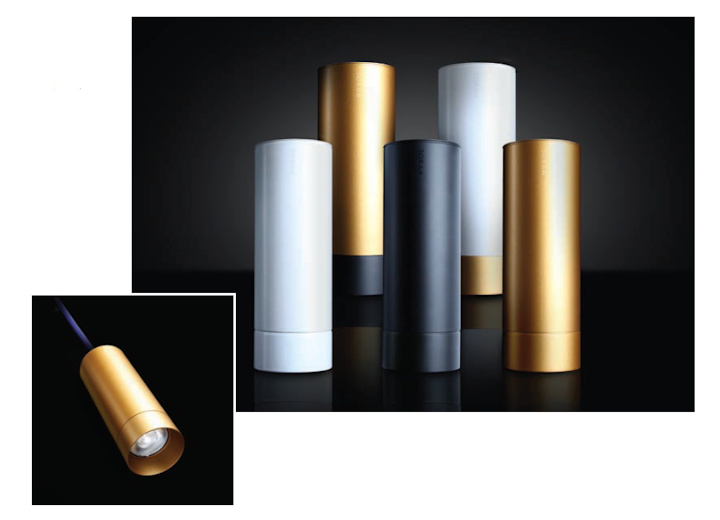 LightFair International (LFI) returned to Philadelphia, PA in May with LED and solid-state lighting (SSL) professionals gathering in the so-called City of Brotherly Love. There were grumblings that attendance was down, but there were plenty of compelling demonstrations on the exhibit floor with quality of light at center stage. Connected or smart lighting and the Internet of Things (IoT) remained a popular supporting theme, but beyond that it seems the real story is simply the widening application space enabled by ubiquitously located light fixtures in commercial buildings. We will cover some of the light quality news here, starting with components and extending to luminaires, and have a look at other demonstrations that stood out. 
First, let's discuss the state of the LFI event. The management may have taken some missteps in recent years locating the even-year events in Chicago, IL and San Diego, CA most recently as opposed to Las Vegas, NV. And Philadelphia remains a compromise venue in odd years. It's cheaper than New York City, but it's also not New York in terms of the omnipresent lighting design and specification community.
Osram's Osconiq 3030 QD is the first packaged LED on the market to utilize red quantum dots to more efficiently deliver warm CCT combined with excellent color rendering. (Photo credit: Image courtesy of Osram.)

Without question, the 2019 event had some areas of the show floor with scant traffic. The exhibit area downstairs remains a problem with many attendees never venturing to that area. The western half of the upstairs exhibit hall was also lightly trafficked. The eastern half was as crowded as LFI has ever been and, not surprisingly, home to the booths of the largest companies. While rumors were rampant as to who will not participate in LFI next year, it's likely that the return to Las Vegas will be a positive.
Packaged LEDs and quality
So let's jump into what was hot on the show floor and start with packaged LEDs that are the basis for SSL products and the building block for the entire industry. The quality story has really been building for at least two years. Go back ten years, and the industry was focused on lumen output, efficacy, and cost — trying to reach a level where SSL was competitive with incumbent sources in most any application. Quality was never ignored, but it was not top of mind in many applications. And the quality of some incumbent sources such as fluorescent and high-pressure sodium (HPS) was lacking as well with energy efficiency deemed more important.
But the lighting industry, starting with the LED makers, began to revisit quality as a path to deliver value-added features and earn higher profits. There have been many examples, but Seoul Semiconductor was perhaps the boldest mover with the SunLike LED platform. As we discussed in our LFI coverage last year, numerous lighting manufacturers had begun to ship SunLike-based products. And in our coverage from 2018, we noted the Optisolis LEDs from Nichia and the Pure family from Osram Opto Semiconductors was also being touted based on quality of light.
Moving to 2019, the quality march in components moved onward. Osram, for example, revealed its first LEDs that use quantum dot technology in addition to phosphor to generate broad-spectrum white light. Quantum dots have long demonstrated potential as a down-converter material but also showed limited life, especially in harsh environments to which LEDs are regularly exposed.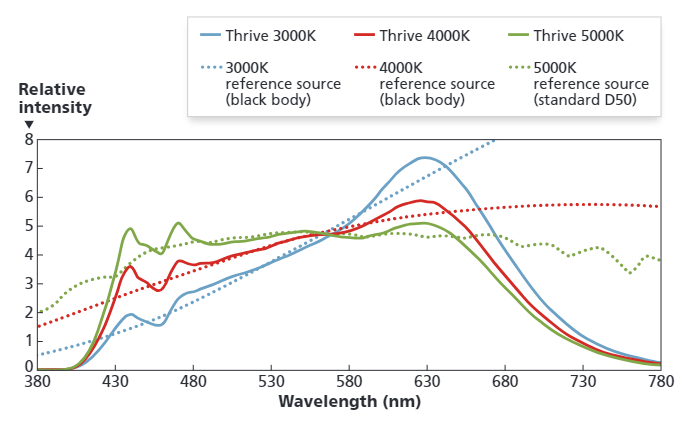 Many approaches are emerging to deliver a more uniform SPD in LEDs including the use of dual blue pumps that are represented by separate blue peaks in this Bridgelux SPD graph. (Image credit: Illustration courtesy of Bridgelux.)

The advantage of quantum dots is a much narrower spectral range relative to phosphors. For example, red phosphors result in significant energy being emitted at near-IR (infrared) wavelengths beyond the human visual range — essentially wasted energy. A red quantum dot can enable warm-CCT, high-CRI LEDs that have higher efficacy than typical phosphor-based LEDs.
The Osram Osconiq 3030 QD LED can reach efficacy in excess of 173 lm/W for warm-white 90-CRI performance. That efficacy represents a 20–35-lm/W improvement relative to phosphor-converted LEDs. The breakthrough that enabled Osram to deliver the technology was a method for encapsulating the quantum dots for reliable operation.
Dual blue pumps
We are also seeing new approaches to delivering more uniform energy or spectral power distribution (SPD) across the human visual range. Indeed, back at LEDucation we covered the new Thrive family of LEDs from Bridgelux. The design relies on two blue pump emitters in a single package and the products were on display in the Bill Brown Sales booth at LFI.
The dual emitters are at different wavelengths and each operates at a relatively lower drive current than a typical single-emitter package. The effect is a reduction in magnitude of the so-called blue peak, or in this case the dual blue peaks, and a broadening and evening of the energy in the blue spectral region with the intent of better uniformity across the SPD. Those benefits come with the added cost of two emitters, although efficacy likely increases with drive current lowered.
At LFI, Samsung showed a similar implementation in its LM302N Energizing LED that has blue peaks at around 440 nm and at about 480 nm. Samsung, however, is attempting to impact wellbeing while also delivering quality light. The 480-nm emitter is driven at a higher level to maximize melatonin suppression during the day to boost energy and concentration.
Red line phosphor
There was one more instance of a quality-of-light story at the packaged LED level, albeit not from an LED company. Current, powered by GE has delivered the narrow-band red phosphor called TriGain, sometimes referred to as a line phosphor, for several years. We did an interview with a GE executive on the technology back in 2015. The value proposition is similar to Osram's quantum dot story — better efficacy for warm, high-quality light.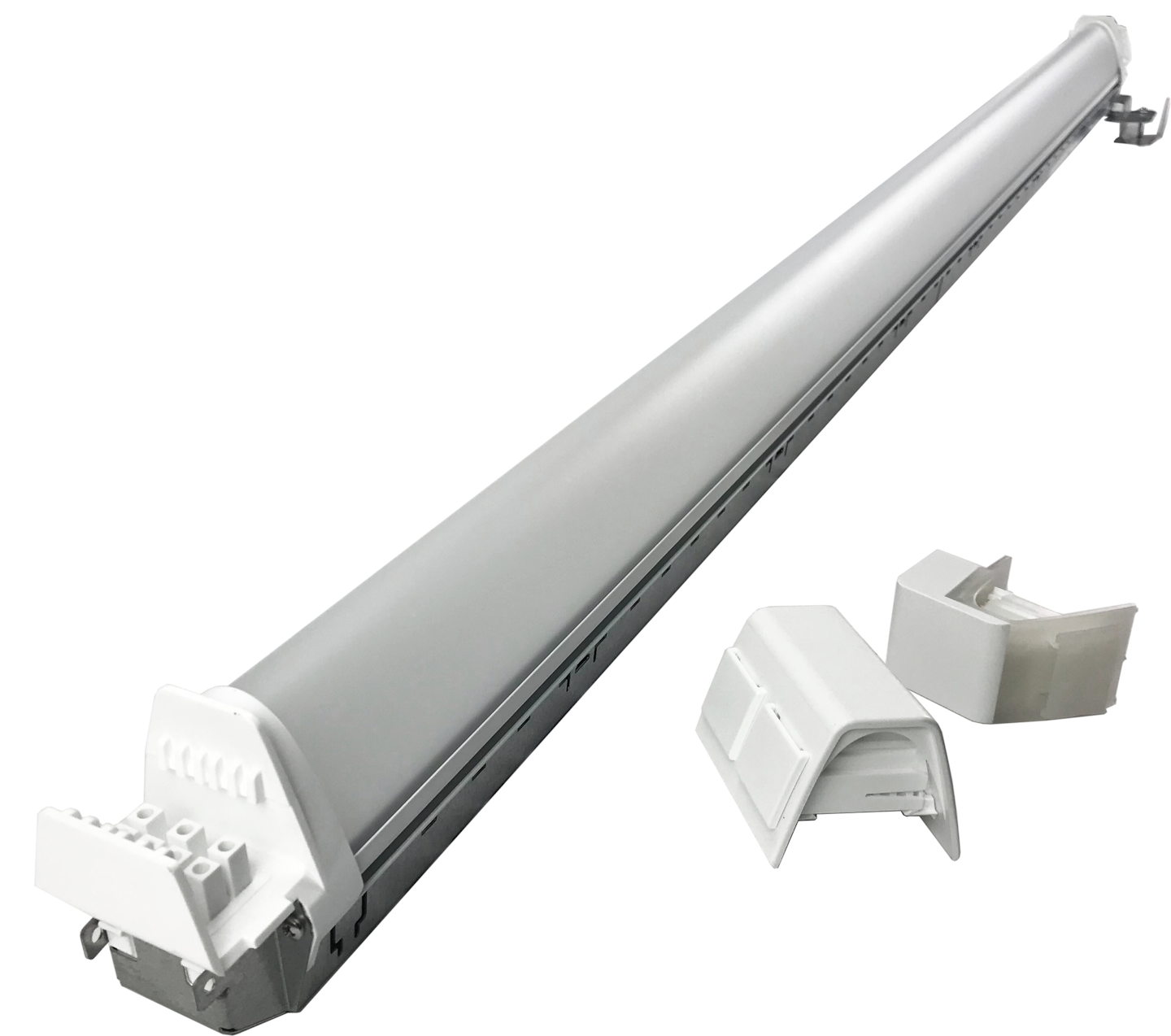 Current is using its TriGain red line phosphor to improve efficacy in high-CRI products and has even applied the technology in the LUR series fluorescent troffer retrofit kit. (Photo credit: Image courtesy of Current, powered by GE.)

Just before LFI, GE, Current, and GE Lighting jointly sued Cree for infringing the TriGain patents. GE developed the phosphor and Current supplies the material to LED manufacturers under contracts that limit the LEDs to Current's use. In early July, we would learn that the Cree lawsuit had been settled.
The LFI-centric TriGain story is just how broadly Current has deployed the technology as an option in luminaire models. Specifiers can get TriGain now in almost any indoor product. At LFI, Current announced that its LUR Series Retrofit kit for fluorescent troffer fixtures was now available in a TriGain option. The LUR kits are installed into an existing troffer housing and offer simple mechanical and electrical interfaces for daisy chaining the kits.
Integral luminaires
The quality story certainly continues to integral luminaires and such products are the primary target of many of the LEDs discussed previously. The quality story ran through the range of exhibitors from smaller specialty houses to the industry's largest lighting manufacturers.
Soraa, for example, is a company focused on quality of light. The company is vertically integrated, building its own gallium-nitride-on-gallium-nitride (GaN-on-GaN) LEDs, moving into lamps as well as into luminaires. At LFI, Soraa announced the Aerial family of suspended pendant fixtures (shown at top). The intent was clearly a style statement, but the quality carries through to the lighting performance.
Aerial is offered in a choice of 2700K, 3000K, and 4000K CCTs. In each instance, the products deliver CRI of 95 as well as an R9 saturated red performance of 95. The company said the development was accomplished working with the more exacting TM-30 metric that has still yet to broadly catch on in the SSL industry. Optic accessories enable beam spreads from 10° spot to 60° flood beams. Moreover, there are many options for network and control implementations including DALI and 0–10V.
At the other end of the spectrum in terms of company size, Acuity had a number of quality of light demos though of course the company also had smart lighting, the IoT, and tunable health-focused technologies on display. Among the most impressive quality-focused demos, the Winline 500 series of products from Winona were shown in accent applications such as wall grazing. Indeed, such applications illustrate another angle of quality. The optic design controls the beam precisely so that light is projected only to the intended areas, as seen on our cover.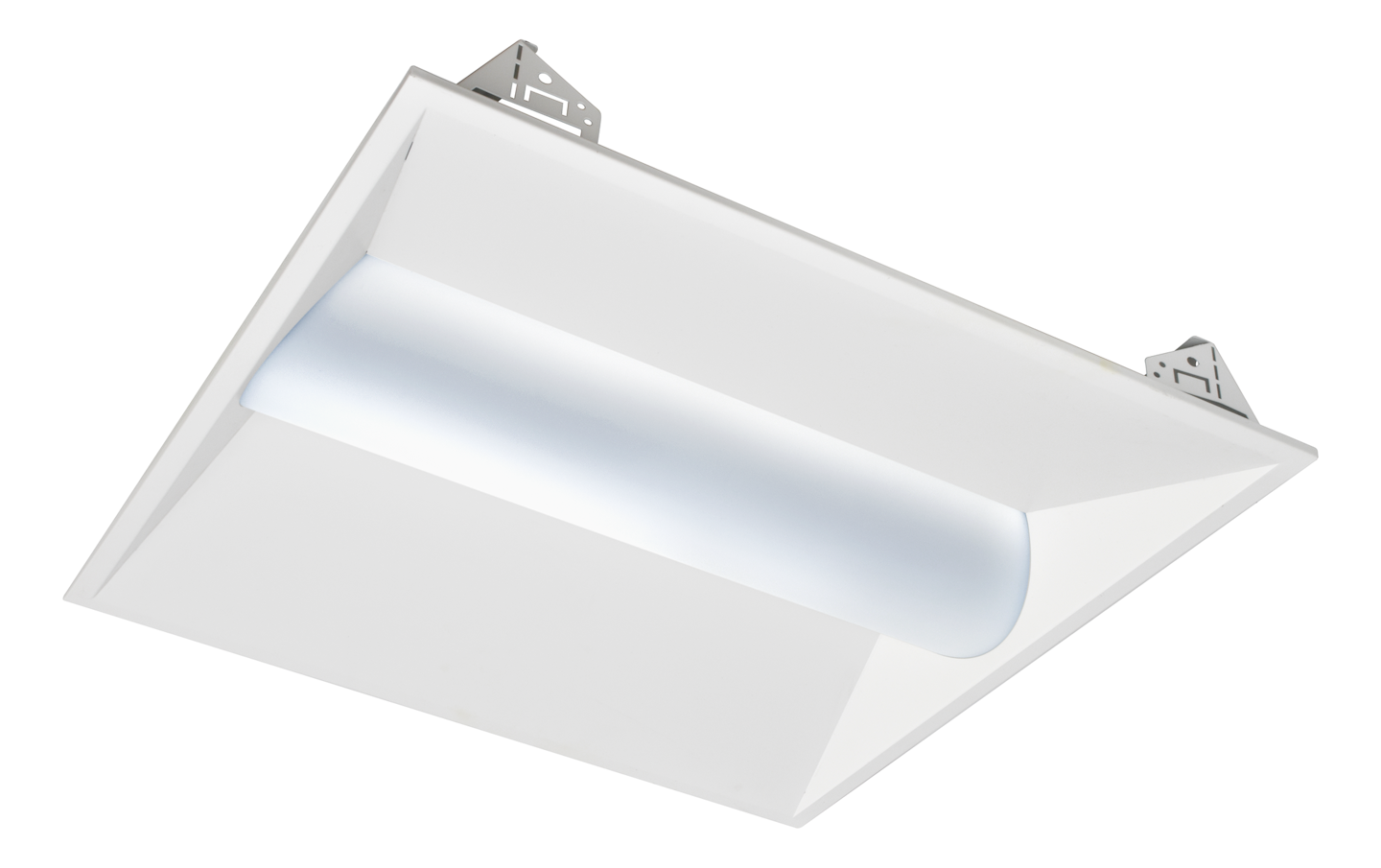 LEDvance has added options for 90-CRI performance and enhanced saturated-color performance in a number of its products such as this volumetric troffer. (Photo credit: Image courtesy of LEDvance.)

LEDvance also continued its march toward a position as a global lighting manufacturer with a broad luminaire portfolio — a move that had become evident at Light+Building and LFI in 2018. The company specifically discussed quality relative to many products at LFI and will begin to segment its luminaires using ValueLED, UltraLED, and Hi-PerformanceLED descriptors that will help specifiers match products to applications.
In both the UltraLED and Hi-PerformanceLED categories, LEDvance showed luminaires delivering CRI in excess of 90. The company said its top-end products will outperform many competitive products sold at price premiums in terms of saturated color performance. A volumetric ceiling troffer from LEDvance, which will have the highest-quality light option, is shown in a nearby photo. We also posted an interview from LFI with new CEO Lawrence Lin that goes deeper into the latest moves made by LEDvance.
Tunability and controls
Again changing focus, we could publish pages about demonstrations of tunable lighting and networked controls from LFI. Frankly, it might be easier to point out the booths that did not have any demonstration in those areas. So we are going to limit what we mention in these areas in our coverage this year.
In white-point tunability, the story was again quality. Over the past few years, we have seen a lot of two-channel tunable white designs that simply mix warm-white and cool-white LEDs with little concern for the actual CCTs and SPDs between the end points. That situation is changing starting with LEDs and extending through luminaires. Samsung, for example, showed the customized SPDs of its LEDs intended for such two-channel designs and how such a system can follow the black-body locus.
We also saw a new reason for tunability to emerge — in fact, tunability in a luminaire with no smarts for dynamic control. The CCT is set with some sort of manual switches at install time. Eaton, LEDvance, and others had such products. The idea is that the cost of the multichannel design is less than the expense of supporting more models or SKUs (stock keeping units) through the supply chain. The trend appears likely to grow in the lower-end commercial and residential sectors, and represents a decided break from our quality story toward money savings.
The primary smart lighting and IoT story at LFI was ubiquity, as we pointed out before. And the implementations seem surprisingly robust. For example, LG Electronics debuted a Smart Light Manager platform for its luminaires. The system includes an LD Scene Selector for simple configuration of room lighting but scales to an IoT backend that can tie to BACnet building systems. We posted an interview from the LG booth with more details.
We also must mention the Trellix news from Eaton. Eaton has among the most diverse set of network platforms in the industry, consisting of multiple wireless schemes, including WaveLinx; wired Power over Ethernet (PoE); DLVP (a proprietary digital low-voltage power scheme); and more. Trellix is an IoT platform that collects or aggregates all of the other Eaton connectivity platforms under it and creates an ecosystem in which third parties can participate. We have a video interview posted from the LFI show floor that digs deeper into Trellix. Trellix is somewhat analogous to Signify Interact or Acuity Atrius.
VR, acoustics, Alexa, and more
LFI 2019 also demonstrated some new technologies that are somewhat tangential to the show's central theme — lighting — yet that we found very interesting. Several companies demonstrated ways to use augmented luminaires to impact the acoustic ambience in a space. The WELL standard recognizes environmental elements beyond lighting that can impact the wellbeing of people, as we have covered previously. Acoustic comfort is one element. And the ubiquitously-located luminaire is one place where acoustic technologies can be deployed.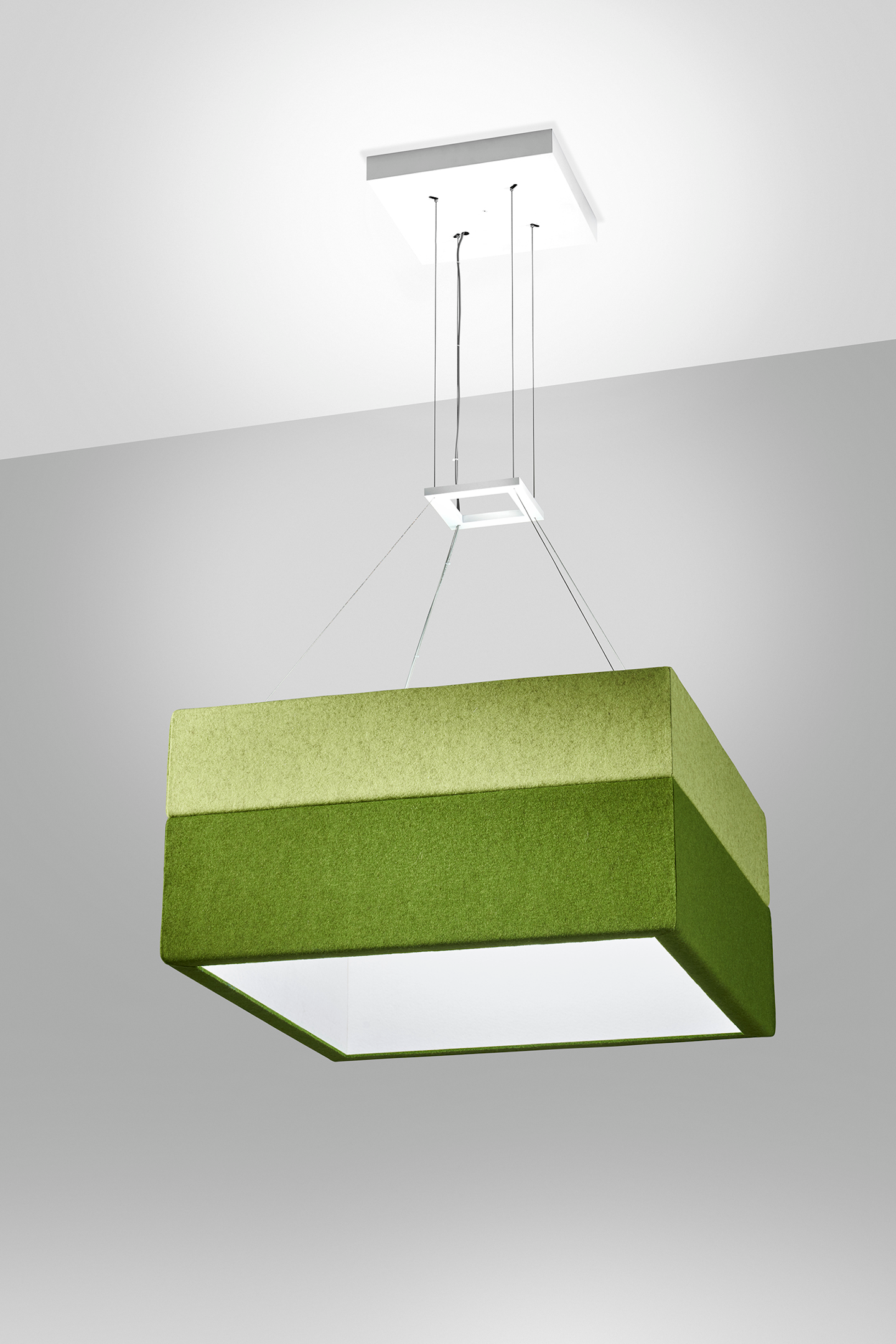 Eaton demonstrated its Shaper Sense luminaires that integrate FilzFelt sound absorption technology, and the loud LFI exhibit floor made it clear that the products reduce noise and create a more pleasant environment. (Photo credit: Image courtesy of Eaton.)

Eaton was the largest company showing such a product in the Shaper Sense luminaires developed in conjunction with acoustics specialist FilzFelt. Eaton refers to the technology as sound absorbing. We'd call it passive noise cancellation. And it works well even in a noisy environment such as LFI. We'd suspect it would work equally well in a commercial space with abundant solid reflective surfaces.
There were also plenty of products at LFI that made noise. Indeed, there were a number of companies at the event that claimed to be the first to launch embedded home Internet hubs and speakers such as Amazon Alexa in their lights. Some of the implementations even allow you to spread the hubs around your home. We won't weigh in on who might have been first to market, but we will question whether you really want to install the privacy-challenged technologies in your downlights.
Meanwhile, if you want to use a consumer electronics technology to help in the lighting design and specification process, LFI exhibits offered help in that regard. VR (virtual reality) technology can allow a specifier and/or their customer to get a realistic preview of what a project outcome might look like. Acuity was one company that had a compelling VR demonstration in its booth. Signify is also making use of the technology.
LEDs and other enablers
We will wrap this roundup with a return to the enabling technologies of SSL. One optics story we continue to follow is LensVector. That company offers a liquid-crystal-based lens that can dynamically change focal length. This year, we recognized CTO and co-founder Tigran Galstian as our Sapphire Awards Illumineer of the Year.
The ability to change beam spread without a motor on the light fixture or without a ladder and alternate optic will be important in spaces such as high-end retail. The savings in reduced maintenance will pay for the lenses as a luminaire option in many applications. The company has been shipping lenses capable of adjustment over a range of 5–50° with 48-mm and 65-mm versions. At LFI, LensVector added 15–35° lenses that will offer lesser range but also cost less. And the company brought out 35-mm lenses.
We also must come full circle back to packaged LEDs. To start the article, we discussed quality relative to the human visual range. But there are also quality angles relative to applications that aren't focused on the human eye. 
Consider horticultural lighting. We wrote a news article back in the LFI timeframe covering products from Cree and Samsung. We are seeing many LEDs that would be useless for humans but are great for plants. And Samsung's idea to use phosphor to add far-red energy seems like a good one.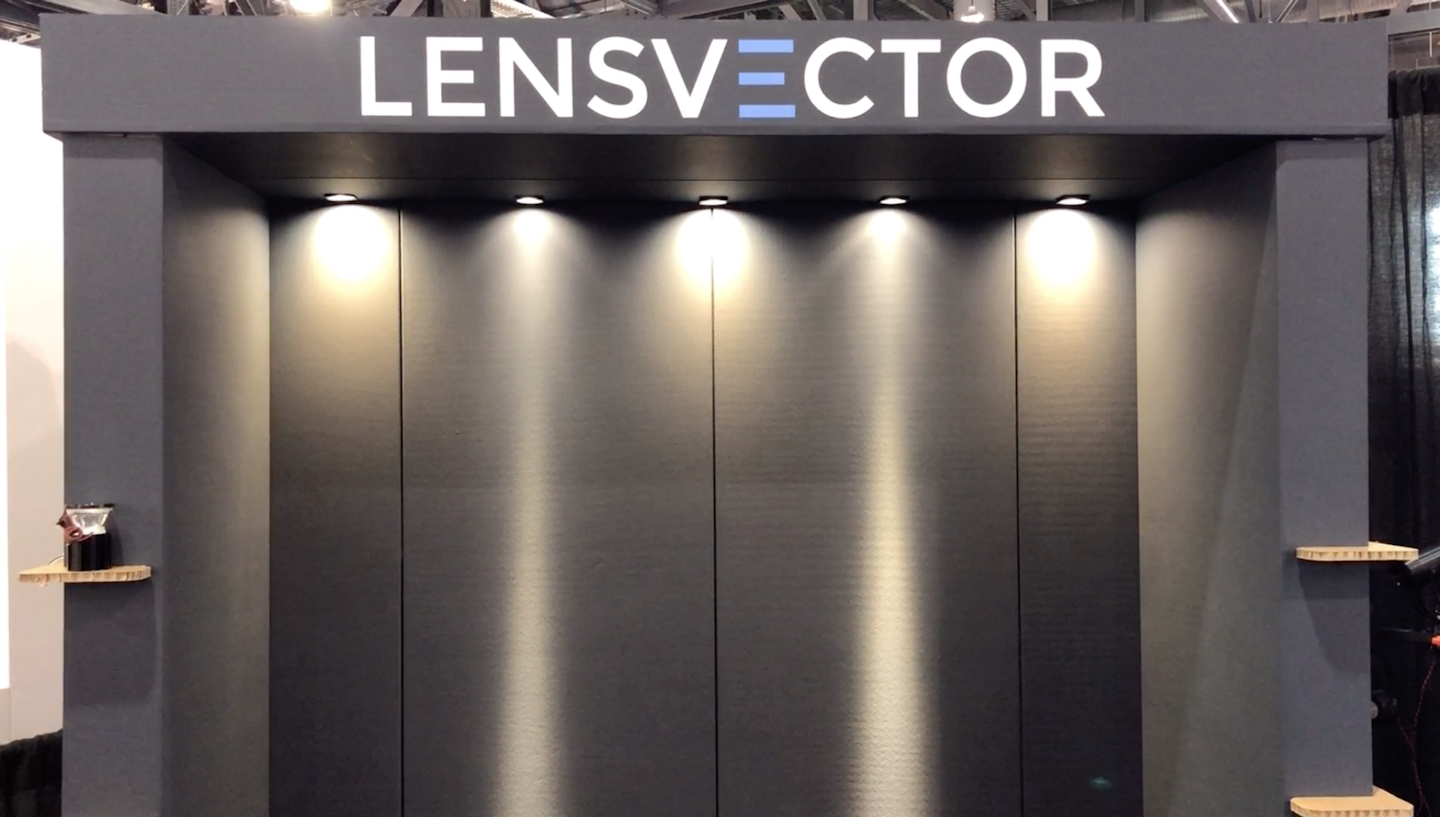 Luminaire manufacturers now have more options for adding dynamic focal length to products with LensVector delivering new lens sizes and a new 15–35° option at a lower price point. (Photo credit: Image courtesy of LensVector.)

We also saw some new horticultural LED prototypes in the Osram booth at LFI. We have since received more details and have written about those products including a phosphor-converted purple LED. Osram has also used phosphor to improve the horticultural performance of its white LEDs.
To explain how far the specialization of LED SPD may extend, we'll offer one final example. Humans don't see the same way cameras do. We have written numerous times about how LEDs improve the viewer experience for live and televised sports. But that success has come with LEDs designed purely for the human eye. At LFI, Samsung showed the difference between CRI and TLCI (Television Lighting Consistency Index) in terms of SPD and LEDs that could optimize the latter. Who knows how broad the specialization of SPDs will ultimately be in the world of LEDs?