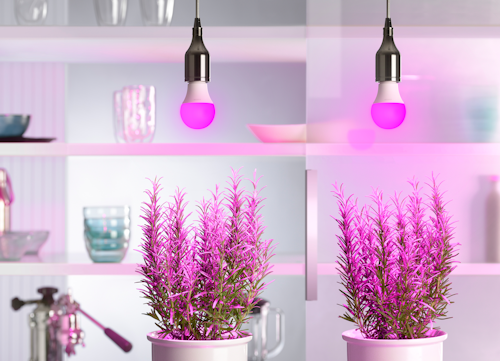 Osram Opto Semiconductors has formally announced two new LED families targeted at horticultural lighting applications that we first saw on the LightFair International (LFI) show floor. The Duris S5 Purple LEDs have energy peaks at 450 and 660 nm in the blue and red regions. Meanwhile, the company also has new phosphor-converted white LEDs in the Duris S5 portfolio that feature a broader spectral power distribution (SPD) with enhanced far-red energy.
As we have written previously, blue and red energy match up with the chlorophyll absorption peaks of plants and therefore enhance the photosynthesis process. Indeed, leafy greens and herbs are often grown in vertical farms with strictly blue and red lighting. Such solid-state lighting (SSL) fixtures have been manufactured using separate blue and red monochromatic LED channels. But the combination of a blue pump and red phosphor can deliver the blue and red energy with a single channel of LEDs, thereby reducing cost.
Osram is not first to the purple LED party. Lumileds brought out phosphor-converted purple LEDs back in the fall of 2016 as part of the SunPlus portfolio, and other manufacturers subsequently made similar announcements.
Still, Osram touts the robustness of its purple LEDs relative to the competition. The 3×3-mm package utilizes a mid-power structure but features an epoxy package for reliability. Moreover, silicone protects the LED and phosphor from what is often a harsh environment in horticultural lighting applications.
The Model GP PSLR31.14 is a 1W device while the GP PSLM31.14 is a 0.3W device. The former delivers PPF (photosynthetic photon flux) of 1.5 µmol/s, and photon efficacy of 1.6 µmol/J. You can find background on horticultural metrics in the article linked near the top of this news story and in recent coverage of the DLC (DesignLights Consortium) work in the horticultural application.
Osram also pointed out that horticultural luminaire designs can add a mix of Duris S5 Lime LEDs alongside the purple LEDs to generate white light. In such an application, the white light mode would be primarily intended to allow workers to see better when harvesting or maintain the plants.
Meanwhile, we've documented that hyper- and far-red energy — mostly beyond the human visual range — can increase yield and the quality of plants in some cultivars such as flowers. Dr. Erik Runkle of Michigan State University, the keynote speaker at our 2018 Horticultural Lighting Conference, reported such results relative to petunias.
A number of LED manufacturers are addressing the need for red energy, above the human visual range and even above the plant-centric PAR (photosynthetically active regions) band that ends at 700 nm, with phosphor technology. Osram has launched Duris S5 LEDs with such a broader spectrum in 0.2W and 1W devices. The 1W GW PSLR31.FM LEDs have a red peak in the SPD near 625 nm and still deliver usable energy beyond 750 nm. PPF is 1.77 µmol/s, and photon efficacy is 1.84 µmol/J.
Speaking of our Horticultural Lighting Conference, the majority of the 2019 program is set. We will have an excellent roster of speakers led by Neil Mattson from Cornell University and the GLASE (Greenhouse Lighting and Systems Engineering) consortium delivering the keynote.