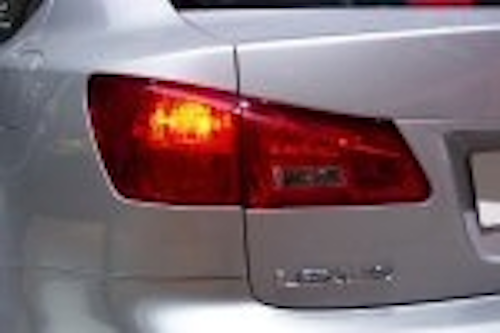 Philips Lumileds Lighting has announced a number of applications for its high-power Luxeon LEDs on production passenger cars. Many existing automotive LED lighting applications use clusters of smaller, lower-power devices, while in some instances it is advantageous to use fewer LEDs with higher-output power. Lumileds says that high-power LEDs can reduce the number of emitters required from as many as 18 to just one or two.
LEDs provide significant styling, longevity, and energy efficiency benefits to vehicle manufacturers and consumers. The latest LED automotive lighting firsts claimed by Lumileds are:
• The first high-power white LED reversing lamps, featured in both the 2006 Cadillac DTS (two Luxeon I emitters in each of two lamps) and the 2006 Jaguar XK (three Luxeon I emitters in a single lamp).
• The first high-power LED stop-tail lamp in the US market, incorporating two red Luxeon I LEDs on the 2006 Lexus IS.
• The first high-power LED rear fog lamp, built with three white Luxeon I emitters for the 2006 Jaguar XK.
• The first high-power yellow LED front turn signal, consisting of a six-Luxeon I LED assembly on the 2006 Porsche Turbo.
• The first mirror side-turn lamp to use a single, high-power yellow LED, featured on both side mirrors of the 2006 Audi Q7.
In each case except the mirror side-turn lamp, the Luxeon LED assembly replaces a conventional 21-watt incandescent bulb. In the mirror side-turn lamp, each Luxeon I LED replaces what is usually an array of low-power LEDs.
Audi has also expanded its use of white LEDs in daytime running lamps (DRLs) that began with the 2004 Audi A8 W12. In that vehicle, five Luxeon I LEDs created a distinctive cloverleaf-shaped DRL within the headlamp assembly, marking the first appearance of an LED DRL in a production vehicle. This year, the DRLs supplied by Schefenacker for the 2006 Audi S6 also made use of Luxeon LEDs.
"Given the design cycles for automotive lighting projects, we expect to see a significant number of vehicles utilising Luxeon LEDs hit the road over the next few years," said Jason Posselt, Marketing Director for Automotive Products. "The Luxeon-based systems are approaching cost parity with other systems. They also introduce new design opportunities for stylists, and minimise the weight and dimensions of each lighting solution, thereby further reducing power usage and costs."