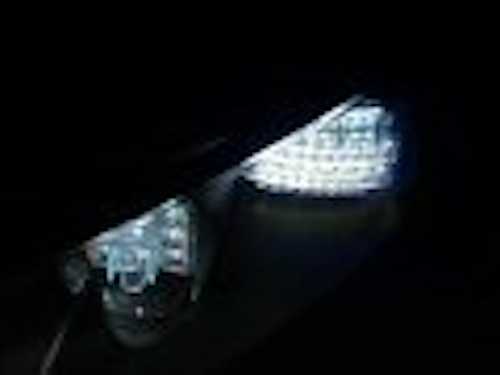 Schefenacker, an automotive lighting specialist based in Germany, says that it is "working flat" out to develop viable LED technologies for headlamps. The company develops and produces more tail lamps and other signal lights using LED technology than any other automotive parts supplier in Europe, and recently entered the LED front-end lighting segment with its striking daytime running lights (DRLs) for the Audi S6 (see
White LEDs used for daytime running lights on Audi S6
.
LEDs are energy-efficient, require no maintenance and will provide light for the life of a car. The use of various LED modules within a headlamp makes it possible to illuminate a specifically defined portion of the road, while their striking appearance means that LED headlamps open up entirely new design possibilities.
Schefenacker has a group of specialists focusing on LED headlamp development, and also has a subsidiary, / that manufactures LEDs. Based in Kamp-Lintfort, Germany,
Global Light Industries
supplies half of the 100 million LEDs used by Schefenacker each year, as well as providing exclusive access to the know-how of a large manufacturer of LEDs for automotive lighting.
In addition, Schefenacker has been working closely for many years with the largest developers of high-performance LEDs, Osram and Philips Lumileds. This is an optimum basis for entering the new LED headlamp market segment.
Schefenacker believes that the fact that the company has not produced standard headlamps in the past is not a disadvantage: "An LED headlamp has more in common with an LED tail lamp than it does with standard halogen or xenon headlamps," said Robert Apfelbeck, head of LED Headlamp Engineering. "Thanks to its technological background, the company has the perfect prerequisites to try out new approaches and thus to develop innovative solutions."
Such solutions are necessary, as many of the currently familiar concepts, particularly in the areas of light intensity, optical efficiency and heat management, have considerable drawbacks.
Increased light intensity with "symbiotic optics"
Although LED-based DRLs are already on the market, there is still a general need for further development for their use in high beams and low beams. Schefenacker's advantage in this field is primarily due to a series of optical concepts which make particularly efficient use of the LED light.
The "symbiotic optics" concept developed by Schefenacker is able to exceed the magical 50% barrier in the optical efficiency of low beams. In comparison, the same figure for xenon light is only about 30%.
"LEDs will be an extremely interesting option for use in headlamps once the level of 60% efficiency is reached," says the Head of Advanced Development, Dag Wagner. "Schefenacker will be getting even closer to this goal in the coming months."
Both single-chip LEDs and multi-chip LEDs are used for light generation, while the light is distributed using lens systems, reflector systems and mixed systems with "symbiotic optics." This term refers to a high-efficiency system in which the emitted light of each LED is split into separate rays through a special mirror and lens arrangement. These rays share optical lenses and profit from each other, hence the term "symbiotic optics". This approach results in higher efficiency than other technologies that use shutters to cut off a certain part of the light emitted from the LEDs; Schefenacker's technology doesn't use shutters.
Thermal management
In order to dissipate the heat from the LED modules, Schefenacker utilises an active cooling system. The cooling power of passive systems (relying on natural convection) is often insufficient in automobiles due to the extremely high temperatures of their surroundings.
The Schefenacker LED headlamp team has utilised state-of-the-art thermal simulations and airflow simulations to create a counterflow heat exchange method which does more than simply cool: This active system also insures an optimal airflow distribution within the headlamp, which makes it possible to evenly defrost and defog the headlamp cover lenses.
New strategies for lighting on bends
LED technology makes it possible to offer lighting on bends without using moving parts to redirect the beam. Instead, when driving round bends, one or more modules which are permanently directed towards the curve are turned on. This type of solution is not expected to come into use for a number of years, when the costs have fallen for the necessary additional LEDs and when the new LED generations with greater light output will be available.
Until this comes to pass, Schefenacker is pursuing a different strategy, developing innovative swivel systems especially for LED modules. These allow the infinitely variable rotation of a portion of the small light modules in accordance with the steering angle or in accordance with the setting of the direction indicator, so that the road is also optimally illuminated when driving round bends.
Design and marketing opportunities
LED headlamps open up new possibilities for designing headlamps and car bodies, not only due the innovative overall appearance, but also due to the many different ways in which the various modules can be arranged with a wide range of lens system configurations.
Their innovative appearance can make LED headlamps part of a strategy to better delineate individual market segments. LED headlamps also offer an excellent method for differentiating the lower-end models from the top models of a series.
Conclusion
It will still probably be another two years before the widespread use in Europe of LED headlamps whose performance is comparable to that of xenon headlamps. However, hybrid systems, combining xenon technology for high beams and low beams with LED modules for the daytime running light, parking light and indicator light functions, are already a reality.
The costs for LED systems will still be high for a few years, meaning that this innovative type of illumination will be found primarily in the more expensive end of the market in the next few years. The thing which is still missing is a general approval for the use of this technology in European law; the corresponding changes to the law are expected in 2008.
With its "symbiotic optics" and its ingenious thermal management system, Schefenacker believes it has the potential to be a leader in LED headlamps as well.
The Schefenacker Group
Headquartered in Schwaikheim, near Stuttgart, Germnay, the Schefenacker Group is a technology leader in automotive lighting and for more than 10 years has been producing high-tech tail lamps using LED technology for numerous automotive manufacturers in Germany and the USA. Schefenacker achieved € 930 million in turnover in 2005, and employs approximately 7,000 people, with 23 production plants and six development centres around the globe.
In Baden-Württemberg, famous for its high-tech industry, approximately 1,000 employees develop and produce not only LED lighting for the front of the car, but in particular high-quality tail lamps and additional brake lights for German car manufacturers, including LED tail lamps for Mercedes-Benz, Audi, BMW and Volkswagen.