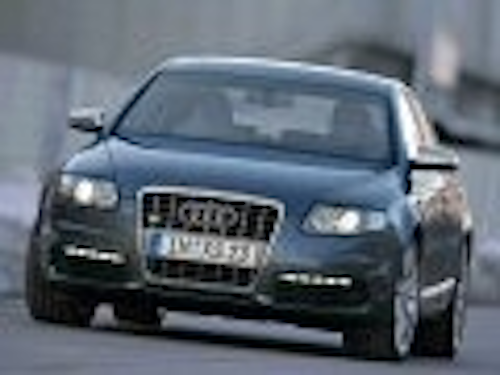 Audi's press release for its new S6 and S6 Avant, which go on sale in the spring of 2006, describes "a refined flow of power in conjunction with superlative comfort and an elegantly understated appearance."
More importantly for the LED industry, the new model is the second by Audi to feature daytime running lights (DRLs) that use white LEDs as the light source Two years ago, Audi unveiled its Audi A8 6.0, which has DRLs comprising 5 white LEDs in a cloverleaf pattern. The DRLs are incorporated into the main headlight (see Audi specifies white LEDs for daytime running light).
In the S6, Audi has gone for a radically new design in which the white LEDs are located in a linear strip in the front bumper.
Audi says that when these light strips are switched on, the effect is "utterly distinctive": the strips make it incredibly easy to identify the new Audi S6, and the low-down position of the daytime running lights gives the car a dynamically flat appearance.
To accommodate this concept, the fog lights have been incorporated into the main headlights. Xenon-plus headlights are provided as standard, and Audi adaptive light with dynamic cornering light is optional.
The rear light units of the Audi S6 incorporate LED brake lights as standard, and the S6 Avant in addition has tail lights using LED technology.
Audi Roadjet
Also unveiled in Detroit at the North American International Automobile Show was Audi's study car by the name of Roadjet Concept, which features LED exterior lighting throughout.