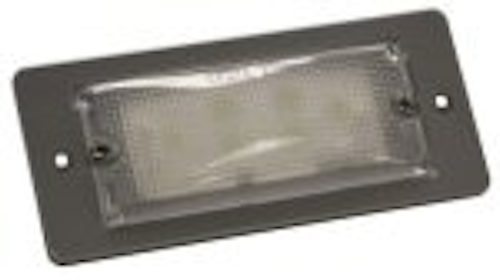 Cree is supplying Grote Industries with white Cree XLamp® power LEDs for incorporation into Grote's new line of interior dome lights.
Grote says that its tests have concluded that, compared with other types of interior vehicle lighting, its new product line uses less power, lights instantly in cold temperatures, generates less heat and lasts up to five times longer. These properties are especially beneficial for refrigerated and insulated trailer haulers.
"With XLamp LEDs, our new dome lights are twice as bright as competing products and produce a softer, more appealing white light," said Mike Grote, Grote business development manager. "In addition, XLamp LEDs operate at a lower forward voltage, which is a major competitive advantage for our lights."
Grote added that the company engineered its new lights to cast broad light distribution similar to the traditional fluorescent lamps.
"The transportation industry has been an early adopter of LED-based lighting systems," said Mark McClear, Cree director of marketing for XLamp LEDs. "The new interior dome light outperforms earlier LED solutions through a combination of higher light output from Cree XLamp power LEDs and optimized fixture design by Grote's engineering team."