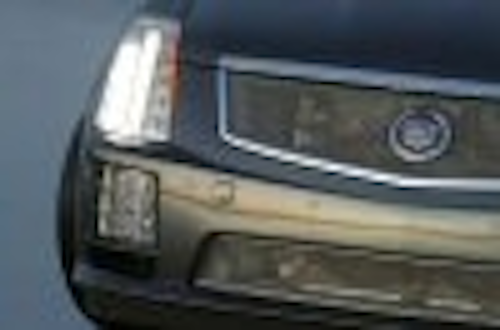 GM's Technology Integration Vehicle was unveiled at the SAE World Congress, taking place at Detroit's Cobo Center from April 11-14, 2005.
Visteon's LED front lighting provides unique styling opportunities for automakers, while delivering a durable light with extended life, reduced power consumption and reduced space requirements. Visteon already produces LED rear signal lights and is the industry's first Tier I automotive supplier to announce the development of a "road-worthy beam pattern" application of LED front lighting.
The company says that, based on automotive production schedules, is capable of bringing this scaleable-light-output, production-ready technology to the automotive market in "a matter of months".
LED technology has been available to vehicle designers for rear signal light applications for nearly a decade. Moving them to the front of the vehicle is a greater engineering challenge because of the many light sources that must be arranged and focused to provide necessary nighttime and inclement-weather visibility.
While LED front lighting can be customized to complement traditional halogen or HID/xenon lighting, Visteon's LED front lighting demonstration lamps are comprised entirely of LED technology. Visteon's approach includes unique optics and a new method of light source placement to direct the white light into a beam pattern that meets federal requirements for automotive front lighting. In addition, LEDs need to be thermally managed for heat dissipation to withstand engine-compartment temperatures. LEDs also require precise electronic current control over their operating range.
"Visteon is pleased to work with General Motors in demonstrating this breakthrough application of LED technology as a front-end lighting source," said Todd Sheppelman, Visteon's vice president and general manager of the General Motors customer business group. "We've focused our lighting and electronics engineering resources to bring our customers a technology that is functional and offers styling flexibility to help them differentiate their vehicles."
LED-based headlamps offer several advantages to revolutionize automotive lighting. These include flexibility in design, improved packaging, reduced power consumption and long life. LED front lights are up to 55-percent thinner than their non-LED counterparts, thus opening up space in the engine compartment or in the grille to add styling options.
Since LED lights don't use a single light source but rather several sources combined to achieve the required beam pattern, designers have the opportunity to arrange light sources and provide a unique differentiating appearance. This includes the possibility of placing LEDs to create different daytime and nighttime "faces" for a vehicle.