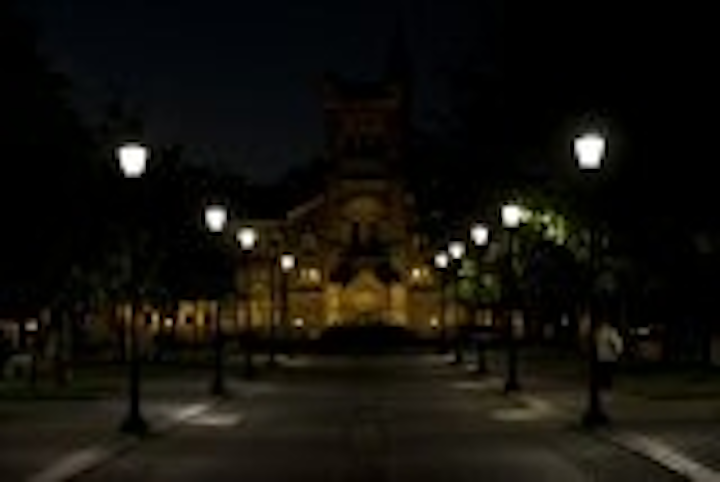 Schools and universities across North America are trying to reduce their power consumption and impact on their surrounding environments by investing in energy-saving technologies. The University of Toronto has been actively engaged in becoming an energy efficient and environmentally friendly institution through the many programs they have instituted throughout the university. The university recently saw the need to improve their main campus streetlighting to benefit their students, their campus and their community.
The university enlisted Osram Sylvania to provide a complete street lighting solution that allowed the campus to save energy, reduce maintenance costs and decrease the school's environmental footprint. With 100 Lumec (a Philips company brand) fixtures lining the streets and promenades of the main Toronto campus, the first priority for the project was to preserve the look and feel of the school, which meant keeping the existing lighting fixtures. The Contemporary Lantern Series from Lumec features ornamental crowns which lead to sleek lines in the cage, providing a perfect balance of modern architecture with old-world charm.
As lighting typically accounts for over 20 percent of a campus' total electrical consumption, schools benefit greatly from an energy-efficient makeover. Traditionally, streetlights utilize a wide range of high-intensity discharge (HID) lamps rated anywhere from 50W to 400W. When coupled with a ballast, the actual system wattage increases by another 15 to 20%.
Osram Sylvania recently introduced the Post Top Fixture LED Retrofit Kit, a LED street lighting system that competes with HID lamps. The product enabled the University of Toronto campus to achieve its lighting goals and save energy with advanced LED lighting…without a fixture change.
"This Sylvania LED Retrofit Kit allowed us to maintain a good looking white light over existing HID lamps that greatly reduced the system wattage, increased the system light levels and was easy to install," said Blair Mochrie, University of Toronto trade services manager.
The units have a correlated colour temperature (CCT) of 5700K and a colour rendering index (CRI) of 70. "I was very impressed with how the LED unit fit securely, like a glove, into our existing fixtures with no need for additional external modifications," said Mochrie.
> This adds to the security of the application by creating a better-lit, more welcoming atmosphere for people to feel safe outdoors after dark.
The 40W LED system contains 66 Golden Dragon Plus LEDs from Osram Opto Semiconductors and delivers light only where needed, minimizing light trespass and disruption to an application's surroundings and neighbours.
By upgrading to the Post Top LED Retrofit Kit, the University of Toronto was able to be "green" and save "green", installing the mercury-free LED product afforded the school the ability to reduce the impact on their surrounding environment and to their electrical budget. "We were really looking for a way to cut our energy consumption and reduce our labour needs without going over our budget," Mochrie said.
The University of Toronto is very active in many aspects of LED technology and market transformation, being a part of the Toronto Atmospheric Fund LightSavers initiative and for founding the Solid-State Lighting Network (SSLNet) for manufacturers.
The SSLNet hosts educational activities and forums for the industry and end-users (see News) and has developed an in-house independent lab and testing facility with some of the most recent state-of-the-art testing equipment.