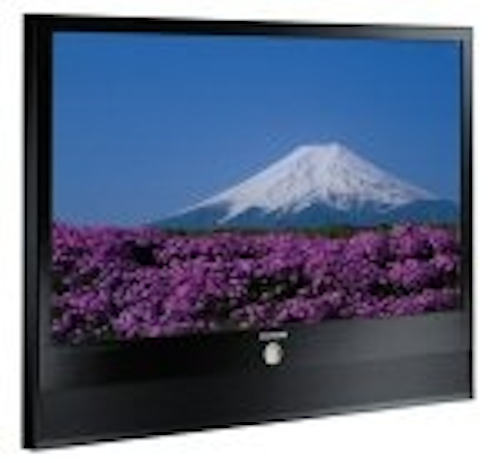 Samsung confirmed that it recently began shipping to dealers its first 1,080p high-definition DLP rear-projection set using a LED array instead of a conventional UHP lamp, according to an Associated Press
report
.
Model HL-S5679W, with a suggested retail price of $4,199 and an average street price of $3,999, was originally scheduled to ship in April and has been significantly back-ordered since its formal introduction at the Consumer Electronics Show in January (see CES exhibits herald the arrival of televisions based on LEDs).
Steve Panosian, Samsung rear-projection and SlimFit CRT TV marketing director, said the product has been heavily requested by technology enthusiasts looking to acquire sets based on the latest technologies. The HL-S5679W is among the first LED-based rear projection sets to reach market.
A spokesman for NuVision said its LED DLP model would ship prior to the CEDIA Expo in September. Representatives from Akai, which also showed LED DLP prototypes at CES, were not available for comment on their rollout plans.
The system is said to use a postage-stamp-sized LED lighting array made up of 18 LEDs (six each of red, blue, and green) in place of a UHP bulb. The life-span of the LEDs is conservatively rated at 20,000 hours.
The new technology is said to extend the color gamut of traditional DLP rear projection TVs, while eliminating the color wheel that has produced visible color bar patterns noticeable to some viewers when watching certain fast-action programming.
The system uses less electricity than conventional micro-display rear-projection systems and even most flat-panel TV displays. It also removes UHP bulbs, which use mercury, from the waste stream.
CMO to launch 32-inch LED backlit LCD panel
Meanwhile, the Digitimes website says that the Taiwan-based LCD panel maker CMO is to launch a 32-inch LED-backlit LCD panel in September.
Epistar and South Epitaxy will supply the blue LED chips used in the panel, while green and red devices will be supplied by Tekcore and Epistar, respectively.
CMO recently entered the LED supply chain by acquiring less than 10% of the shares in LED chipmaket Formosa Epitaxy.