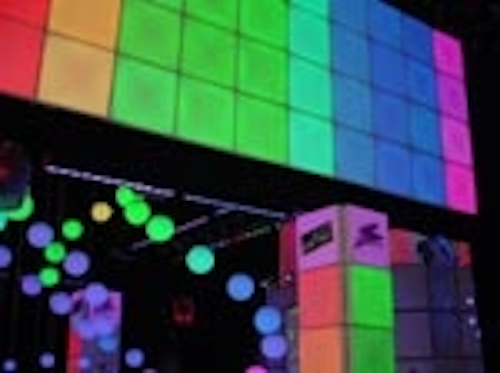 Latest
LED back wall from HSL is backdrop for Snow Patrol (Sep 06)
LED lighting companies gear up for PLASA (Aug 06)
Companies in the entertainment lighting industry are gearing up for one of the year's high points, the annual PLASA show taking place in London.
LEDs create pyramid showcase for Daft Punk (Aug 06)
XL Video UK has supplied a range of different LED fixtures for the latest tour of electronic music pioneers Daft Punk.
Chroma-QTM LED Color Blocks supplied for Massive Attack tour (Jul 06)
Introductory Articles
Accurate modeling of LED colors: a scientific approach
LED light sources are being used more frequently in large-scale applications, but planning them can be hampered by poor color rendering on computer screens. Ian Ashdown of byHeart Consultants Limited discusses methods for improving on-screen color accuracy.
Selected Features
LED products pack a punch at PLASA
The PLASA show, which took place at London's Earls Court, was packed with LED products, although true novelty was thin on the ground.
Dialight LED light engine demonstrates future possibilities for theatrical applications
Dialight and Rosco have demonstrated an LED-based high-flux-density lighting instrument that completely eliminates color fringing effects.
Cartier building gets LED holiday wrapping (and LED tiaras)
Over 17,000 LEDs have been used to create a spectacular display on the outside of the famous Cartier store in New York.
LEDs light up Las Vegas at the ETS-LDI show
The Entertainment Technology Show-LDI, held in Las Vegas in late October, presented a wide range of LED-based products for both display and lighting applications.
LED floodlights and panels attract lighting professionals at PLASA
When not being deafened by DJs cranking up their sound systems, visitors to this year's PLASA show were dazzled by a wide range of LED-based lighting products aimed at the entertainment and performing arts markets.
LED battens provide stage backgrounds for concerts
Pixelline products from James Thomas Engineering provided low-resolution display backdrops for two major concert events in the UK this summer.
The light behind the curtain: LED tile offers modular solution for backlighting
Schnick-Schnack-Systems has developed an LED tile that it believes will be highly useful for backlighting a wide variety of different materials and surfaces.
Tiles from Element Labs provide backdrop for MTV awards
Versa TILEs from Element Labs have had a high profile year so far, with a starring role in the MTV Movie Awards as well as titillating viewers of the Super Bowl halftime show.
G-LEC's transparent LED displays used on Dido's Life for Rent tour
Dido's recent Life for Rent tour took full advantage of the capabilities of G-LEC's ClassicFrame system, a lightweight, largely transparent display made up of LEDs inside polycarbonate tubes.
Selected News
Bon Jovi tour showcases Barco LED strip (Jun 06)
Barco has a launched an LED strip product, and a total length of 2.2 km is being used in a giant 3D screen on the current Bon Jovi 2006 tour.
Martin licenses CK technology, moves into LED products (May 06)
Color Kinetics has licensed its LED patent portfolio to Martin Professional, a leading manufacturer of automated entertainment lighting.
Entertainment: James Thomas, AC Lighting supply TV shows (Dec 05)
James Thomas and AC Lighting have both supplied LED lighting fixtures for TV shows filmed in the UK.
LED lights provide special effects on TV programs (Dec 05)
LED fixtures have been used throughout the TV studio set for the X-Factor show and also feature in the ITN building in London.
Telectra, AC Lighting provide lighting for music shows (Dec 05)
Lagotronics provides "wireless" LEDs for stage show (Dec 05)
Lagotronics has used wireless DMX to control LED lighting and special effects in the stage set of Beauty and the Beast.
OptiLED shifts color changing product line to Traxon-USA
OptiLED will focus on LED lamps while its color-changing products will be sold by sister company Traxon.
Chroma-Q Color Blocks provide LED uplighting for Jagger & Co.
A.C. Lighting has supplied over 400 LED fixtures to uplight the stage set for the Rolling Stones' A Bigger Bang world tour.
XL Video, Barco and TIR provide visual thrills
XL Video has supplied multiple Barco screens for the Jamiroquai concert tour, while TIR has provided decorative lighting in a Japanese amusement center.
XL Video supplies Soft-LED for Basement Jaxx
Flexible LED drapes offer a practical alternative to heavy video screens for concert touring.
Artistic Licence, Pharos win PLASA Innovation Awards
The winners of the PLASA Awards for Innovation didn't include any LED fixtures this year, but two related products were honoured.
Color Kinetics lights Lake of Dreams at Wynn Las Vegas
More than 4000 individually controlled underwater LED fixtures provide spectacular lighting effects at a new resort in Vegas.
Pixel power lights up stages at Live 8 concerts
LED lighting fixtures from James Thomas Engineering played a prominent role in the Live 8 concerts held around the world on July 2.
Telectra wins awards for ice*lighting and Bead*light
UK company Telectra has won two awards for its ice*lighting batten which uses microlenses to create unique lighting and display effects, and is driven by only 8 DMX channels.
Fraen LED fixture sheds new light on Mona Lisa
A 7-LED fixture is now illuminating the Louvre's most famous inhabitant.
Saco teams up with U2 on Vertigo tour
LED display manufacturer Saco has supplied LED equipment for U2's much anticipated 2005 Vertigo Tour.
Lagotronics provides colour cubes for musical extravaganza
Cubes lit by LED strips lights from Lagotronics took centre-stage in a musical show in the Netherlands.
A.C. Lighting supplies Chroma-Q Color Blocks to BBC
LED fixtures used in Radical Futurist project
Tryka helps create a virtual cruise
Color Kinetics and Main Light take the stage
LEDs on tour with REM, on TV in Germany
JTE supplies PixelLines for Prodigy and X-Factor
LED snowflakes descend on New York City
LED holiday lights save energy and money
Linear LED lights from Element Labs outline X-Factor TV set
i-Vision supplies LED lighting for new look GMTV set
Color Kinetics unveils range of products at PLASA
Chroma-Q Color Block DB4 provides building blocks for intelligent LED lighting
LDDE turns LED lights on performers
Coemar's moving-head projector incorporates 37 LEDs
James Thomas uses amber with RGB in expanded Pixel range
PALCO projector utilizes 3 or 5 W LEDs for large-area illumination
G-LEC adds to family of lightweight, transparent displays
Selected Products
Lighthouse rocks with Foo Fighters (Jul 06)
G-LEC gets animated at Russian music awards (Jul 06)
Projected Image Digital rocks hard in Barcelona (Jun 06)
XL Video supplies 7000 Barco Mi-Spheres for rock festival (Jun 06)
SoftLED backdrop for standup comedian (Jun 06)
XL Video is Number One with Westlife (Apr 06)
Chroma-Q launches Color Web transparent & modular LED matrix (Dec 05)
Chroma-Q launches Color Block lens optics range
DTS Illuminazione introduces DELTA R LED moving head
James Thomas launches new Pixel products at PLASA
Tryka L.E.D. Ltd unveils LED luminaires and drivers
Robe Show Lighting unveils LED products at PLASA
Pharos LPC provides control of entertainment and LED lighting
Ayrton to unveil Dreampanel LED-based panels at PLASA
IMS's FiberMagic illuminator is driven by the sound of music
ROBE introduces LEDBlinder 96, its first LED product
Philips presents Aurelle LED Candles and Aurelle DeckLight
ShowLED adds stage presence with FullColour Starcloths
Coemar introduces RIGA LED bar
The New Revolution of the Empire Club in Vienna, Austria
Para Light offers MR16 LED lamps
D-LED provides control over LED lighting
Coemar presents Panorama RGB and white projectors
Artistic Licence offers colour-control of LED starcloth
OptiLED introduces color-changing LED modular optical array series