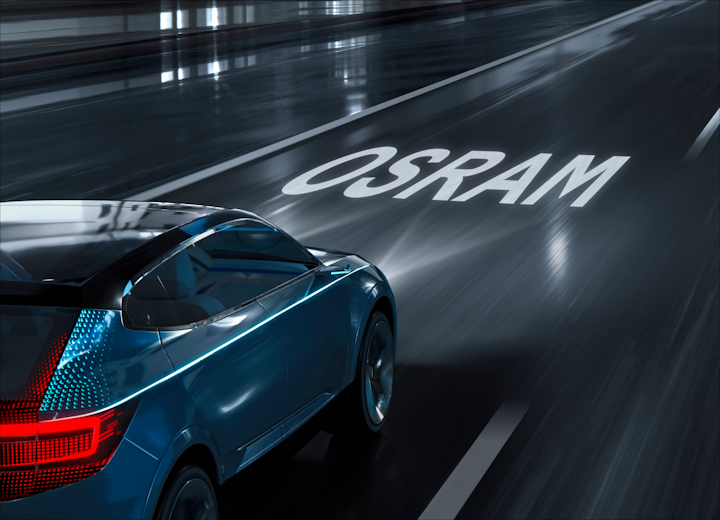 Osram Opto Semiconductors has announced that it will bring the previously-announced Evyios hybrid LED module to market for automotive headlamps next year. Moreover, the company has described a second-generation model based on microLED technology that will integrate 25,000 LEDs in a matrix. Nichia and Infineon have announced a high-density auto headlamp with the former supplying the microLED technology and the latter the driver IC technology that will be tightly integrated with the LEDs.
Both of the microLED developments are slated to come to market in 2023. Typically, we would be hesitant to cover such forward-looking product developments. But realistically the auto industry works in a chronology where engineers are working on 2023 models and specifying technologies about now.
Evyios
We have covered the original Osram Evyios technology before. The company demonstrated a prototype of the module with 1024 individually-controllable LEDs two years back. The initial implementation uses what the electronics industry calls hybrid technology whereby multiple ICs and discrete semiconductors are tightly integrated in what is essentially a module that can be handled in manufacturing much like a monolithic IC. The hybrid approach allows tighter integration of components, which inherently require manufacture in different semiconductor processes, than can be achieved on a standard printed-circuit board (PCB).
The new Osram announcement doesn't mention the term microLED. But the description of an array of individually-controllable emitters or pixels spaced 40 µm (micron or micrometer) apart or at a 40-µm pitch clearly indicated LEDs that will fit the common definition of a microLED, being 100 µm or smaller per side. The Osram announcement said the second-generation Evyios would have a total footprint of 40 mm2.
"With more than 25,000 individually controllable pixels, the second generation of Eviyos will bring HD-quality projections onto the road. In the future, vehicles will be able to visually display warnings or symbols to vehicle occupants or other road users," explains Wolfgang Lex, vice president and general manager, automotive, at Osram. "Car owners can also be greeted by a variety of welcome scenarios when approaching their vehicle thanks to this product."
It isn't clear if Osram plans to utilize a monolithic process with the new array where an array of pixels is created at the wafer level in the back end of the semiconductor manufacturing process. But that would be a cost-effective approach. In monochromatic applications where all of the pixels in an array are the same color, the wafer-level concept works. But in color microLED applications where separate RGB (red, green, and blue) LEDs must form each pixel and each of those LEDs must come from a different wafer, a different manufacturing scheme is required. We cover some of this ground in an upcoming feature on direct-view LED displays and microLED technology.
Osram did not address partners in the new Evyios development process. For instance, Infineon supplied driver IC technology to the first-generation Evyios. And the second-generation Evyios will need even more driver ICs tightly integrated with the LEDs.
Nichia and Infineon
Ironically, the announcement of the Nichia microLED development for headlamps was a joint release with Infineon. Nichia is planning an array with 16,000 individually-controllable pixels
Both Nichia and Osram stressed that the pixels that are not in use in a specific headlamp setting will draw no energy. "Our chip will control and diagnose all 16,000 microLEDs individually," said Andreas Doll, vice president and general manager of the Body Power Business Unit of Infineon's Automotive Division. "In addition to the safety benefits, our new solution will also significantly increase energy efficiency because it allows us to turn on only those LEDs actually needed for a light pattern." Some adaptive headlamps today use mirrors to deflect unneeded light rather than turning pixels off, thereby wasting energy.
"Our new LED matrix light will offer a resolution about 180 times as high as that of comparable solutions on the road today," said Kanji Bando, head of the Advanced R&D Center at Nichia. "This will pave the way for new and improved safety features and enhance driving comfort." For example, Nichia said the controllable beam could focus the driver's attention on an upcoming hazard.
The headlamp has evolved steadily in the last few years. We first covered the Audi Matrix headlamp design back in 2013. Designs quickly moved to include more controllable pixels. In 2015, we published an article focused on how to drive such matrix designs.