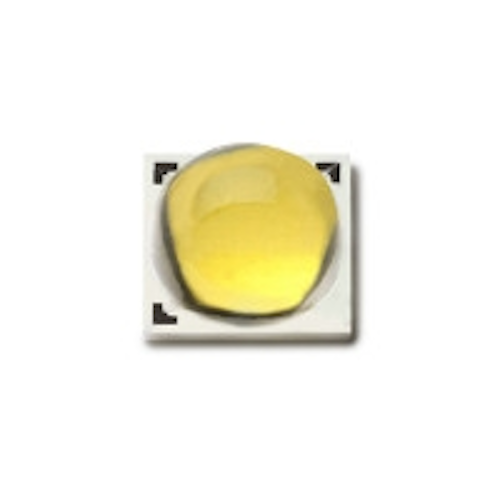 Philips Lumileds is using the term "extreme efficacy" to describe the Luxeon TX addition to what was already the company's primary LED offering targeted at applications ranging from MR16 lamps to streetlights. The LEDs will enable solid-state lighting (SSL) system efficacy as high as 120 lm/W, and Lumileds has expanded the options for product developers by offering an 85-CRI line that enables premium luminaire performance at more reasonable cost levels than you will find in 90-CRI LEDs.
The original Luxeon T family was announced last December with Lumileds CEO Pierre Yves Lesaicherre declaring the new products as "the workhorse in terms of high efficacy." The new Luxeon TX family offers 10–20% more flux output based on the CCT and CRI options compared.
Lumileds specifically addressed applications ranging from MR16 retrofit lamps to streetlights at the announcement. Kathleen Hartnett, product line director for the Luxeon TX family, said that the LEDs were the only option on the market that can enable 50W-equivalent MR16 lamps that meet the recently activated DIM2 portion of the Europe EcoDesign Regulation. Specifically, DIM2 addresses directional lighting and impacts elements ranging from lamp packaging and markings to specific efficacy and quality of light requirements that are represented by a letter grade.
The MR16 application
Driving down to details, Hartnett said that an 80-CRI Luxeon TX with a 2700K CCT could be used in 50W-equivalent DIM2-compliant designs. Meeting such MR16 requirements is dependent on baseline LED performance and the ability to precisely control the beam, which is enabled by the relatively small source size of the Luxeon TX. Hartnett said, "It delivers on that ability to produce narrow beam spots."
Hartnett was quick to directly compare members of the Luxeon TX family with Cree XP-G2 LEDs for which Cree has published a recently updated datasheet. She said that at 2700K CCT, 80 CRI, 85°C, and 700 mA of drive current the Luxeon TX delivers 200 lm while the XP-G2 delivers 172 lm. That equates to a 16% advantage. At higher 85- and 95-CRI values, Hartnett said that the advantage is as much as 39%.
One other major part of the latest announcement is the inclusion of an 85-CRI line in 2700K to 5000K CCTs, the same range in which 80 CRI is offered while 90 CRI is only offered at the warm end of the spectrum.
Most manufacturers only offer 80- and 90-CRI choices. We asked Hartnett whether the 85-CRI LEDs were designed specifically for that performance level, or whether Lumileds was simply selling components intended to be 90-CRI LEDs at the 85-CRI level. Harnett said it was a deliberate decision by Lumileds to develop an 85-CRI package separate from the 80- and 90-CRI products.
Hartnett said that many customers in Japan in particular have requested 85-CRI LEDs. Moreover, she said that the 85-CRI LEDs could "enable specification-grade performance in lighting products nearer consumer-grade pricing."
Efficacy offers flexibility
The greater performance and efficacy will provide SSL product developers needed flexibility in developing for maximum energy savings or minimal upfront cost. For example, Hartnett said you can realize a 120-lm/W streetlight driving 4000K, 70-CRI LEDs at 350 mA with the LEDs delivering 155 lm/W at the component level. Conversely, you could use far fewer LEDs, bump drive current to 1A, and still realize 100 lm/W at the system level and 126 lm/W at the component level.
The example aligns with the theme of another recent Lumileds announcement of the Luxeon Q family. The company is focused both on maximum efficacy and minimizing the efficacy drop at higher drive currents.
The upgraded performance of the Luxeon TX is surely attributable to many factors including a constantly evolving epitaxial recipe and advances in package and phosphor. But Lumileds continues to stress that the ability to keep the forward voltage to 2.8V at 700mA and 85°C is critical in the high-efficacy specs. Likewise, thermal resistance of 3 K/W helps keep the junction relatively cool at the high drive current and enables reliable and efficient operation.
If you would like to see some more details on the design scenarios behind LED retrofit lamps, streetlights and other products based on the Luxeon TX performance, see our recent webcast "How to pull tomorrow's performance into today's luminaires." Although that live webcast occurred prior to the Luxeon TX launch, the examples included were largely based on Luxeon TX performance levels.