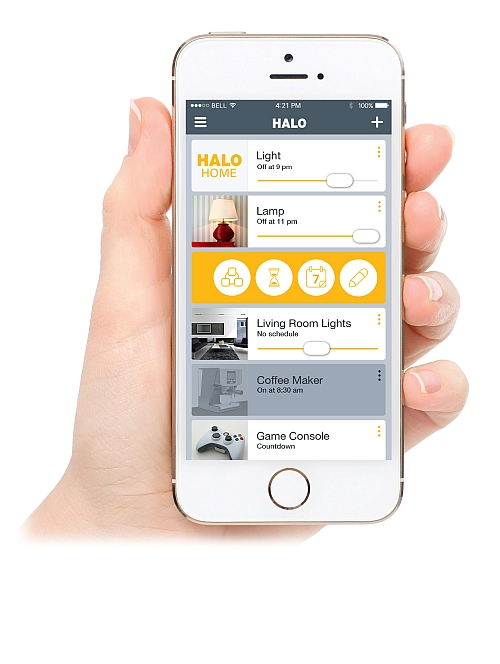 The Halo Home family of smart lighting products includes basic LED luminaires equipped with Bluetooth Mesh technology along with controls and a bridge for Internet connectivity.
Eaton's lighting business unit has launched the Halo Home family of smart LED lighting products designed specifically for residential applications. The new connected solid-state lighting (SSL) portfolio utilizes the new Bluetooth Mesh technology enabling smartphones, PCs, and tablets to communicate directly with the luminaires. Moreover, an optional wireless bridge enables access to such a home SSL installation over the Internet and also enables control of the lighting via a product such as the Amazon Echo. And the Halo Home concept goes beyond on/off control and dimming to support tunable lighting.
Interested in articles & announcements on smart lighting and Bluetooth Mesh?
To date, Eaton has only used Bluetooth wireless technology in some specialized lighting-centric products that relied on direct communication between a smart device and the product. Of course, Bluetooth was not truly capable of broader usage in connected SSL systems until the Bluetooth Mesh standard arrived on the scene in July 2017. That standard was driven in part by the lighting sector and we recently ran a feature article that described how the networking stack is specifically a good match for connected systems and the Internet of Things (IoT).
Residential and Bluetooth
Eaton Lighting's Residential Solutions unit certainly saw the mesh technology as a good match for a complete portfolio of products that would match the wide set of lighting needs in a home. The initial offering includes Smart LED Downlights in a couple of different form factors (see nearby photo), and an Outdoor Security Smart LED Floodlight that is said to be coming soon. The initial control offering is the Anyplace Bluetooth Dimmer Switch that delivers a legacy-like control experience, and the aforementioned Internet Access Bridge. But clearly Eaton plans much more, and the system should work with products from other vendors that achieve full Bluetooth Mesh compliance.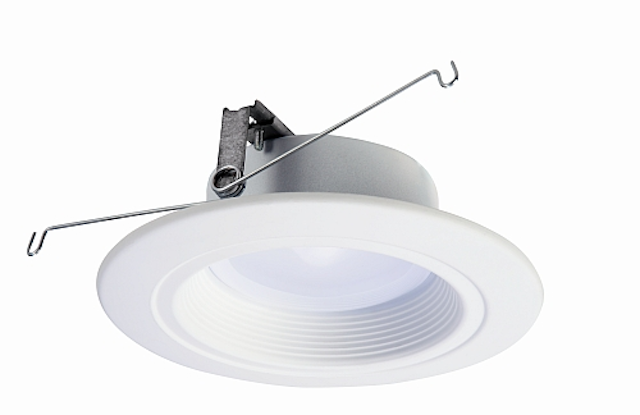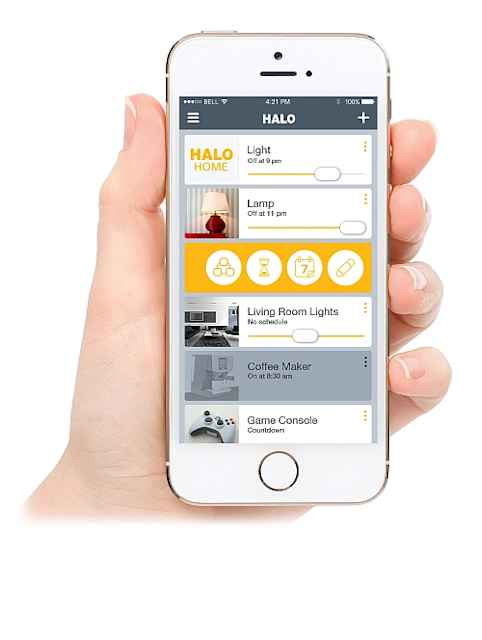 Eaton launches Bluetooth Mesh based residential smart SSL portfolio
Eaton's new Halo Home connected smart lighting offerings include downlights (shown), among other SSL products, that rely on Bluetooth Mesh wireless technology and can be controlled via mobile apps.
"Halo Home is a unique approach to smart lighting. Where many in the lighting industry have taken a switch, bulb, or fixture and made it wireless, we have built the Halo Home system through the eyes of the consumer, to provide a superior connected experience," said Brad Paine, vice president and general manager of Residential Solutions. "Homeowners think about their lighting in terms of rooms or spaces, with each room consisting of multiple lighting products: controls, fixtures, and lamps. Halo Home offers a complete package of integrated Bluetooth products that all work seamlessly together, whereas most other systems only offer a dimmer or a light bulb."
The company has already identified some of the additional products that will round out the system. For example, expect wireless wall plugs that can control legacy table lamps. And Eaton is promising a module that can retrofit existing mounted fixtures with Bluetooth capability.
Eaton expects some customers to equip individual spaces and rooms with Halo Home while others will network the entire house. The initial downlights also feature tunable products with white point adjustable to the range from 2700K to 5000K CCT. There is certainly no reason that other ranges could not be supported and even full color should be feasible. And apps could deliver circadian lighting or human-centric lighting (HCL) type experiences.
Commercial spaces
Back to the choice of Bluetooth Mesh for the system, we were a bit surprised by that announcement. We met with Ken Walma, vice president and general manager of the Eaton commercial business recently, and Walma said that while Bluetooth Mesh was another viable option for networking SSL, it didn't leap all of the obstacles to broader deployment of connected lighting. And Walma did not indicate that the commercial business was near announcing a mesh system.
Of course, Walma's unit has many other interconnected technologies in its portfolio. We covered the WaveLinx wireless technology based on ZigBee after LightFair last year. And that platform won one of our Sapphire Awards during Strategies in Light just two weeks ago. WaveLinx is meant for applications ranging from rooms to mid-size buildings. Moreover, the company's LumaWatt Pro technology can deliver full IoT capability.
At Strategies in Light, Philip Smallwood, director of research at our Strategies Unlimited market research unit, addressed the crowd twice. In both instances, he mentioned the myriad control technologies available. And he speculated that Bluetooth Mesh may find more success in residential applications than in commercial applications.