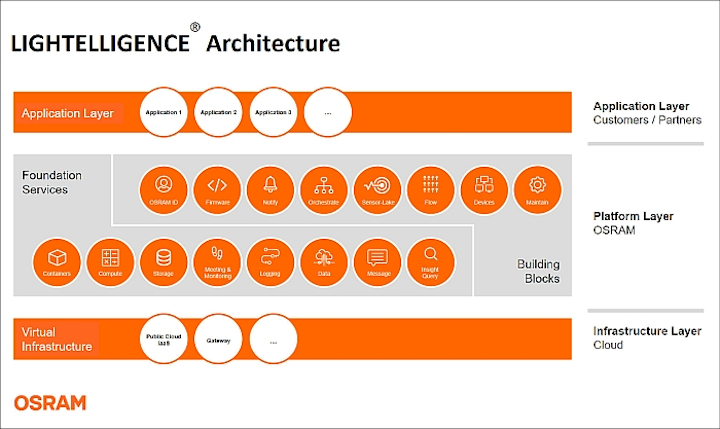 A layered approach to connected-SSL-enabled IoT applications that spans a local application layer through standard services to the cloud holds the promise of allowing a developer community to more quickly deliver new application functionality.
Light+Building (L+B) featured some sort of smart lighting or Internet of Things (IoT) demonstration in seemingly every booth, but Osram stood apart with its new solid-state lighting (SSL)-focused Lightelligence announcement. The platform is intended to be enabled by networked LED-based lighting infrastructure while delivering a variety of applications that range from energy savings to office space utilization to emergency services in nature. The architecture is unique in that shared services are sandwiched between the applications and cloud access for storage and analytics.
At first glance, it appeared that Lightelligence was similar to other emerging IoT brands. For example, Philips Lighting (soon to be Signify) announced the Interact IoT brand at L+B. But for now, Interact seems to be more of a marketing-focused brand, although we'd assume that over time the various Interact applications will coalesce in terms of software interfaces and services. Lightelligence, however, was launched as a layered architecture with standardized service modules or objects that can be accessed by various applications as illustrated in the nearby image.
Indeed, it seemed that Osram's primary goal in creating Lightelligence was to enable third parties to quickly build applications while reusing proven software to a large extent. "With Lightelligence, there is no need to reinvent the wheel when developing an application for lighting and building services," said Thorsten Müller, head of innovation at Osram. "Development departments can make use of the know-how within the community. That leads to an enormous increase in efficiency in IoT development."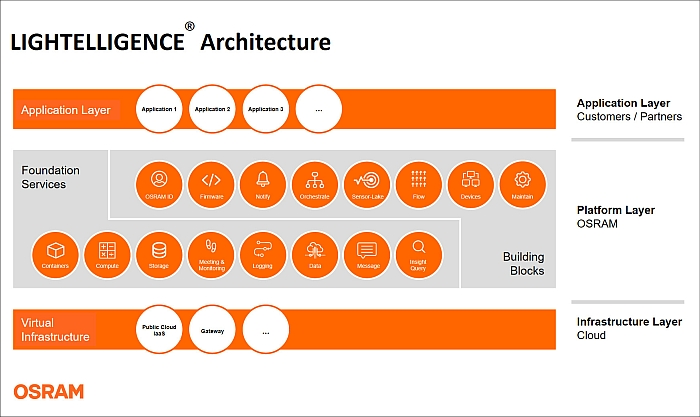 Osram debuts Lightelligence IoT platform architecture at L+B
At L+B, Osram debuted a multilayer IoT platform founded on LED lighting infrastructure that leverages both cloud- and locally-based services for developers to build functionality for applications. (Click here to view an enlarged image.)
There's a subtlety in this message that may not be readily apparent. Osram has a history as a lighting company, but is slowly exiting that industry in terms of being a supplier of luminaires, whereas Philips Lighting and Acuity with its Atrius brand expect their own branded and connected luminaires to be the prime platform upon which their respective IoT applications operate. Both companies have discussed ways in which third parties can participate, but both seem intent on supplying luminaires.
At L+B, it seemed Osram sees a future where it sells enabling technologies such as its Dexal (smart interface)-enabled drivers, light engines, and other enabling technologies to other SSL manufacturers. The company can also supply the Lightelligence platform to those manufacturers who in turn can offer a turnkey IoT system to lighting designers, facility managers, and other end customers.
Revisiting the diagram of the architecture, the Platform Layer in the middle comprises the reusable objects including both Foundation Services that are IT in nature and smart-lighting-centric objects such as modules that communicate with sensors on luminaires. And either Osram or its customer can develop the applications on top of the Platform Layer. The Platform Layer also serves as an abstraction layer, for instance allowing applications to access any wired or wireless network supported by a Platform Layer module or object.
The company already has a real-world example of the technology at work. Osram developed an application for Bamberg, Germany lighting manufacturer RZB Lighting. The application automates regular tests of the emergency lighting in a facility, saving considerable time for the facility manager that's required to verify the system by local regulations. Now RZB can offer that functionality to its customers.