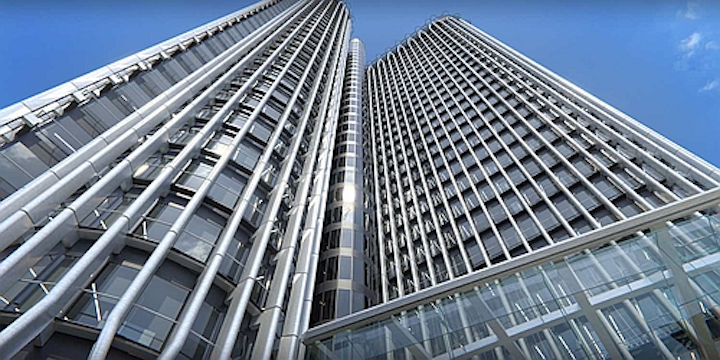 The owner of the 32-story Torre Europa in a busy financial district hopes modern PoE technology draws premium tenants.
In one of the largest known installations yet of Power-over-Ethernet (PoE) lighting, Philips and Cisco are wiring the 400-ft Torre Europa in Madrid's financial district with the smart LED technology.
Interested in articles & announcements on PoE & IoT lighting?
Philips said it has equipped 14 of the skyscraper's 32 floors with 5400 PoE-connected luminaires, covering 211,000 ft2 of office space. The floors are believed to be those vacated earlier this year by previous anchor tenant KPMG.
The smart lighting installation is part of a major refurbishment to the 31-year-old tower by owner Grupo Infinorsa, which hopes that the modern technology overhauls will draw tenants willing to pay premium rents. It echoes the strategy of Canadian real estate owner Oxford Properties, which is outfitting the 42-floor EY Tower under construction in Toronto with a smart lighting backbone, although the technology in that case is not PoE.
PoE lighting routes both electricity and data to luminaires over Ethernet cable, which is the physical line that typically underpins wired information networks in commercial and office buildings around the world.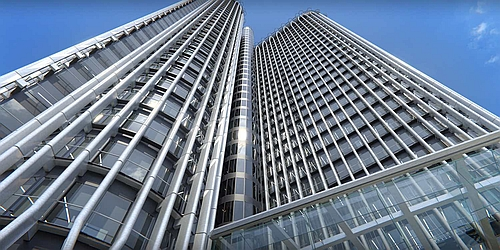 Towering Power-over-Ethernet: Philips, Cisco wire Madrid skyscraper with IoT lighting
The 32-story Torre Europa is connecting lights on 14 of its floors via Ethernet.
Proponents say the advantages are twofold. It can drastically reduce the cost of new builds and of major retrofits by virtually eliminating the need for certified electricians. That's because the low voltages that are capable of driving LEDs can travel safely over Ethernet and do not require the more-costly processes associated with installing conventional 120V and 240V electrical wires.
And connecting luminaires directly into information networks opens a smart lighting milieu that makes it possible to control on/off, brightness, color temperature, and hue via gadgets, computers, and sensors. It also turns lights into nodes that can trigger other operations such as adjusting the heating, and that can collect data about building use and assets. PoE is one of several technologies emerging to make lighting a crucial part of the Internet of Things (IoT).
"Adopting the Philips connected lighting system underlines Infinorsa's commitment to innovation and is a solid step towards a sustainable working environment, placing Torre Europa at the cutting edge of future offices," said Fernado Ferrero, operations manager at Grupo Infinorsa. "The system's connectivity is an enabler of the Internet of Things, allowing new forms of integration, collaboration, innovation, and socialization between employees, while at the same time increasing the value of this future-proof property."
Spanish real estate advisors Aura Real Estate Experts reported over the summer that Infinorsa was hoping that €20 million of extensive renovations to the building's interior, exterior, and technology could enable 20% rent increases.
A Philips spokesperson told LEDs Magazine that in addition to PoE, Torre Europa's smart lighting scheme will deploy other IoT technologies such as visible light communication. VLC is a method that embeds data in LED lightwaves so luminaires can communicate wirelessly with phones, laptops, and gadgets.
Philips is working with technology partner Cisco, which provides the Ethernet switching technology. Philips is one of 23 partners — most of them lighting companies — in Cisco's 9-month-old Digital Ceiling initiative aimed at advancing PoE lighting. PoE is essentially the same transformative technology that prompted offices around the world to move from conventional telephony to voice over Internet Protocol (VoiP) phone systems over the last decade or so.
Lighting giant Philips has been promoting PoE lighting for several years, pre-dating its Cisco partnership.
In Philips' seminal commercial PoE installation at The Edge office building in Amsterdam, a combination of PoE, VLC, and Wi-Fi completes a circle of instructions and authentication that in principle knows exactly which lights to adjust in response to commands from specific individuals, as our sister publication Lux Review explained last year.
PoE is still in its infancy, and has experienced teething pains. Owners at The Edge have been reluctant to provide progress reports over the last year. And one Philips/Cisco PoE lighting customer, Alliander, has declined interviews, saying it wanted to first work out issues with the technology. When Toronto's Oxford Properties decided against PoE during EY Tower's design stage several years ago, the technology was not as advanced as it is now.
Insiders say that dividing specific light groups to respond differently to IoT commands is not always as easy as advertised. And some people question whether Ethernet cable can indeed carry enough power to economically provide bright enough illumination without having to add more Ethernet switches. Cisco offers switches that can handle 30W, and others that can handle 60W using what Cisco calls "universal" PoE. On a related note, PoE LED lighting is more expensive than standard LED or fluorescent lighting.
But PoE examples continue to emerge. In the US, midwest IT distributor CEC recently began offering PoE lighting from another Cisco partner, Iowa-based Innovative Lighting. PoE lighting users include Smartworld in Dubai; the Quest data center in Roseville, CA; the mindSHIFT data center in Commack on Long Island; Mobile County Public Schools in Alabama; and Miami-Dade County Public Schools in Florida, among others.
Editor's note:Learn more about IoT and PoE lighting at the Strategies in Light Europe 2016 conference in London (Nov. 23-24), co-located with LuxLive 2016 including the LuxLive IoT Arena.
MARK HALPERis a contributing editor for LEDs Magazine, and an energy, technology, and business journalist (markhalper@aol.com).