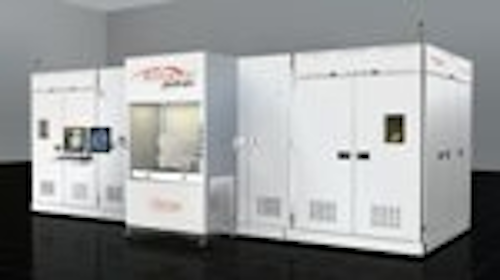 Veeco Instruments Inc. (Nasdaq:VECO), which makes equipment to develop and manufacture LEDs, solar panels, hard-disk drives and other devices, has announced record results for its fourth quarter and full year ended December 31, 2010.
The company's revenue for the quarter was $300 million - up 8% sequentially and up 152% from the fourth quarter of last year - while the gross margin was 51% and net income was $97 million. Revenue in Veeco's LED & Solar segment was up 6% sequentially to $258 million for the quarter.
Fourth-quarter bookings for metal-organic chemical vapor deposition (MOCVD) systems for LED manufacturing were placed by twenty customers across all regions, with strength continuing in China, said Veeco.
For example, Shanghai Epilight Technology Co., Ltd. has placed a large multi-tool order for Veeco TurboDisc K465i MOCVD systems during the quarter. The equipment is for Epilight's new LED fab at Hefei, China.
Also, Enraytek Optoelectronics Co., Ltd., a new company established to make LEDs for backlighting LED-TVs, has placed initial orders for Veeco TurboDisc K465i MOCVD systems to be installed at its new LED factory in Shanghai, China.
John Peeler, Veeco's CEO, stated: "We currently estimate that the total available market for MOCVD from 2011 through 2015 is greater than 5,000 reactors."
In order to capitalize on this opportunity, Veeco has launched the TurboDisc
MaxBright multi-reactor MOCVD system
.
"By dramatically accelerating our new product roadmap to create MaxBright, the most productive MOCVD system on the market, Veeco will help enable the industry's transition to LED lighting," said Peeler.
The new system will have an impact on Veeco's first-quarter-2011 revenue, which was forecasted to be between $215 and $265 million. Peeler said: "Q1 2011 revenues will be lower than Q4 2010 because we are planning to ship 12-20 MOCVD reactors in the new MaxBright 'cluster' format, and will not be recording any revenue on these systems in the first quarter.
"Timing of revenue is also being impacted by the longer order-to-revenue cycle times associated with the high percentage of business currently coming from China, primarily due to customer facility readiness," said Peeler. "The average time to convert orders to revenue is currently several months longer in China than in other regions."
MaxBright MOCVD multi-reactor system
Although only announced publicly on Feb 7, Veeco says that its new MaxBright MOCVD system has already been accepted by "a leading LED manufacturer" and that it is currently shipping the systems to "additional top manufacturers in Korea, Taiwan and China."
Veeco says that the MaxBright MOCVD system offers "industry-leading wafer capacity" of up to 216 x 2-inch wafers, or 56 x 4-inch, 24 x 6-inch or 12 x 8-inch. The new systems combine multiple, high-throughput MOCVD reactors in a modular two- or four-reactor cluster architecture.
The MaxBright reactors are based on the production-proven K465i and feature both expanded wafer capacity and advanced, proprietary, closed-loop, thermal control technology. The reactors achieve 25% higher throughput than the standard K465i.
William Miller, Executive VP of Veeco's Compound Semiconductor Business, says that MaxBright has a "clear value proposition: it's the highest productivity MOCVD system for HB LED manufacturing on the market."
The architecture enables single chamber or multi-chamber layer growth, increasing process flexibility for demanding LED structures. "MaxBright's compact architecture also enables a footprint efficiency gain of up to 2.5 times that of standalone MOCVD systems," said Miller.
"Overall, MaxBright delivers a 500% productivity gain compared to the K465i in a flexible and compact package," Miller claimed.