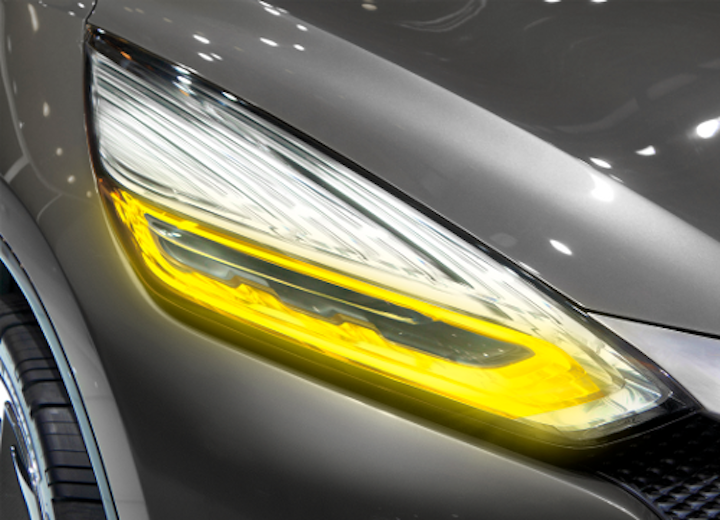 Osram Opto Semiconductors has announced a yellow LED in the Oslon Compact family that is targeted specifically at forward-facing automotive lighting. The compact footprint allows the LEDs to be packed closely together for light-guide-based designs, and the LEDs deliver 120 lm at 700 mA.

The LEDs measure 1.5×1.9×0.7 mm yet the performance is on par with much larger LEDs. The 120-lm performance level is achieved even at the elevated temperature of 100°C that the products may experience in the enclosed chamber of an auto turn indicator or other vehicular lighting function. At room temperature the LEDs produce 140 lm.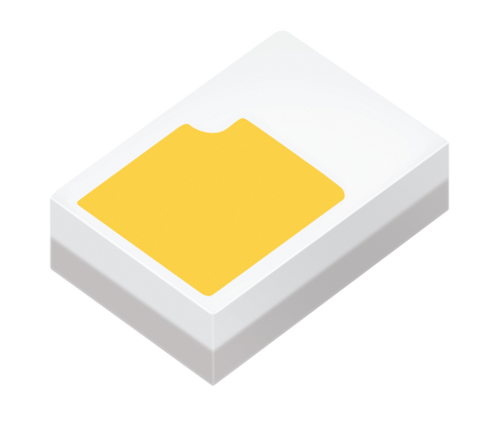 Osram achieved the performance using a blue emitter manufactured using indium gallium nitride (InGaN) epitaxial layers and a ceramic-based phosphor that converts the energy to yellow light. Osram refers to the phosphor technology as C2 for ceramic conversion.

The LEDs are made using a thin-film, flip-chip architecture called UX:3 that was covered in an article on the company's silicon-based LED research. Regardless of substrate type, the UX:3 process includes removal of the growth substrate after the epitaxial stage and flipping the chip so that light is emitted from the bottom side of the chip -- a technique that can maximize light extraction.

The resulting compact size is critical in the target application. Some light guides are as small as 10 mm in diameter, and a number of LEDs must be packed tightly to maximize the light projected into the guide. The nearby photo shows a light-guide-based turn indicator in an auto.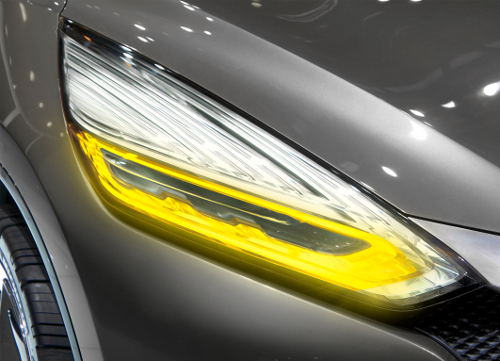 Osram adds yellow LED in Oslon Compact family for auto applications
"For turn indicators or daytime running lights, the new Oslon Compact is especially suitable for light guide solutions, just like the other members of the product family," said Michael Martens, product marketing manager for visible LEDs at Osram Opto Semiconductors. "Thanks in particular to its high luminous efficacy and compact size, it represents a further step in the direction of miniaturization and greater freedom of design, opening up such possibilities as quasi-3D effects. This special design element is of huge interest in the automotive segment and, thanks to the new Oslon Compact, it is now easier for set makers to achieve."

The new yellow LED marks the second recent auto-related announcement from Osram. Just a few weeks ago the company announced yellow and red LEDs in the Oslon Black Flat family that target rear-facing auto applications.