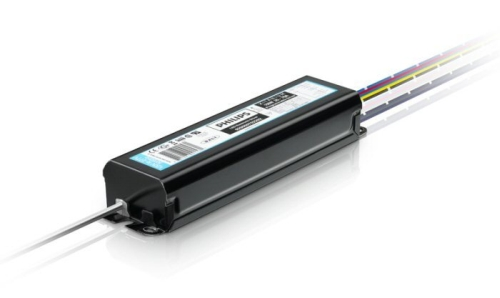 Current-configuration tool for solid-state lighting (SSL) products enables customization on the manufacturing line and the communication technology will extend into field installations and mobile-phone-based configuration.
On their LuxLive stand, Philips Lighting was featuring the MultiOne SimpleSet driver configuration technology that can precisely set the current output of a Philips Xitanium LED driver (shown). The technology uses wireless near-field communications (NFC) to communicate with the LED driver. At present, SimpleSet is intended for customization of drivers for specific LED fixtures in a manufacturing environment, but Philips plans to enable usage in the field to set the brightness of a luminaire or gather operational data using a mobile phone.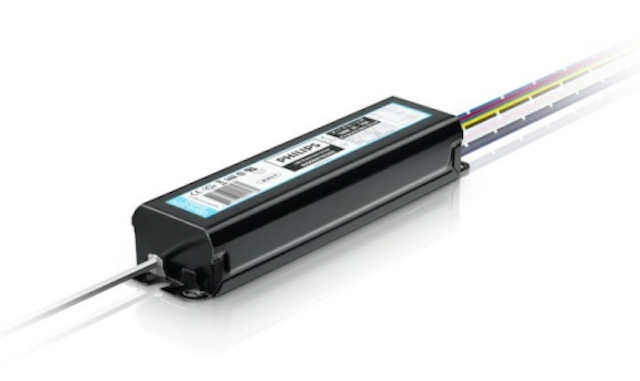 Philips demonstrates SimpleSet LED driver configuration at LuxLive
Today, LED drivers often support a range of output current, with the current dictating the brightness of a luminaire. LED driver manufacturers offer a range of techniques for precisely setting current output, with the simplest being the installation of a resistor to program the setting. But such techniques are manually intensive.
The MultiOne SimpleSet tool automates the configuration process. Lighting manufacturers can set the driver for the particular luminaire model at hand at the end of the production line, even once assembly is complete.
"You don't need to choose between 500 mA and 700 mA," said Reinhard Voorspoels. "You can set it to 640 mA if that is the current you need."
The SimpleSet technology has already rolled out in the US. Philips will begin shipping the tool in the UK at the beginning of 2015. And it will come to all Xitanium LED driver products.
While the SimpleSet feature might be significant to lighting designers/specifiers in the short term because they know such LED drivers will deliver precise current output, the long-term potential of the technology is perhaps more significant. Most mobile phones today include NFC capabilities. NFC uses a radio-frequency-identification (RFID)-like technology for simple wireless communications. You simply place the mobile phone near the driver and simple data transfer is securely enabled.
We've seen a few other instances of NFC used with LED-based lighting products. For example, NXP is using NFC to pair controls and fixtures securely that are based on the EnOcean Alliance energy-harvesting technology. Other companies are using Bluetooth to link mobile phones and luminaires, but the NFC technology is much cheaper to implement. One usage of Bluetooth is to commission LED-based fixtures and NFC could be used similarly.
For example, lighting specifiers could use NFC for precise current adjustments in the field to exactly match lumen output of multiple luminaires in a setting. Moreover, lighting manufacturers might use the technology to gather operational data from the field to confirm that products are operating as expected and that projected lifetimes will be met.