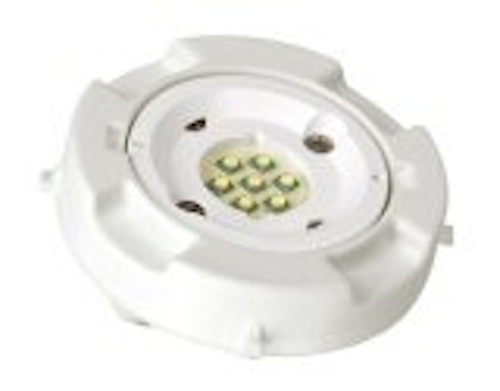 GE Lighting Europe has unveiled a new range of Infusion
LED modules
with a wide range of light-output and color-temperature options. Three color temperatures – 2700K, 3000K and 4000K – are available, each with 4 different light outputs: at 3000K, these are 1100 lm (15W, using 7 LEDs), 1500 lm, 2000 lm and 3000 lm (46W, using 22 LEDs).
GE believes that the modules address a problem in some professional lighting applications, which is that designers remain reticent about specifying LED everywhere in their schemes, with one critical reason being the difficulty in servicing and upgrading the luminaires.
The Infusion module is designed to be upgraded as required, since it can be connected to the luminaire body with a simple twist-lock mechanism, which provides the necessary thermal, electrical and mechanical connectivity.
The easy interchangeability has other benefits too. "One luminaire will accept a complete range of LED modules," explains Phil Marshall, President & CEO for EMEA at GE Lighting. "This overcomes the inflexibility of integrated luminaires, giving retailers the ability to vary color temperatures, beam angles and light packages by simply swapping modules."
At the launch event, attendees viewed a range of high-quality ProSpex downlights from Lucent Lighting which are built using the GE modules.
Attendees also learned a new term, "hot-swap protection," which refers to protection against the surge current experienced when the LED module is connected to a live driver. The modules also have an onboard thermal protection feature that turns off the LEDs if the module gets too hot.
Thermal management is a key issue for the modules, especially when the output can reach 3000 lm. GE is working with various partners for both active and passive cooling solutions, namely AVC for heat sinks, Sunon for fans and Nuventix for synthetic jets. The performance figures quoted for the modules are recorded at a temperature of 65°C measured at a dedicated measurement point on the rear of the module.
GE is also offering an "Infusion Ultra" version, with a color rendering index (CRI) of 90, combined with 2-step color consistency, compared with a CRI of 80 and a 4-step color range. GE is using packaged LEDs from Cree, and uses a precise mix of different LEDs from different bins in each module to give the desired light output. This is the same approach used by Cree in its own EasyWhite LEDs.
The GE modules are designed to run from external electronic control gear. GE is in the process of qualifying a number of LED drivers as being compatible with its modules, from driver partners including AEG, Harvard Engineering, IST Ltd, Lightech, Roal Electronics and TCI. The 1100-lm and 1500-lm modules contain single LED strings and operate from 700 mA, while the 2000-lm and 3000-lm modules have two strings and require 1400 mA.
Unlike earlier versions, the modules are supplied without integrated optics. From May 2011 the modules will have an optical interface that will allow the attachment of reflectors via a twist-lock mechanism. GE plans to introduce a series of optical accessories with a range of beam angles in categories including spot, flood, wide flood and extra-wide flood.