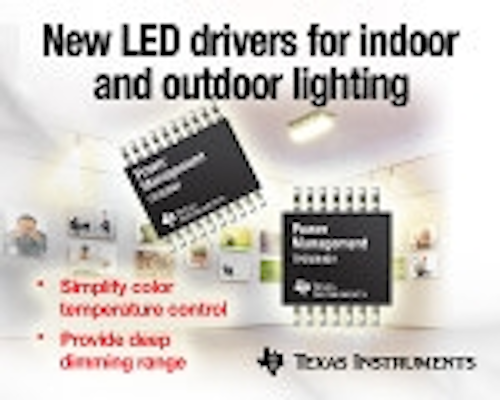 TI announced three new driver ICs, which support solid-state lighting (SSL) product designs with white-CCT tuning capabilities and ultra-low-dimming requirements. Cirrus Logic has announced lower-cost, single stage driver ICs. And Marvell has won a spot in a new family of 3M-branded lamps that are being manufactured by MSi.
TI adds three DC/DC drivers
TI's new ICs all support high-voltage outputs that are needed to driver either large strings of LEDs, or the emerging high-voltage LEDs that are increasingly popular. The 80V TPS92660 is a two-string device that allows SSL manufacturers to set a precise color temperature at the end of the manufacturing line without using precisely-binned LEDs. Instead a design can mix white and red LED strings, and the relative current settings for each can be stored in low-cost, one-time-programmable ROM memory.
The 85V TPS92640 and TPS92641 single-channel controllers specifically target applications with precise and low-level dimming needs. The company said the ICs support analog-like dim-to-zero operation and support dimming ratios as fine as 2500:1 for pulse-width modulation (PWM) control and 20,000:1 using linear shunt dimming.
Cirrus Logic single-stage driver
Cirrus Logic, meanwhile announced a pair of single-stage driver ICs after entering the market last year with a high-end two-stage driver. Generally two-stage drivers provide superior dimming performance, although single-stage devices are beginning to challenge that thought. Single-stage drivers generally have a lower cost bill of materials.
Cirrus has made bold dimming claims since entering the market and does so again with the new lower-cost CS1615/16 ICs. "The CS1615/16 family continues our strategy of offering best-in-class dimmer compatibility while driving down system costs," said Tom Stein, vice president and general manager of the Energy Division. "This focus on performance and user experience will be a key driver to broad consumer adoption of LED lighting."
Alas, as we have noted before, we have no good metrics or standardized methodology to compare the dimming performance of IC or lamp products with the broad array of phase-controlled dimmers being sold now or installed over many years. And every driver IC manufacturer claims excellent performance.
Marvell design wins
Marvell is another company that claims excellent dimming performance with its 88EM8183 that is based on a digital signal processing (DSP) core but that nevertheless is a single-stage implementation. Just before Lightfair, the company announced a controls-oriented partnership with Daintree and a design win in Samsung LED lamps.
At Lightfair Samsung announced its LED lamp family, including some remotely-controllable lamps due in Q3. Presumably those will use the Marvell driver IC, and perhaps Marvell's wireless microcontroller in the ZigBee-based lamps.
Marvell announced during Lightfair week that new 3M branded lamps that are being manufactured by ESi will also use its driver ICs. "To meet the needs of consumers, it was essential that we evaluated several vendors based on their ability to support a variety of installed dimmers at the price point we desired," said William Weiss with MSi. "Marvell's 88EM8183 LED driver was the best choice for our bulbs because of its performance, affordability and overall quality. By lowering the component count by nearly half, Marvell's driver significantly lowers the bill of materials, helping our team distribute bulbs at a lower price to end users."
The breadth of the new 3M offering is not yet known, but it likely goes far beyond the 60W-equivalent A-lamp announced last fall. Indeed the new products will probably include products with different lumen packages and lamps in different styles such as PAR.
That first 3M lamp has been relatively successful in the market. And it did not use a Marvell IC. Rather as our teardown article revealed, that first 3M design used the TI LM3444 driver IC.