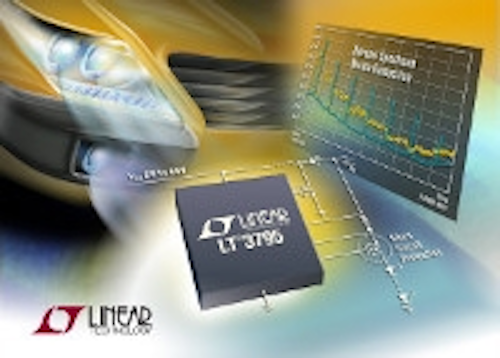 Linear Technology has announced the LT3795 DC/DC converter IC designed to drive LEDs with support for string voltage as high as 90V. Contract IC fabricator TowerJazz and DMB Technology have announced an AC LED driver IC that the latter will sell, providing broader access to AC-drive technology for solid-state lighting (SSL) applications.
Spread-spectrum frequency modulation
The Linear Technology LT3795 driver IC uses a technique called spread-spectrum frequency modulation to spread the electromagnetic interference (EMI) over a relatively broad spectral band, thereby reducing the peak energy in any narrow band, and helping SSL products meet electromagnetic compatibility guidelines. The IC can operate from DC inputs ranging from 12V to 110V, can deliver output voltages as high as 90V, and can serve power loads up to 50W.
The new IC can be utilized in buck, boost, buck-boost, and SEPIC DC/DC-converter topologies. An internal PMOS switch driver provides short-circuit protection, and enables pulse-width modulation to support dimming over a 3000:1 range. The IC can also support simple 10-step dimming for 0–10V applications.
Linear Technology said that the driver IC can enable driver efficiency as high as 94% in boost mode. Driver developers can choose a switching frequency between 100 kHz and 1 MHz, thereby enabling a tradeoff of discrete component sizes and costs.
AC-LED driver IC
Meanwhile, in the AC-LED segment, we've previously written that the AC technology would simply become another flavor of driver IC. To date, most AC-LED technology has been sold in modular form with companies such as Lynk Labs and Seoul Semiconductor supplying modular light engines that include any required electronics. Without question, you will be able to buy such drivers in IC form going forward.
The latest announcement from TowerJazz and DMB Technology, for example, will bring the relatively simpler AC-driver technology to the broader SSL product-developer market. The question remains as to whether the AC-driver can match the efficacy of DC-driven LEDs or deliver on the flicker and EMI issues that have been associated with the technology. We covered some of that ground reporting on a session at The LED Show focused on the latest in LED components.
DMB Technology will sell the driver IC that was enabled by the 700V BCD (Bipolar-CMOS-DMOS) platform that TowerJazz has perfected for analog and mixed-signal ICs. "TowerJazz was among the very first foundries to develop a 700V BCD process, and through our collaboration with customers like DMB Technology, we have achieved volume production with this process and in turn, DMB Technology has strengthened its market position in the competitive LED lighting market," said Michael Song, TowerJazz vice president of sales and president of TowerJazz Korea.
DMB Technology believes that the design has overcome the flicker problems associated with some AC-LED implementations. "Our AC direct LED driver IC product using TowerJazz's 700V BCD process is receiving very good reviews in terms of product efficiency and superior flicker function, which is more advanced than other similar products presently on the market," said Dong-Youl Jeong, DMB Technology's CTO.
There may be one additional issue with companies selling AC-driver ICs. Lynk Labs and Seoul Semiconductor, among others, own significant intellectual property (IP) in the AC area. DMB Technology did not address IP or patent issues in its press release.