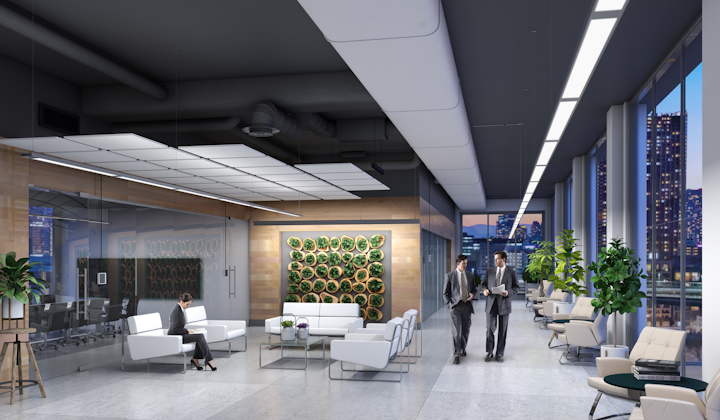 Acuity Brands has announced a new low-voltage DC power technology called Modulus that will initially be delivered in Peerless Renna LED luminaires, a family of linear, pendant-style fixtures. A centralized power conversion should deliver some increase in energy efficiency, and the Modulus scheme also includes data connections for controls and even smart building and Internet of Things (IoT) capability. A single AC power drop can deliver power to 32 ft of luminaires in the distributed low-voltage solid-state lighting (SSL) scheme.
Renna is just the first of many Acuity product lines for which Modulus will become an option. And Renna is a perfect vehicle for the introduction of the technology. The Renna luminaires are only 4 in. wide and 1 in. deep — a form factor in which it would be challenging to integrate a typical internal AC/DC driver. Yet Peerless developed Renna for high-end commercial & industrial (C&I) applications that require premium-level lighting performance.
"There's a market need for ever smaller, unobtrusive luminaires used for creating expansive designs in spaces. However, these small luminaire form factors make it difficult to embed existing technology due to spatial constraints," said Gilles Abrahamse, Acuity Brands lighting vice president for Digital Luminaire Components. "Modulus is unique in that it provides power and control for luminaires as small as 1 in. in depth. We were able to create Modulus by leveraging Acuity Brands' expertise in developing drivers, sensors, and controls."
Of course, many companies offer SSL products with drivers that can be remotely located in ceilings. But the Modulus scheme enables the aforementioned simplified connectivity as well as the efficiency advantage of DC power distribution.
We have covered DC grids a number of times. DC is a better match for powering most office systems these days. And doing one AC/DC conversion to support a number of luminaires both reduces overall power consumption and allows luminaires to be connected via low-voltage cables that do not require an electrician for installation. The most well-known DC power approach is Power over Ethernet (PoE). We had an excellent PoE-focused webcast last week.
There has also been substantial DC grid work done by the EMerge Alliance. We ran a feature article on that technology back in 2013. Lately, that alliance has been focused more on powering IT operations and working with solar power than on lighting.
And Cooper Lighting (formerly Eaton) developed a proprietary platform that it called DLVP (Digital Low Voltage Power). The company has in fact shown both the DLVP system and PoE technology side by side at tradeshows.
Acuity's Modulus is a simpler approach to DC than the others mentioned here. At least initially, Acuity won't push customers to make a full commitment to DC power. Instead, the DC grids can fit in portions of a facility — with 32 ft of Renna fixtures or 300W of power available in each DC segment.
The proprietary low-voltage cables include 18-gauge (AWG) power conductors and 22-gauge control conductors in one sleeve. Those power conductors would be less impacted by power losses over cable runs than are the smaller wire gauges used in PoE cables. A linear install of a product such as Renna is interconnected in a daisy-chain fashion using what Acuity calls a "buss board."
Each Modulus power unit can support as many as 16 separate DC/DC converters located in the individual luminaires. Such an architecture means that the Modulus system can support 16 dimming or control zones even with a mix of 2-, 4-, and 8-ft luminaires.
The system further works with Acuity's Tunable White technology that is an option for Renna and other Acuity fixture families. Moreover, compatibility with nLight networked control and sensors enables full support for the company's Atrius platform and IoT applications in Modulus-based installations. The system will further work with the company's Iota power pack for emergency lighting applications.