PixelLines light temple for 10th anniversary celebrations
A temple in NW London has been illuminated using PixelLine ficture from James Thomas.
Sep 5th, 2005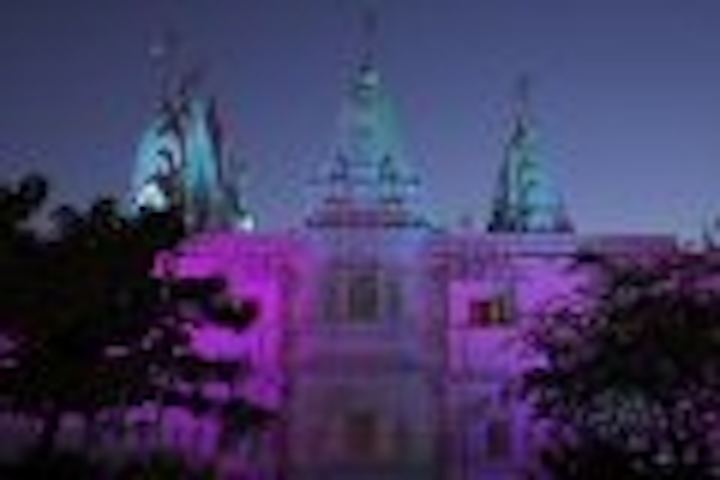 The amazing BAPS Shri Swaminarayan Mandir (temple) in Neasden, North West London celebrated its 10th anniversary in grand style this year - via illumination of its immense marble and limestone exterior with JTE PixelLine fixtures.
Over 40 PixelLine units were utilised in a scheme designed by the Mandir's lighting department. The Mandir also owns a substantial internal lighting rig that is utilised for events and celebrations throughout the year.
The Mandir is the largest outside India – measuring 75ft wide by 195 ft long and 70ft high. BAPS have lit the exterior before, but this year they wanted to use LED technology after being inspired by the results of permanent architectural schemes initiated at their sister Mandirs in Houston and Chicago last year.
>
BAPS used 35 PixelLine 1044's – the industry's favourite LED batten – and 10 of JTE's new PixelLine 110ecs. The 110s were located around the perimeter of the Mandir at floor level, titled upwards to wash the sides and front of the imposing luminescent building.
1044s are used to illuminate the intricate arrangement of 7 Shikhars (pinnacles) and 6 Ghummats (domes) on the roof. The scheme was completed with ten 1044s placed around the front gate and entrance, all at floor level.
All units were powered by local mains. They were controlled from the Mandir's ETC 24/48 lighting desk, set on a slow rolling colour chase so the white building changed colour every minute. The show ran from 7.45pm to midnight each night for 10 days.
BAPS is delighted with the results: "The colour is beautifully rich and textured," says a spokesperson. "[The lights] each cover a vast area and the intensity is amazing. We have had loads of positive feedback, from those working in and visiting the Mandir, and from people who have just been passing by."
The Mandir is an exotic sight in suburban North West London, inspired by His Divine Holiness Pramukh Swami Maharaj. Opened in 1995, it took only 3 years from conception to consecration. The construction consumed 5000 tons of Italian Carrera marble and 3000 tons of Bulgarian limestone. All the quarried stone was shipped to India where 26,300 pieces of it were shaped by over 1500 skilled artisan volunteers, before each numbered piece was transported to Neasden for assembly – like a giant jigsaw! It was designed and constructed using traditional methods throughout and contains no steel.