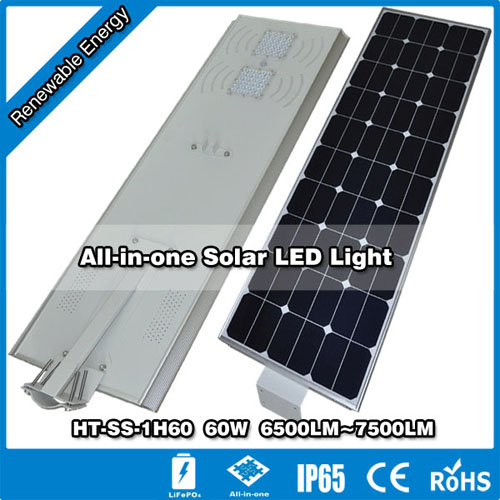 Smart All-in-one Integrated Solar Street light (60W) Model: HT-SS-1H60
Solar panel Max power 100W (high efficiency Sunpower Monocrystalline silicon)
Life time 25 years
Battery Type 25.6V 614WH LiFePO4 lithium battery
Life time 5 years
LED Lamp Max power 60W
led chip brand Bridgelux from USA with high brightness
lumen (LM) 6600-7600lm
Life time 50000hours
Viewing Angle 140°/70 °
Charge time by sun 6hours
Discharge time full power >12hours
half power >24hours
working Temperature range( ℃) -20℃~+60℃
colour temperature range(k) 6000k(optional)
mounting height range (m) 6-9m(suggested)
space between light range (m) 20m-30m(suggested)
Lamps material of main aluminum alloy
Certificate CE / ROHS / IP65
warranty period 3years

You will benefit from below points by selecting our smart all-in-one solar LED light.
1. No trenching&cabling work,easy installation
2. No extra cost for replacing old poles,direct mounting
3. Compact design,help you save freight cost and stock cost
4. Long life time,free maintenance cost
5. Auto turn on at dusk and turn off at dawn; driving in 30% saving mode mostly,only drive at full bright when motion are detected , no extra management cost
6. Green renewable energy---no pollution,keep inserts away;100% sun powered,no electric bills any more.

Applications: Parking lot lighting,Remote area lighting,street lighting...
Request More Information
Fill out the form below to request more information about HT-SS-1H60 ,60W LED Luminaiie,100W Sunpower Solar,all in one integrated solar LED street light.
---