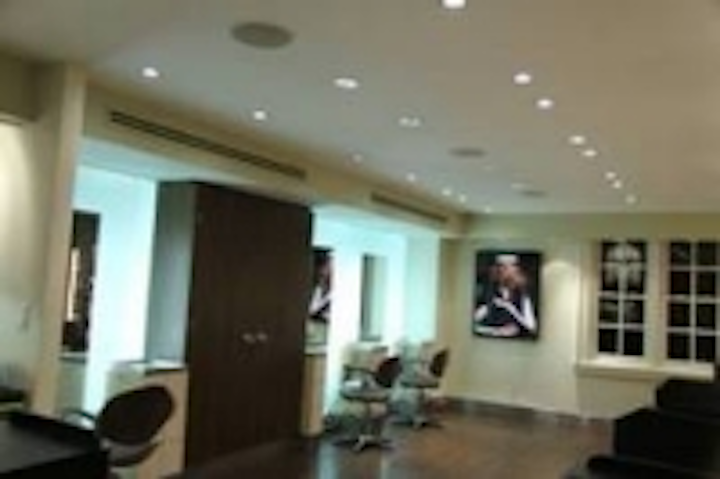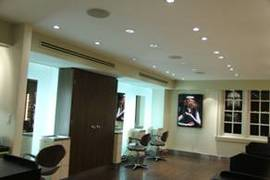 Date Announced: 11 Jan 2012
OSRAM Opto Semiconductors and Phoster Industries transform New York's Salon Ziba with energy-efficient LED lighting technology.
The interior of New York's Salon Ziba has been reborn with the addition of new LED lighting, bringing soft and precise light to the posh Midtown locale. Phoster Industries' LED lighting solutions, powered by the OSRAM Opto Semiconductors Golden Dragon LEDs, not only provide the salon with high quality light, but also deliver significant cost savings – up to 74 percent annually.
Equipped with OSRAM Opto Semiconductors' Golden Dragon Plus LEDs, Phoster Industries, an LED lighting manufacturer based in New York City and Mont-Royal, Quebec, integrated LED Par20 and Par30 lamps, as well as LED recessed down lights, at Salon Ziba to replace existing halogen lamps and dramatically reduce energy costs. Part of OSRAM Opto Semiconductors' Dragon family of LEDs, Golden Dragon Plus LEDs are a robust, long-life LED that can be used in a wide array of applications and have a lifetime of more than 50,000 hours (depending on application conditions), allowing for significantly reduced maintenance and replacement costs. The Par20 and Par30 lamps provide uniform brightness and color to the salon, creating a warm and inviting atmosphere for customers.
85 LED Par30 lamps were integrated on the first floor of the salon and deliver an energy savings of more than 3.1 kilowatts (kW), or 68 cents, per hour. On the first floor alone the salon will save up to 74 percent of its energy costs based on the average cost of electricity kW per hour in New York City. On the second floor, 20 recessed cans were replaced with Phoster 9-watt recessed LED down lights. The Phoster down lights offer directional light, dynamic color tuning and an "instant on" solution, making them an ideal application for hospitality and retail environments.
"Golden Dragon Plus LEDs deliver high quality, consistent light that powers our solutions," said Douglas Mendelman, Director of Business Development, Phoster Industries. "At Salon Ziba, stylists will benefit from LED technology in many ways; one of which is the fact that hair color now appears the same inside the salon as is does in regular daylight, giving stylists confidence in their work and keeping clients happy."
In addition to work stations within Salon Ziba, Phoster Industries also outfitted retail and reception areas within the space with new LED fixtures, helping deliver further savings. Thanks to their minimal size, Golden Dragon Plus LEDs can be seamlessly incorporated into display spaces, and their easily-selected color temperature settings allow any space to be seen in just the right light.
"LEDs are the perfect solution for spaces that require high performance, full-spectrum natural light while simultaneously achieving cost and energy savings," said Brian Terao, SSL Business Unit Director, OSRAM Opto Semiconductors. "A salon is an ideal space to showcase both the light quality of LEDs and also the cost and energy savings they provide."
Because Salon Ziba was so satisfied with the quality of the new LED lighting at its Midtown locale, when it comes time to open Ziba's newest location in Greenwich Village in February, the entire salon will be illuminated by Phoster Industries' LED products with OSRAM Opto Semiconductors Golden Dragon Plus LEDs inside.
ABOUT PHOSTER INDUSTRIES
Phoster Industries is amongst the first and most successful LED product development companies in North America providing innovative LED solutions, quick turn-around product design, development and manufacturing services to an account base of national brand retailers, commercial real estate companies, and the lighting specifying community. Phoster Industries is one of the few LED Lighting companies who has real life "in the field installations" now running for 30,000 to more than 50,000 hours, a considerable achievement in the relatively young world of LED lighting.
ABOUT OSRAM OPTO SEMICONDUCTORS
OSRAM AG (Munich, Germany) is a wholly-owned subsidiary of Siemens AG and one of the two leading light manufacturers in the world. Its subsidiary, OSRAM Opto Semiconductors GmbH in Regensburg (Germany), offers its customers solutions based on semiconductor technology for lighting, sensor and visualization applications. OSRAM Opto Semiconductors has production sites in Regensburg (Germany) and Penang (Malaysia). Its headquarters for North America is in Sunnyvale (USA), and for Asia in Hong Kong. OSRAM Opto Semiconductors also has sales offices throughout the world. For more information go to www.osram-os.com.
Contact
Kate Cleveland OSRAM Opto Semiconductors Tel. 248-277-8018 Fax 248-596-0395
E-mail:kate.cleveland@osram-os.com
Web Site:www.osram-os.com