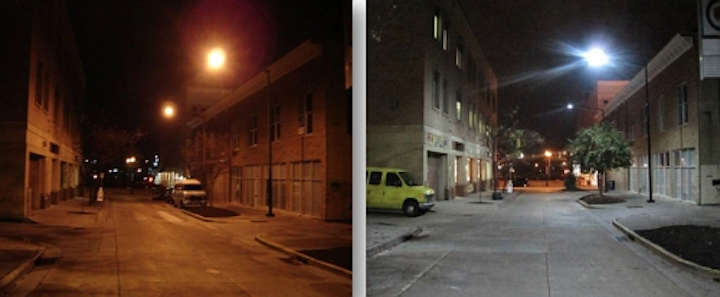 City will replace 30,000 HPS luminaires in effort to slash energy costs and improve light quality. IoT seemingly not in the mix.
In what looks like a straight-ahead street lighting upgrade — seemingly little to no Internet of Things (IoT) on this one — Knoxville, TN is replacing some 30,000 high-pressure sodium (HPS) luminaires with LED technology that the city says will cut energy costs in half and will also improve light quality.
Interested in articles & announcements on LED street lighting?
The $15 million installation calls for lead contractor Siemens to complete the job by June 2019, with Acuity Brands providing its Holophane luminaires and possibly its Roam wireless mesh control system.
"Our street lights are one of city government's largest energy users, accounting for nearly 40% of our total municipal electricity consumption," said Mayor Madeline Rogero, noting that Knoxville expects to cut its annual street lighting bill from around $4 million today to around $2 million. The city also expects the LED luminaires to last 4× as long as HPS, at around 100,000 hours compared to 24,000 hours.
Knoxville is paying Siemens around $9.5 million as the main contractor, and is paying $5.2 million to local utility Knoxville Utilities Board (KUB) for past infrastructure investments in the lighting system. KUB owns most of the poles, while the city owns the brackets and lights that attach to them.
Knoxville also expects the new LED street lighting to deliver superior light quality compared to the HPS — both in color rendering and reduced light pollution.
"This project will help us improve the overall design of our lighting system," said Knoxville office of sustainability director Erin Gill. "Instead of illuminating the sky and trees with an orange glow, we can focus light where we need it: on streets and sidewalks. The clear, whiter color of LED light provides better visibility and color rendering than HPS bulbs, making it easier to see people and objects in the roadway."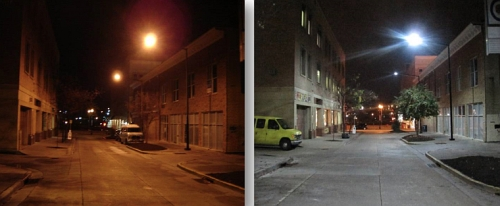 Knoxville has already completed a small pilot replacement of HPS lights (left) with LED, and is now set to swap out 30,000 luminaires. (Photo credit: City of Knoxville.)
Gill noted that the LED color temperature will adhere to practices outlined by the American Medical Association and the International Dark Sky Association.
"These organizations recommend luminaires with a color temperature of approximately 3000K (degrees Kelvin), comparable to a 100W halogen bulb, as opposed to the cool-blue light of LED headlights (6400K) or a bright compact florescent bulb (4000K)," Knoxville said in a press release. "The majority of lights will be fully shielded fixtures that emit no light upward, and backlight control shields may be implemented where needed to help direct light away from nearby windows."
Neither Siemens nor Knoxville gave any indication that the LED street lighting infrastructure would house sensors and other technologies that portend smart, IoT public lighting infrastructures and which are beginning to sprout in some cities. For example, Dijon, France is embarking on an ambitious €105 million ($126 million) smart city project in which smart lighting will also tie into traffic management, security cameras, bus routing, and other systems.
Cities are also looking into using light-based sensors to monitor air quality, road surface conditions, parking availability, and many other things, which is part of the vision of Philips Lighting's recent alliance with American Tower Company centered on 4G and 5G cellular transmission.
If Knoxville is doing anything along those extended IoT lines, none of the parties are saying, although Acuity's Roam system would support remote operations and maintenance, monitoring a luminaire's performance and spotting outages. Knoxville will run a pilot of Roam before deciding whether to implement it across the city via a change to the lighting contract, which Knoxville and Siemens signed earlier this year, a Siemens spokesperson said.
Acuity recently beefed up its wireless controls stable when it joined forces with Silver Spring Networks, which offers a wireless mesh control system based on technology that is different from Acuity's Roam.
Acuity is not expected to deploy Silver Spring technology in Knoxville. Rather, it will tend to support Silver Spring, which is based on the IEEE 802.15.4g standard in instances where existing Silver Spring customers, such as utilities that use its for smart metering, want to add wireless controls to lighting.
MARK HALPERis a contributing editor for LEDs Magazine, and an energy, technology, and business journalist (markhalper@aol.com).