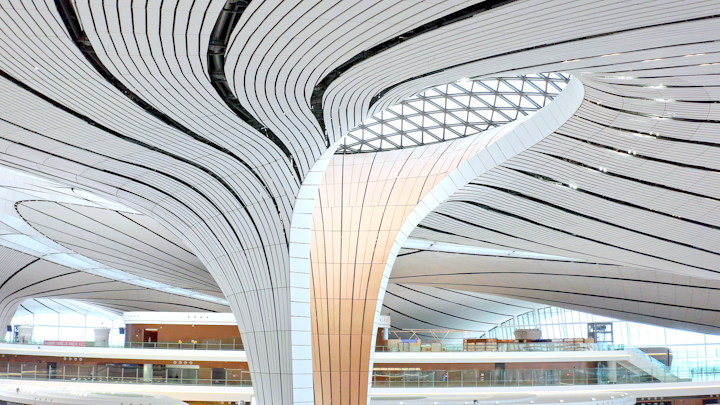 Old habits are dying hard at Osram. The company is diligently recasting itself as a high-tech photonics company focused on LED and laser chips, but that hasn't kept it away from general illumination. Certainly not in China, where Osram has provided customized luminaires in the curved ceiling at Beijing's sprawling new airport.
The Munich company supplied a combination of 1300 LED downlights and floodlights to help illuminate the central concourse and check in areas at the starfish-shaped Beijing Daxing International Airport, believed to be the world's largest airport by size, and expected to eventually become the world's busiest airport. Chinese President Xi Jinping officially opened the airport last week, in time for the country's 70th anniversary this week.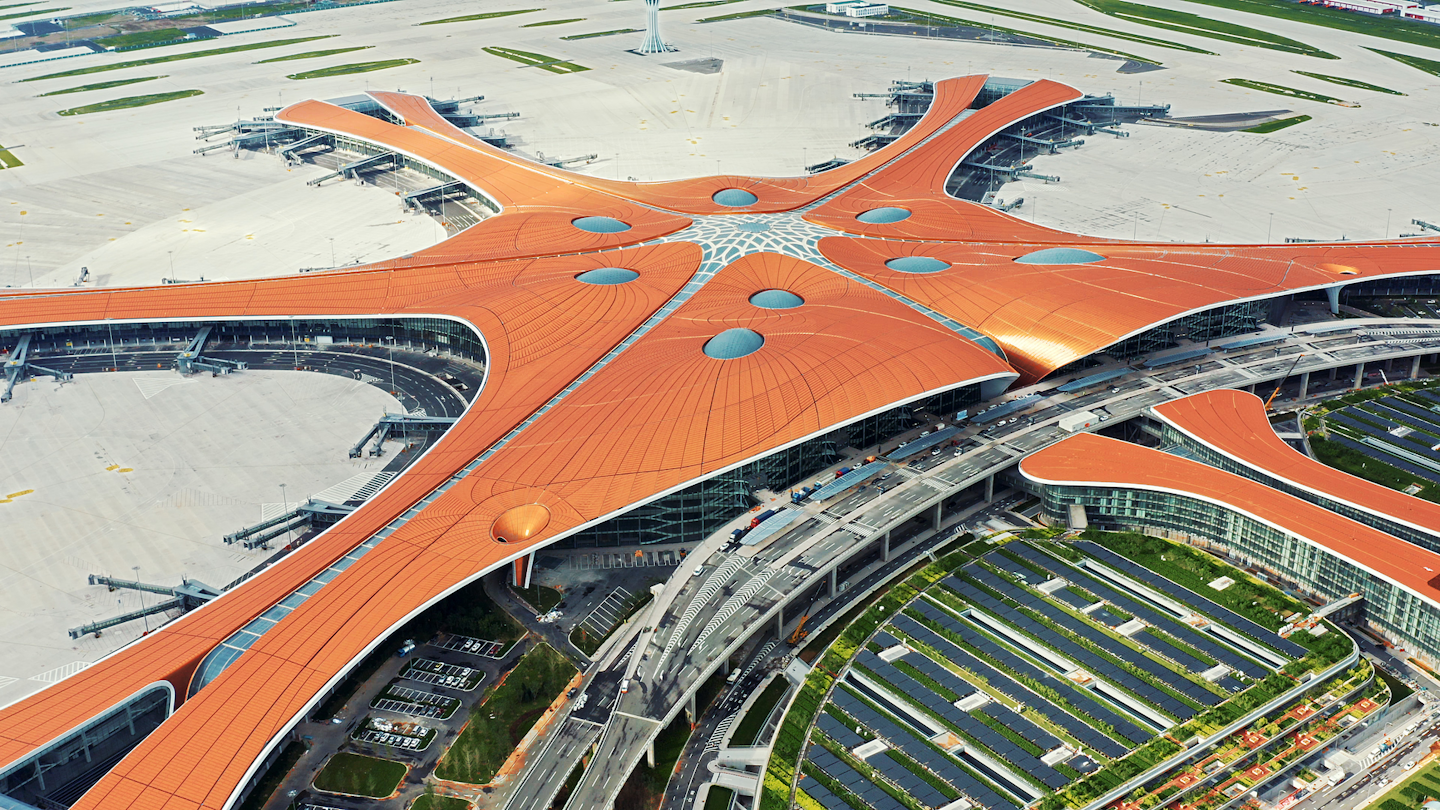 Although Osram CEO Olaf Berlien has over the last year or two repeatedly described Osram as a high-tech photonics company, and although Osram has cut back on general illumination, having recently sold its Siteco luminaire business, it nonetheless sees opportunities such as Daxing in general lighting.
In providing customized 4000K downlights in the concourse ceiling and its Simplitz floodlights over check-in desks set at 5000K, Osram also supplied a central wired control system designed to balance the artificial light with natural light from skylights and windows, all part of the airport's architectural design.
The control system makes use of sensors that note lighting conditions and people flow that help inform brightness levels, Osram told LEDs Magazine. It's not clear whether the sensors are in the lights or mounted outside of the them.
It's also not clear the extent to which Osram has endowed the lighting system with Internet of Things (IoT) features beyond lighting conditions and basic occupancy. IoT lighting in principle can offer a wide range of functions, including detailed tracking of people movement; asset tracking; climate and air quality monitoring; wayfinding for passengers; and much more.
Although a new high-tech airport in China would seem a likely candidate to trial many of these features, Osram would not provide details to LEDs revealing what, if any, of them the airport is using.
Beijing Daxing is using a 5G mobile network provided by China's Huawei to support passenger interactions including facial recognition for check-in and security, luggage services, and "personalized airport experience," using what Huawei and its partners China Eastern Airlines and China Unicom last week said is a combination of artificial intelligence, augmented reality, cloud computing, and other technologies.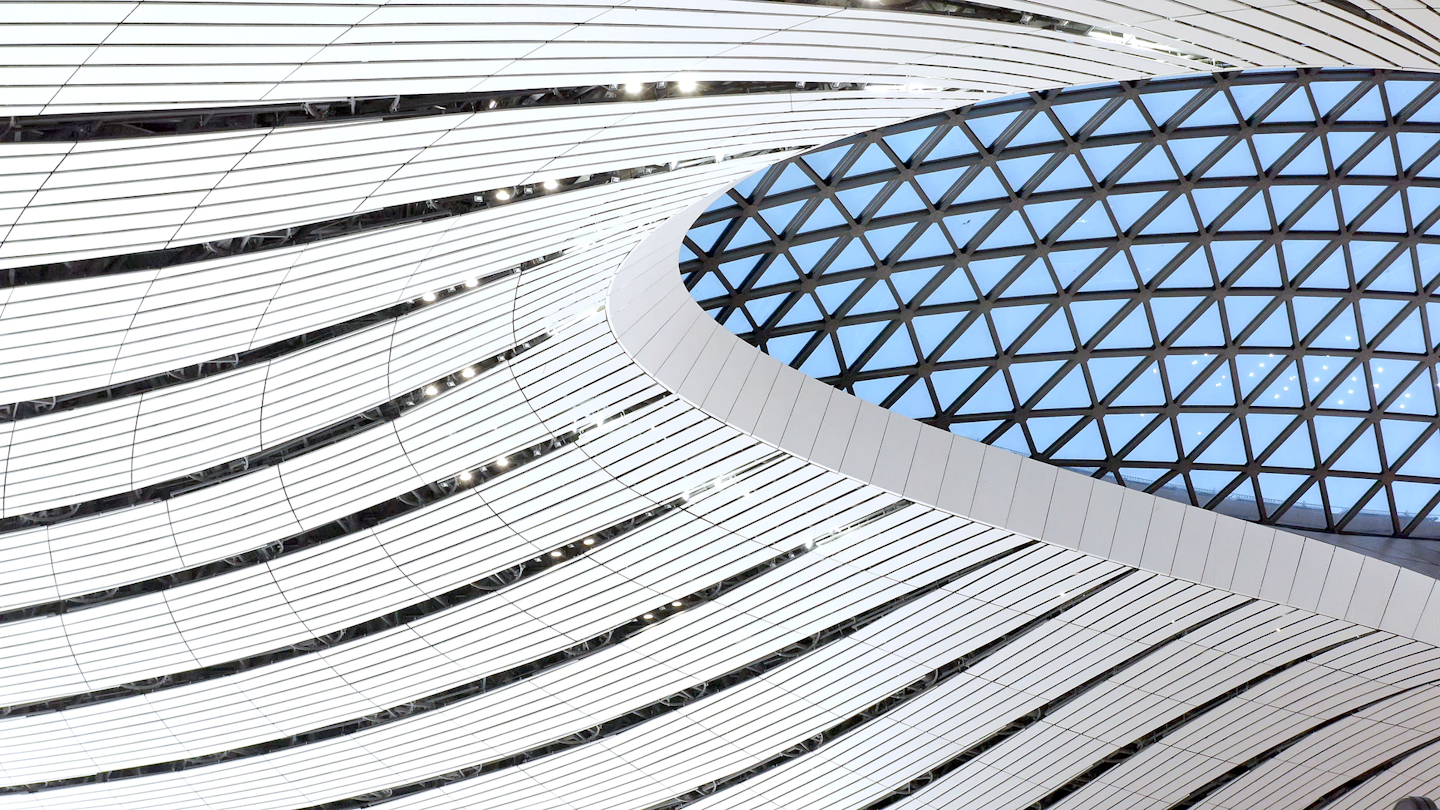 The Huawei announcement made no mention of Osram and the lighting. Whether Osram is part of the Huawei scheme or not, Osram is not saying. Huawei delivers indoor 5G via a ceiling-mounted box it calls LampSite.
The brand-new airport would also seem like a perfect setting to power LED lights via Ethernet cable, a technology known as Power over Ethernet (PoE). But Osram declined to reveal whether PoE is at play. PoE lighting saves considerable expense in new builds because it can eliminate the costs of conventional wiring. Ethernet cable can handle the low voltages required for LEDs, while also doubling in its traditional role as a data conduit, which could in turn facilitate smart lighting and "smart building" IoT schemes.
Beijing Daxing is about 29 miles south of the city and was designed by prize-winning architect Zaha Hadid, who died in 2016. By some accounts it spans 18 square miles including the main terminal and four runways. It is expected to help alleviate overcrowding at Beijing Capital International Airport to the north of the city, which continues to operate and which has been the world's second-busiest airport after Hartfield-Jackson Atlanta International Airport, according to the website Airport Technology.
Meanwhile, Osram as a company continues to put more emphasis on photonic chips, such as the new infrared LEDs it introduced recently to help lock and unlock smartwatches via facial recognition. Its focus on photonics comes as it puts itself up for sale, with Austrian sensor company ams AG being one of the suitors in a bidding war that could come to a head as soon as tomorrow, Tues., Oct. 1.
MARK HALPER is a contributing editor for LEDs Magazine, and an energy, technology, and business journalist (markhalper@aol.com).