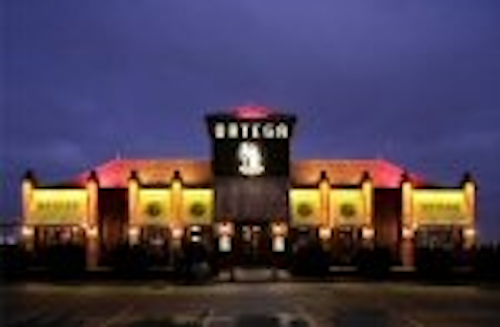 The exterior of Ortega restaurants in the UK, have been dramatically lit to entice customers to enter the tapas bar and cantina. To reflect the colours of the Spanish flag, Philips proposed a mix of red and amber LEDline2 modules clearly defining the character and style of the restaurant. In this way, the architectural features of the venue, built in the style of a grand Hispanic villa, have been emphasized to full effect.
Red LEDline2 modules have been spaced at regular intervals along the parapet of the low pitched roof and the dominant central tower to bring out the reddish tones of the terracotta tiles. The LEDline2 module can be tailored to the architectural structure, allowing more freedom at time of installation. Since it blends into its surroundings there is minimal visual disturbance allowing full attention to be given to the controlled soft-wash of light sweeping over the tiled surface bringing the night landscape to life.
To add contrast and give more vibrancy to the scene, amber LEDline2 is positioned along the top edge of each of the eight imposing columns along the facade. Not only does this complement the golden tones of the building's fabric but also enhances the stucco texture of the brickwork.
This imaginative expression of color and light has become integral to the image and signature of the Ortega brand. As Nigel Rivers, project manager for Ortega, explains: "We are really amazed at the stunning effect the new lighting has achieved. It has created a lot of interest and certainly drawn in customers, which is what we were hoping for, but it has exceeded our expectations."
This would not have been so readily achieved, however, with more conventional solutions. LEDline2 modules are based on Luxeon™ high-power LEDs - not only do they use less energy than alternative light sources, but with a lifetime of 50,000 h they are a "fit and forget" installation. This reduces the need for frequent call-outs by service engineers, since the system is virtually maintenance-free. Traditional lighting technologies have to be replaced approximately every four to five years.