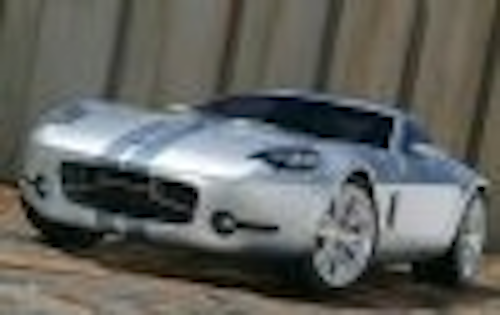 The new Ford Shelby GR-1 concept, a vehicle presently receiving rave reviews at a number of auto shows in the United States, features the latest LED headlamps from Osram Sylvania.
The two-module, LED headlight system on the Shelby GR-1 concept features the distinctive shape and sharp output of trapezoidal High Intensity Solid State (HISS) headlamps. The forward lighting system was created by Osram Sylvania in concert with its affiliate, Osram Opto Semiconductors Inc.
The Shelby GR-1 concept appeared as a static model at the California International Automobile Show a few months ago. The fully engineered and running Shelby GR-1 concept, in hand-polished aluminum, recently finished a successful stint at the North American International Auto Show in Detroit.
This pioneering concept vehicle tests the performance and design capabilities of LED forward lighting. Two LED modules work together to create optimum low and high beam output. While one module provides beam spread, the other creates the "hot spot," or beam center. The compact LED system allows automakers more external design flexibility.
"The Shelby GR-1 concept demonstrates the level of integration that can be achieved with a system approach to lighting design," said Mike Tucker, engineering manager for Osram Sylvania.
"This innovative system is powered by Osram Opto Semiconductors' ThinGaN(R) LEDs, which feature a lumen efficiency of 50 lumens per watt, at 350 milliamps of power," explained Mike Godwin, product marketing manager for Osram Opto Semiconductors Inc.
Prior to this collaboration, Osram Sylvania's Joule(TM) LED technology was showcased on the Mustang GT-R concept at the 2004 New York Auto Show.