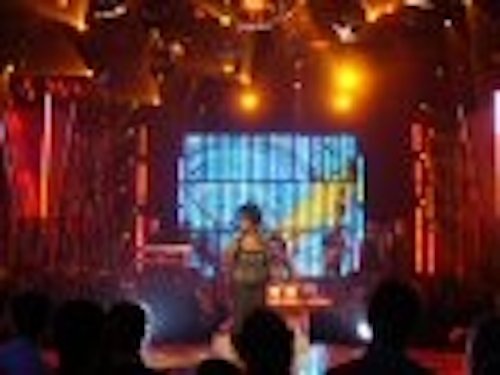 PixelLines provide the backdrop for BBC music show
Screened just in time for Christmas, the spectacular show "All Time Greatest Party Songs" is the latest in the BBC's ongoing greatest songs series. Lighting Designer Roger Williams was asked to design the show and with a reasonable budget he wanted to try something new.
He explains: My thought for a backdrop was a soft LED cloth, but as there were none available in Europe; I had to think of something else. Video walls have been seen so many times, and to cover an area of over 20 x 15ft would have left me little or no money for lights!"
"So I decided to create a wall of PixelLine 1044s. I wanted it to be fairly low resolution, so I left gaps in-between the units. The design utilised 94 PixelLines in 3 rows of 30 and a pair at each end. The system ran with PixelMad from a Compulite Vector by Tom Sutherland over Ethernet using 12 universes of DMX. The results were very impressive – in fact the resolution was too high if anything!"
In addition to the battens there were also 26 PixelPars and 120 automated lights operated by Andy Dobbs and also controlled by Compulite Vector. ELP supplied the backdrop structure and Richard Martin Lighting supplied the PixelLines.
Chroma-Q™ Color Blocks supplied for Radio 1 Chart Show live event
Lighting Designer Nick Jevons used eighty five Chroma-Q™ Color Blocks in his set design for Radio 1's The Chart Show Live concert at London's Shepherd's Bush Empire on 27th November.
LD Nick Jevons of production company Electric Fly Productions provided the set lighting design and visuals, with all fixtures supplied by Bandit Lites UK.
To reflect the very fast, energetic and ever-changing pace of the music event, Nick wanted his lighting design to have the sensory experience of a Waltzer fairground ride, where teenagers are faced with disorientating flashing lights and the louder they scream, the faster they go.
To achieve this visual effect as a lighting rig, Nick used five upright truss pieces to support eight 20ft scaffold tubes hung off the in-house stage box truss and fanning out at an angle towards the audience.
Ten Chroma-Q™ Color Block DB4 colour-mixing LED fixtures were configured from the bottom of each upright truss to the top of each scaffold tube, with a further five units used as truss toners at the bases.
Nick chose the Color Block LED fixture for the rig as their short batten length provided a high degree of flexibility in achieving his design. He commented: "I chose them because I wanted to configure the LEDs in short, evenly spaced positions rather than having a continuous run of them on each scaffold tube. The Color Blocks were ideal for the job as they're a nice short length, so I was able to fit them around my design, rather than the other way round. They're also very bright."
The fixtures were patched together in sixty channel mode to get the most out of the design and programmed using a Martin Maxedia digital media server with the latest pixel mapping software, to display a series of low resolution moving images.