Ultraviolet LEDs in the 260–275-nm band can support water disinfection in point-of-use dispensers for commercial and residential products including faucets, beverage dispensers, and icemakers.
Crystal IS has announced the Klaran WD family of ultraviolet (UV) LEDs with the WD suffix indicating the target application of water disinfection. The new products emit in the UV-C band, or what is sometimes called deep UV, and those bands are known to destroy the DNA in germs and pathogens. The company said that the new LEDs will hit the price/performance milestone of $0.25/mW of radiometric power that is well below what has been projected as the point where volume production UV-C-LED-based water purification products would commence.
Interested in articles & announcements on UV LEDs?
As we have written repeatedly, the UV-C band (100–280 nm) has potentially the greatest potential impact of the broad UV span that also includes UV-B (280–315 nm), and UV-A (315–400 nm). The longer-wavelength bands are already widely used in industrial applications such as curing, and obstacles to higher power, greater reliability, and lower cost have been easier for the industry to overcome. UV-C has been much tougher to tackle, although it has attracted a lot of challengers because of the unique and tiny form factor of LED sources and huge market potential.
Crystal IS has been focused on solving the performance, cost, and reliability issues through the use of a homogenous substrate. The company is growing AlN (aluminum nitride) epitaxial layers on AlN substrates. Such a move could provide a better lattice match that could result in better performance. Soraa has followed a similar strategy in visible LEDs using a GaN (gallium nitride)-on GaN strategy.
The Klaran family of LEDs came to market initially last year with Crystal IS targeting components at the general disinfection and healthcare markets. The new Klaran WD products feature a substantially different package design that is optimized for water disinfection.
Initially, the new Klaran WD LEDs are intended to be driven at 500 mA. Different versions deliver radiometric power of 30 or 40 mW. That performance is in the range of 260–275 nm.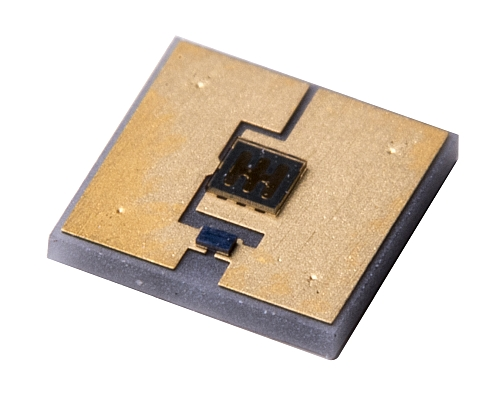 Crystal IS delivers UV LEDs suitable for commercial use in water disinfection
UV LEDs like the Klaran WD devices from Crystal IS (top) enable water disinfection applications in various end product form factors (bottom).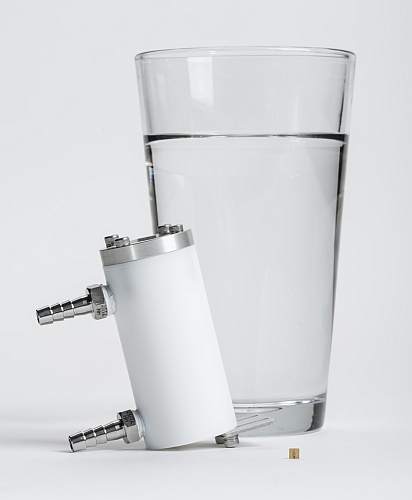 Other manufacturers have announced UV-C LEDs at higher performance levels. At the end of 2017, LG Innotek said it had hit 100 mW in UV-C LEDs. And Nikkiso announced a 50-mW, 285-nm LED back in 2016. Still, the Crystal IS UV LEDs feature slightly shorter wavelengths, and such small changes in the UV-C band can mean you need much less spectral energy to accomplish the task at hand.
Meanwhile, it's very hard to discern where the various players stand in terms of price because most vendors don't publish prices and volume buys are still waiting to happen. Crystal IS said $1/mW was projected by market research firm Yole as the point where water disinfection would take off. And the claim of $0.25/mW is the most detail we have seen on the topic of cost.
We also asked Crystal IS for reliability data. That information is curiously missing from the company's datasheets. And we didn't get a much better answer in response to our direct questions.
UV LEDs are much like visible-light LEDs, just earlier in terms of technology maturation. You can probably achieve good lifetime at the system level if you under-drive the LEDs and keep junction temperature far below maximum specifications. But that may mean you need more LEDs to accomplish the task at hand, and that of course increases system cost.
Crystal IS said it has customer product developments underway where the target operational life is 900 hours for the system and others that target 20,000 hours. Clearly those systems have to be designed far differently. The company also said they could deliver LEDs with a statistical failure rate of B10 — meaning 90% of the components in a system would still work. But talking about B10 without the context of a specific lifetime target is meaningless. It appears the message is that you can design in more LEDs than you need and statistically project that the end product is still going to be useful in an application because enough LEDs will survive to deliver the specified system-level performance.
It will be interesting to see end products that emerge based on the Crystal IS components. The company said you can accomplish designs to treat flowing or standing water. For example, you could have a faucet attachment that disinfects water in a food-preparation area. And applications such as icemakers and beverage dispensers could be very successful in regions such as parts of Asia.