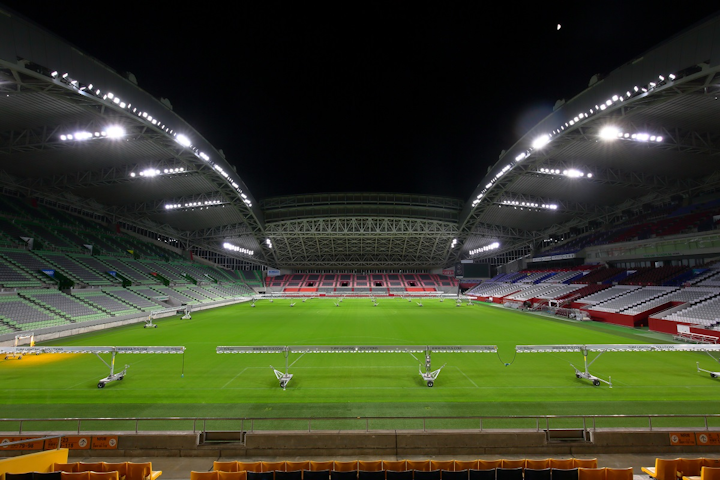 Signify has lit up another major Japanese sports venue with LED field and entertainment lighting, again using robotic carts and laser scans to optimally position luminaires, this time at the Kobe Misaki Stadium.
Like the Toyota Stadium that Signify lit earlier this year, Kobe Misaki, in Kobe, will host matches for the Rugby World Cup, an every-four-years event that kicked off today, Sept. 20, in Tokyo with Japan defeating Russia, 30 to 10.
The first match in Kobe is Sept. 26, when the USA takes on England.
Sports stadiums are switching to LED lighting not only to save energy but also to support 4K ultrahigh-definition (UHD) broadcasting standards.
Signify equipped Kobe's 30,132-seat retractable roof stadium with 404 Philips ArenaVision LED floodlights. To assure the best possible angle, the company deployed its robotic light measurement system, dispatching a robotic cart around the field with laser scanning to record photometrics including horizontal illuminance, correlated color temperature (CCT), and rendering.
It first used the robotic approach at Toyota. In both instances, the method slashed installation time and reduced wear-and-tear on the grass compared to the conventional method of using a number of workers to do the same job.
Lighting-oriented turf care is not all up to Signify, however. To help nourish the grass, the city of Kobe, which owns the stadium, is using LED grow lights from another supplier, which mounts the lights on cages wheeled across field. Neither Signify nor Kobe had publicly identified the provider by the time this article appeared.
Signify said the entire ArenaVision process, including dismantling the previous high-intensity discharge (HID) luminaires, took only 65 days. The company worked with Japanese mechanical and electrical contractor Kinden Corporation.
Stadium and team operators can also create light scenes using Signify's Interact Sports control system.
Kobe Misaki Stadium is home to Japan's Vissel Kobe men's professional soccer team, the INAC Kobe Leonessa women's professional soccer team, and the Kobelco Steelers professional rugby team. It also hosted games during the 2002 World Cup soccer tournament.
The new LED lights are expected to save about 45% on electricity costs.
MARK HALPER is a contributing editor for LEDs Magazine, and an energy, technology, and business journalist (markhalper@aol.com).