The venue slashed commissioning time for the entertainment lighting while improving the accuracy of 554 new Internet-connected LED floodlights from Signify.
Another major outdoor sports venue has lit its playing area with LEDs, as Japan's Toyota Stadium switched on 554 new floodlights — but only after dispatching a robot across the field to ascertain how best to set and angle the lights.
The robotic cart, armed with five light meters and guiding itself to 96 precise locations on the field, slashed 70% of the time it would have otherwise taken three teams of three people with tape measures to do the same job, lighting supplier Signify (the former Philips Lighting) told LEDs Magazine.
It also provided greater accuracy than nine humans would have, while reducing the potential damage to grass — a great concern to groundskeepers — Signify added.
The 55-lb robot helped to determine settings based on photometrics such as horizontal illuminance, correlated color temperature (CCT), and rendering.
Sports stadiums are switching to LED lighting not only to save energy but also to support 4K ultra-high-definition (UHD) broadcasting standards, such as Signify's deployment for Spain's Seville Football Club, for Italy's Juventus, and for Germany's Bayern Munich, among many others.
Robot helps light Japan's Toyota Stadium
At 55 lb, the robotic cart was one of the smallest players on the field, but it made a big difference to the lighting team at Toyota Stadium in ensuring uniform LED illumination and other key characteristics. (Photo credits: Signify.)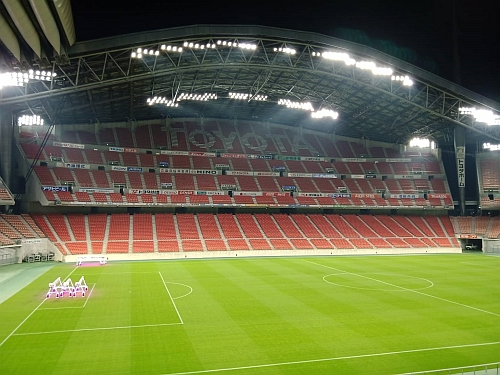 Toyota Stadium, owned by the city of Toyota (the eponymous car company hails from there), is the home of professional soccer team Nagoya Grampus. It hosts other sporting events such as this year's Rugby World Cup, as well as concerts.
The 554 Philips ArenaVision single-color floodlights are part of a broader LED lighting package that Signify has supplied the stadium, which includes color-changing floodlights and spotlights from Signify's Color Kinetics range. In total, Signify provided 1130 LED lights including a combination of floodlights, spotlights, and tube luminaires, the company told LEDs.
The Color Kinetics lights support fan experience and can be synchronized to music. Signify said it has integrated the entertainment lights with the floodlights, which it controls via Interact Sports, the company's connected Internet of Things (IoT) lighting management tool that comes in various "flavors" for specific lighting application scenarios.
Signify declined to reveal how much the city paid for the LED lighting.
MARK HALPERis a contributing editor for LEDs Magazine, and an energy, technology, and business journalist (markhalper@aol.com).