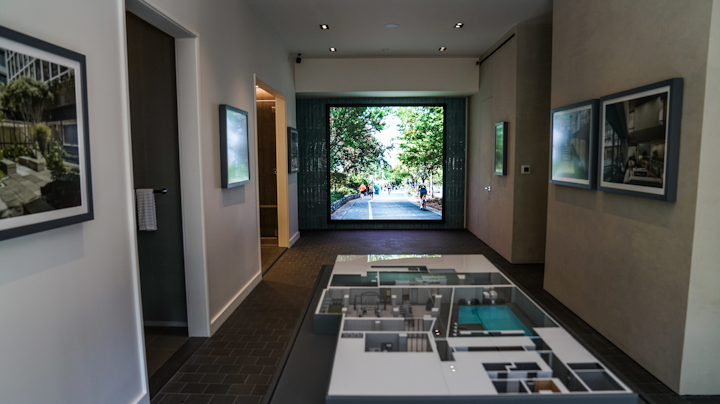 PixelFLEX has announced a high-profile, LED-based, video-wall project in the New York office of Toll Brothers City Living — a luxury home builder that operates in a number of major US cities. The solid-state lighting (SSL) multimedia installation is intended to immerse clients allowing them to experience a new home or neighborhood environment as if they were in the actual environment. The video wall market is a subset of the direct-view LED video display market that is quickly growing in settings ranging from the cinema to high-end corporate offices.
The concept of using LEDs on large-scale video screens is not a new one. But most of what we have written about in the past have been outdoor video walls at sports venues and on buildings such as in Times Square. For example, all of the way back in 2008 we wrote about the One Times Square project in New York. But such products use relatively large pitch or distance between pixels because viewers are typically viewing from a fairly long distance from the screen.
But in the past couple of years, we have seen direct-view LED video displays come to smaller-scale and indoor applications with much finer pitch. Ultimately, the direct-view technology will come to our living rooms via microLED technology, and Samsung has presumably sold a small amount of such systems into the luxury market. The technology is having a major impact already in cinemas, and also in business lobbies and hospitality. We will have a feature article on the topic in our next issue.
The Toll Brothers project is an example of direct-view technology in a commercial office. Real estate businesses have been quick to adapt new technologies to assist in the selling process such as using tablets to display renderings and, more recently, virtual reality (VR) headsets to immerse the customer in a new home experience.
"At 77 Charlton Street in West Soho, we wanted to create a large viewing area so that everyone in the room could see what the person wearing the VR headset is looking at, and still feel as if they are taking part in the virtual tour," said Michael Duff, marketing director at Toll Brothers. "To do this, we decided to implement a high-resolution LED video wall as part of the sales experience to showcase our product offerings. Once we reached out to our integration partners to see who might be available to do this on a larger scale, they got us in touch with the design team at PixelFLEX."
PixelFLEX offers video wall technology through thin, modular, rectangular panels that host the LEDs and driver electronics and that can be combined to form a video wall in the size demanded by the application. The modular approach is necessary so that screens can be easily repaired. Once installed, the panels are serviceable from the front in the case that a pixel goes out.
The Toll Brothers installation uses FLEXThin panels that PixelFLEX offers in 1.9-, 2.6-, 3.1, and 2.9-mm pitch versions. The Toll Brothers installation uses a 2.6-mm-pitch panel. The panels are only 42 mm deep and come in a variety of sizes. The LEDs extend to the edge of the panels and viewers perceive no bezel or gap between adjacent panels — an issue with video walls built with LCD panels.
PixelFLEX has direct-view LED technology in a number of form factors. For example, earlier this year the company announced a free-standing 138-in. unit —essentially a larger version of a smart TV. The company has also deployed the technology at trade shows.