Philips Lumileds has announced the Luxeon 3030 2D LED family that it says will deliver superior color performance based on what the company is calling hot targeting. The family will also sport a new epoxy molding compound (EMC) package that should result in improved reliability in solid-state lighting (SSL) products even when the LEDs are operated at elevated temperature. Lumileds also announced the Luxeon 3014 low-power LED that will leverage the hot color targeting practice.

Lumileds was the first LED manufacturer to announce hot binning of high-power LEDs at the Strategies in Light 2011 conference. The program moved to test LEDs at an elevated temperature more akin to those that the LEDs were exposed to in actual operation to allow accurate binning for color and lumen output.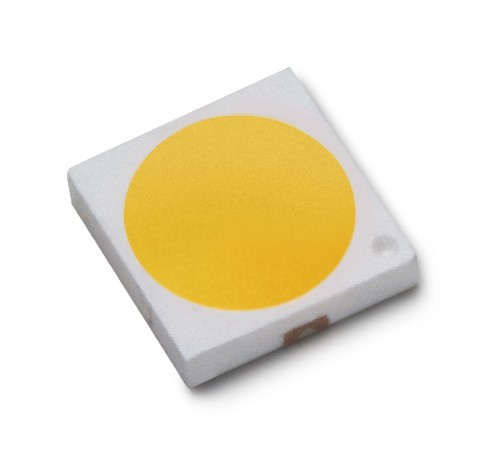 Philips Lumileds adds hot color targeting to mid- and low-power power LEDs
With the announcements of the Luxeon 3030 2D and 3014 LEDs, the company is also moving to ensure that LEDs perform in a system consistent to how they are specified on a data sheet. But Lumileds is not hot testing the components. Instead, hot targeting implies designing the LED and phosphor combination so that the components deliver chromaticity slightly above the black body locus at room temperature.

"Without hot color targeting, if a user purchases an LED that was performing on a bin edge at room temperature, it would likely shift out of the specification at application temperatures and cause an undesirable shift in color for the fixture," said Mark Chang, senior product line manager of mid-power products at Lumileds. Presumably the LEDs targeted above the curve will shift to within the appropriate bins at temperature.
The company is offering the 3030 2D and 3014 products at what it calls a 1/9th micro color binning structure. The result will be the ability for SSL manufacturers to choose LEDs within 3- and 5-step MacAdam ellipse bins. Chang added, "Designers can also easily pair different bins to hit a 3/4/5 SDCM color point."
The EMC package used in the 3030 2D family should also improve lumen and color maintenance over time. But Lumileds won't have LM-80 testing completed until May that might detail such improvements.

In a warm-white 2700K CCT, the 30302D LEDs deliver 97 lm from a 120 mA input in an 80-CRI version with efficacy in the 119 lm/W range. At 6500K the typical output goes up to 97 lm with efficacy climbing to 133 lm/W. As the 2D suffix in the product name implies, the new mid-power family feature two emitters in series with a typical forward voltage of 6.1V. Lumileds has previously offered a slightly larger Luxeon 3535 2D LED. Lumileds said the new products offer a 10-15% performance increase.

The low-power Luxeon 3014, meanwhile, delivers 10-12 lm in neutral white from a 30-mA input. Efficacy ranges from 127-146 lm/W at 30 mA and about 10% lower at the maximum drive current of 60 mA.

Lumileds is targeting a broad application segment with the 3030 2D products ranging from retrofit lamps to high-output high-bay products. The 3014 LEDs target applications such as under-counter lighting, refrigerated case lighting, and fluorescent tube replacements.

The new announcements mark the second consecutive week in which Lumileds brought new technology to the mid-power segment. The Luxeon 3535 HV products announced last week brought the high-input-voltage architecture that's increasingly popular in high-power LEDs into a mid-power offering.